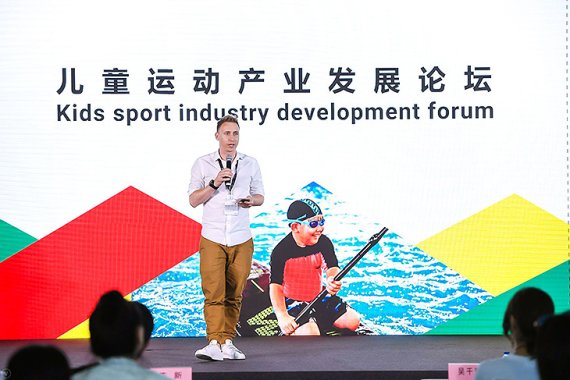 Did you know that women in China spend more on sportswear and equipment than men? Some international and domestic sports brands have already recognized the potential and are launching target group-specific campaigns and bringing products to market that appeal to Chinese women in a special way. This is especially true for the fastest growing sports, running and yoga. Anyone who wants to assert themselves on the Chinese market in the future cannot ignore the target group of women. We discuss how this can best be achieved with renowned experts in our supporting program. There is also a special "Women" area dedicated to this topic.
In 2014, the Chinese government launched the "Healthy China 2030" master plan to encourage more movement in the country. The aim is to develop a "Healthy China". The focus is on the younger generations in particular. According to the Global Burden of Disease Report, led by a team from the University of Washington in Seattle, China had 15 million obese children in 2015. Many Chinese parents are already responding to this alarming trend. According to a report by Euromonitor International, 90 percent of parents already spend around 300 euros per year on their children's sports. And these expenditures are likely to increase even further in the coming years. This is a topic that we want to discuss in more detail at the ISPO Shanghai with a special area. 
Date: Saturday, July 6, 2019
Time: 09:55-16:30
Location: hall N1
Price: free
Additional information: simultaneous translation will be provided
Agenda
10:00-10:30
Current developments of Chinas sports market
Ms. Li Ling, Vice president of Anta group
10:30-11:00
How is women's demand for sports products changing?
Lululemon
11:00-11:30
What are the current online trends for athletic women?
Mr. Dengchao, Product design manager Rad
11:50-13:30
Lunch break
Host: Mr. Chen Liyan, General manager of FunnyRun
13:30-13:50
How Yoga can give healthy growth, energy and a new way of thinking to young children.
Mr. Hu Honghe, Chief executive officer of outdoor, TERA WELLNESS
13:50-14:40
Panel discussion: The physical fitness of children
Mr. Yu Yi, General Manager of Only Sport 
Ms. Chen Xin, Founder of China Floorball Development
Ms. Qian Lingyi, Co-founder of STC Race
14:40-15:30
Panel discussion: Does camp education inspire for outdoor sports?
Mr. Simon, Ctrip tracel
Mr. Xu Meng, Co-founder of Summerhill Education
Mr. Wang Shigang, Vice President of Thaiwoo Ski Resort
15:30-16:20
Panel discussion: Can China be used for reference of international youth training?
Borussia Mönchengladbach
VFL Wolfsburg
Eintracht Frankfurt
Borussia Dortmund
04 FC Schalke 04
16:20-16:30
Taking photos and closing