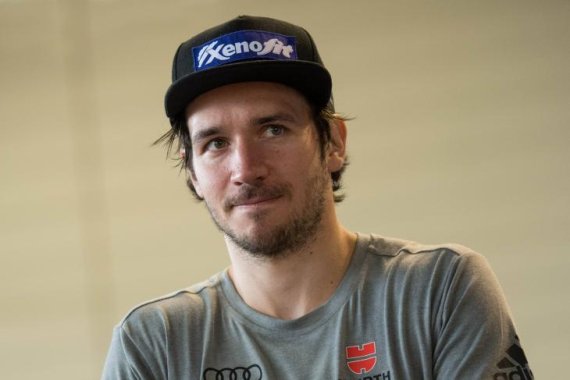 Felix Neureuther had a very good start into the Olympic season - with an opening victory at the World Cup slalom in Levi. But even before the second race of the season, the young father was caught: On the last weekend of November, he suffered a torn cruciate ligament in his left knee during training in the USA. That means for me that the season is over," Neureuther said in a video that he posted on his Facebook page.
Neureuther, who was regarded as Germany's hope for a medal at the Winter Olympics in Pyeongchang in February, does not think about the end of his career: "Bye, bye Kreuzband. Bye, bye Beaver Creek - I hope to see you next year," he said in another video at Instagram. And on Facebook he wrote: "Falling is not a disgrace, just lie down!!"
Felix Neureuther proved that giving up is not an option for him when he returned to Germany. As long as there is still a little bit of hope that Olympia might actually be possible," said Neureuther at Munich Airport, adding that he will continue to fight for his start at the Olympic Winter Games. If a conservative treatment of the torn cruciate ligament is possible and no surgery is necessary, he will try everything: "That would be a dream. But I only go to the start if I have a chance to win a medal. Otherwise, this doesn't make any sense," said Neureuther - and drew a striking picture of his Xenofit sponsor cap.
Shortly afterwards, the partner churchman, Zodiac sign Leo, showed Instagram how he walked through a pool seemingly light-footed despite the serious injury. "Lions don't recover like humans! Keep fighting #nosnownoshow," he wrote. Can Neureuther also walk over water?
He can't. Three weeks after the fall, it was clear: Felix Neureuther could not avoid surgery. In Innsbruck he had the torn cruciate ligament mended. In the last few weeks I have tried everything to get a conservative grip on the injury, but I had to realize that surgery is the most sensible option," said Neureuther. Since I want to continue my career in any case, I decided to go for this operation. I will now work hard on my rehabilitation to continue where I left off this year in the 2018/19 World Cup season."
When giant slalom specialist Stefan Luitz was injured during the season, Neureuther donated consolation via Instagram.
Meanwhile, a discussion about the higher risk of injury caused by the new material has been sparked off in this World Cup season. Are the new skis to blame for Neureuthers injury? I'm not sure if it was the material that really made it up," says the German ski star. But with the new giant slalom skis his job has "definitely become more dangerous again".
Charly Waibel, former German head coach for men and now national coach Science/Material told the sports information service that you see "a mechanism that you know from earlier times".
5 years ago there was a change to straighter, leaner skis. This should cause a decrease in knee injuries, but caused back problems for many skiers. That's why the FIS decided this season to reduce the radius of the giant slalom skis from 35 cm to 30 cm, so the skis got more waist again, the ski shovel became wider (maximum 103 instead of 98 mm), the skis shorter (1.93 instead of 1.95 m).
DSV head coach Mathias Berthold says that he is "worried" about this change, and that the uncertainty among the athletes before the first giant slalom of the season on Sunday in Beaver Creek (USA) is great.
Felix Neureuther will not start again this year, he wants to use the time for the family. This was already the focus of attention at the official World Cup season opener in Sölden. He also drove home again and again between the training sessions," said ARD commentator Maria Höfl-Riesch (read here: how her business runs). And when the giant slalom planned for 29.10.2017 was finally cancelled due to hurricane gusts on early Sunday morning, Felix Neureuther not only travelled home early, but also surprised girlfriend Miriam Gössner and baby Matilda with his early return. That's how he presents it in a video on Facebook and Instagram, tells me: "If nobody expects you at home. The race was unfortunately cancelled
😔 . #Nosnownoshow."
"Hello, hello, I'm back. Isn't breakfast ready yet," says Felix as he unlocks the door of the apartment in a racing suit and with a helmet on his head. And then shouting again into the room: "Matilda? Hello?" That's a clever sponsor involvement: In a seemingly private ambience, pleasant and humorous, the advertising partners are also put into the limelight. This too is one of Felix Neureuther's secrets to success: Marketing is what he can do.
After the cancellation in Sölden, Felix Neureuther then achieved a surprising success at the slalom opening in Levi: The German won his first race since February 2016, the first race as a father, directly a victory - "that makes the whole thing even more special," he said.
"I never thought I'd win here. I'm 33 years old, this is my first race as a father, winning here is unreal," said Felix Neureuther happily, dedicating the triumph and trophy to his little daughter:" Matilda, in the baby's name, he also christened the reindeer that traditionally exists for the winner in Levi, Finland. But then he noticed: "It's a reindeer boy. That's why I call it Matti, that's the nickname of little Matilda and that also fits for a boy."
Also in the first few weeks of the season, Neureuther made a new sponsor deal: The Alpin-Star is the new flagship of the fuel supplier OMV and its MaxxMobile campaign from December onwards.
Felix Neureuthers biggest problem is Marcel Hirscher. The Austrian is like Neureuther slalom specialist and has been shaping an era in alpine sports for years. Thus, Neureuther remained "only" three vice championships in the World Cup ranking of his showpiece discipline in the end.
A total of twelve World Cup victories and five World Cup medals are nevertheless a strong record. At the 2010 and 2014 Olympic Games, they were only in eighth place in the giant slalom in 2010 and 2014. Pyeongchang was considered to be the last chance for Neureuther to win an Olympic medal - now the injury out.
Successes:
Neureuther has won 1x gold, 1x silver, and 3x bronze medals at world championships and has celebrated twelve World Cup victories to date. His best position in the overall World Cup was fourth place in the 2012/13 and 2014/15 seasons.
Social:
Instagram: 250,000 followers
Facebook: 620,000 fans
On Facebook, Neureuther has managed to do what he rarely does on the ski slope: He has overtaken his friend Marcel Hirscher (556,000 fans).
Felix Neureuther is considered, at least in the German sports scene, to be the guy with the coolest social posts. He is in a relationship with the biathlete Miriam Gössner, and also lets his audience in on private stories such as their first baby together. Neureuther achieves the cool combination: At times quite familiar, also with mother Rosi Mittermaier, at times with the buddies, here with soccer chum Bastian Schweinsteiger, there with his Australian Shepherd a.k.a. "Buddy," and at times something for the sponsors (for example, wearing a ski helmet), mostly with a funny tone.
Felix Neureuther didn't only announce his girlfriend Miriam Gössner's pregnancy on Facebook (with a photo post, in which he kissed her stomach); the proud parents also released the good news of the birth of their daughter Matilda in posts on their Facebook and Instagram accounts – posts that were identical, incidentally: "So much love"
Welcome to the world, little Matilda!" wrote both Miriam and Felix on their social media.
Outfitters/sponsors:
Nordica (skis), Leki (sticks), Ziener (gloves), Uvex (glasses), Xenofit, Magnesium Verla, Bogner, Energie Südbayern, Weihenstephan, Rheinland Versicherungsgruppe, Snowtrex, Speedo, Asics
Income:
Neureuther banked prize money in the region of 135,985 Swiss francs during the 2016/2017 season. His estimated yearly income comes to around one million euros.
Neureuther is, despite his comparatively modest successes, the biggest earner in German winter sports. His original posts on Facebook and Instagram count towards that.
In demand on the net:
Felix Neureuther made it onto nearly all media with a naked photo posted on Facebook. His witty comment on the picture on a secluded alp lake: "Free Willy." Most fans reacted enthusiastically and with amusement.
Also always wanted: the children's book "Auf die Piste, fertig, los", written by Felix Neureuther together with his friend, football world champion Bastian Schweinsteiger and for which he also advertised again at the World Cup opening in Sölden. And of course the old, legendary stories about his mother Rosi Mittermaier, legendary Olympic gold medallist in Innsbruck 1972, Felix Neureuther also shows one or two pictures in the social media.
More stars of the winter sports season in portrait: