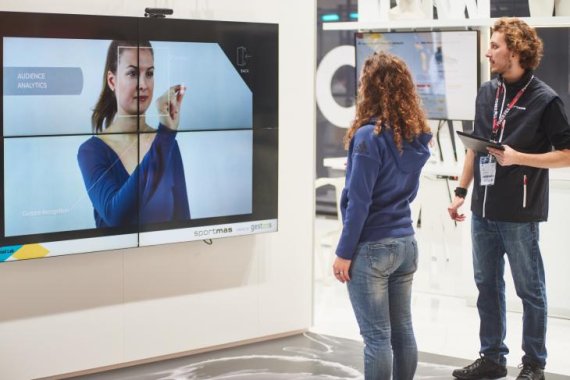 "The ISPO Digitize Area is a kind of kick-off for our ISPO Digitize Summit at the end of June," says Tobias Gröber, ISPO Exhibition Group Director. The goal of ISPO is to support industry and retail in the digital transformation. ISPO is meant to serve as a platform to bring the various digital experts, sports companies and consultants together.
In contrast to large corporate groups, small and medium-sized enterprises in particular cannot afford to invest in a complex research and development unit or independent, comprehensive market research. That is why ISPO wants to help companies to support the digital transformation in a target-group- and budget-specific manner.
The first step is the Digital Readiness Check. It shows companies where they stand in the process of digital transformation. It also gives an idea of the outlay and budget with which digital corporate goals can be achieved.
The Digitize Area will feature Adidas, Lectra, Foursource and Sportmas, four companies that are at the very forefront of digital transformation.
Martina Jahrbacher is the Senior Director of Business Development at Adidas. She herself is overwhelmed by what Adidas has to present at the ISPO Digitize Area. "We want to digitize everything that we can," she says. While many projects are still just a vision or in the test phase, Adidas is close to end-to-end digitalization of the value chain. Jahrbacher: "We want to show our leadership in the field of digitization."
It's about bringing everything to the customer "faster, personalized, and profile-based." The tools on display in the Digitize Area are meant to help with this. These include a biometric scanner for personalized movement sequences, a foot scanner with the possibility of producing custom shoes, a 3D printer for running shoe soles from the Speedfactory, a virtual showroom for connecting with retail, a virtual reality world with VR goggles and controllers for the point-of-sale, and a co-creation area for collaborating with designers and end customers.
The goal is letting the customer "buy digitally" says Jahrbacher. This is where the digital offerings by Adidas itself, but also by retail, are extremely important.
The Spanish retail digitization specialists at Sportmas have the goal of "offering retail everything that's possible online, offline," says Sportmas CEO Andrés de la Dehesa. This means offering customers data-based added value directly in retail and, conversely, equipping the retailer/shop in such a way that they can use the data left by customers when they make their purchases. To that end, Sportmas is cooperating with various technology partners. Some example applications:
RFID technology for goods receiving and outgoing allows for inventory control in real-time

Video analysis systems provide information on where customers are lingering in the store. Cameras can also scan the customer's build and assign them to categories (male vs. female and age).

Scanning carpets use sensors in the carpet to track visitors' routes

All data is gathered and graphically prepared in the Sportmas dashboard. This way, retailers have the opportunity to carry out data-based analysis based on online retail.
Several sports and fashion brands on the one hand and clothing manufacturers on the other have the problem of not finding the right partners. That is why Godecke Wessel, founder and CEO of the start-up Foursource, joined his partners in developing an online platform: "We're the dating platform for the fashion and sports industries."
Brands can use an input mask to specify their requirements for clothing material, order size, region, etc. Clothing manufacturers can also search for potential customers among the brands. They're also planning to integrate fabric manufacturers.
But the platform is already attracting a lot of interest. Only two years after its foundation, Foursource already has over 1,000 members, including brands like Tom Tailor, Hugo Boss, Lasse Kjus, and Odlo.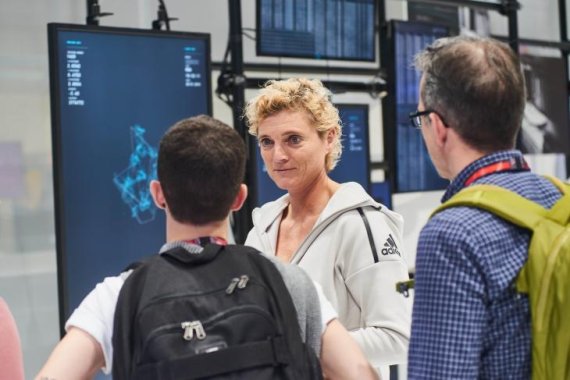 Now far from being a start-up, Lectra is equipped with over 40 years of industry experience. The French company offers digital hardware and software solutions, among others, for the development and production of clothing.
Their customers include a broad range of clothing manufacturers, from Louis Vuitton to Maier Sports. Designs are created on the PC, where fabrics can be precisely simulated and patterns and layer images are calculated automatically; producers receive product data via the cloud.
The advantages are obvious. "Costs can be better calculated, expensive fabrics don't need to be used for patterns, and waste is reduced. It's sustainable and efficiency-based, says Tabea Lier, Marketing Manager at Lectra. Another advantage is that Lectra's 32 global branches worldwide provide global expertise, but the independent branches adapt to local fashion traditions. Thanks to their modular, digital software system, Lectra services are also scalable for every customer.