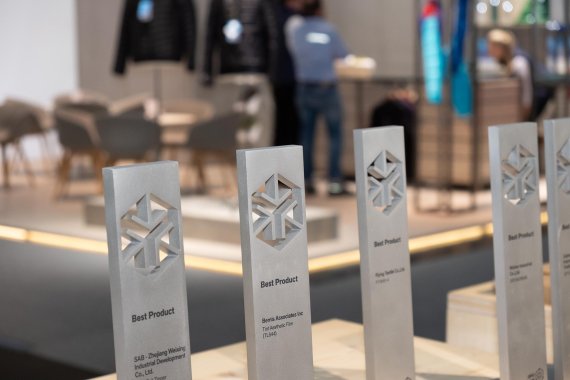 Fitness and running increase, with the demand for moisture management, quick dry, anti-odor and UV protection featuring, right through to high compression fabrics for muscular protection or for amplifying assets in body sculpting gym kits. Micro light rip stops for protection from summer showers and insulation that protects from the cool star laden night sky feature.
Swimming, water sports, hiking and cycling all feature, demanding products that protect and enhance performance. The Spring/Summer season takes on a zesty and outdoors approach, which is also embracing a happy go lucky influence.
Interpreting the mood for the season,  there is a push in happiness, not just in the pursuit from consumers in a healthier lifestyle but also reflected in the material constructions and creativity emerging.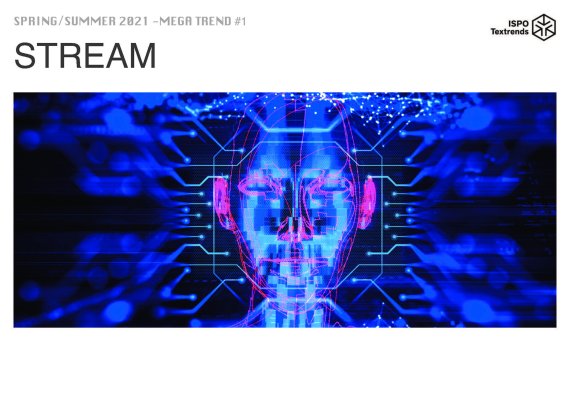 STREAM highlights the continuing interactive approach as consumers embrace AI in their live, streamlining our schedules and making for more efficient living, especially for sports. This efficiency is also reflected in textile processing and the continuing developments in sustainability.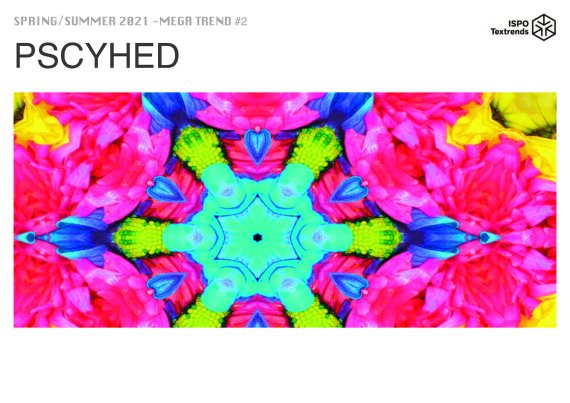 PSYCHED sees a push individuality and stimulation, generating a new direction in terms of structure and color use. The consumer enjoys the camaraderie of their global citizenship but at the same time does not want to lose their unique identity and patronage to.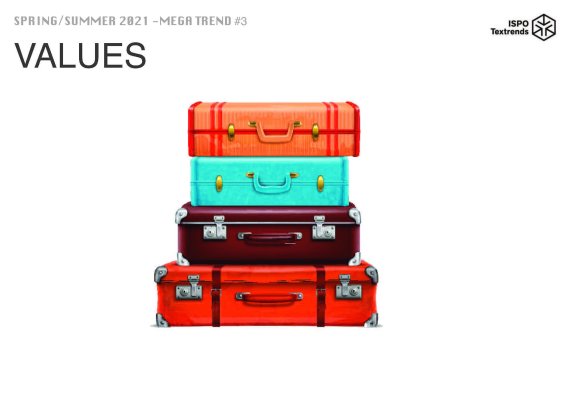 VALUES will inspire a retrospective appeal in terms of traditions. In today's fast paced world, it's easy to neglect and forge the past, but this is where bold ideas of the time inspire and can be recreated into multi-functional and multi-faceted products for today's consumer. This mega trend is about honor, tactility and screen downtime. It's about contemplation and respect.
There is a sense of a strong collaborative approach as ingredient brands and mills through to brands designers and developers take on board the consumers' requests. The consumer is still in control, they want transparency, traceability and overall good product. The collaborative approach ties in with the increased efficiency embedding in all aspects of the textile chain.
But whilst this positive move forward is key to a successful season, we must not lose sight of an injection of fun, of happiness. The core color palette from ISPO Textrends embraces a kitsch and bright approach, that can be worked full on and psychedelic or subtly balanced and interwoven by the four satellite color palettes that feature for the season.
It's time to live and laugh and create new experiences as well as incorporate an element of fun in our lives. Consumers continue to pursue a healthy and happy lifestyle and they want to do this with the knowledge that their brands are delivering the very best for them, allowing them to achieve a sense of nirvana in their precious downtime. ISPO Textrends is the starting point of sourcing the latest developments for the season, that deliver to the demands, inspired by the textile trends developed.
Applications for ISPO Textrends is open for textile and trim suppliers. An international jury of textile experts will once again judge the applications, with the selected products featuring at the ISPO Textrends forum, that has become the starting point of sourcing for designers and brand developers.