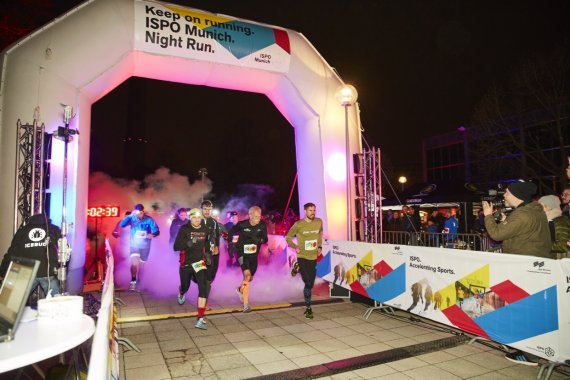 Those who walk at night and at dusk must be visible. Not only for themselves, but also for others.
"A headlamp is the simplest and most important gadget of all," says Cindy from Runfurther, "in fact with lights in front and behind," adds ultra runner Sandra. The headlamp also helps in a competition such as the ISPO Munich Night Run 2020 on 25 January. Cindy also recommends light-colored clothing and reflectors to pin on or running clothes that have already incorporated reflective elements.
If this is too boring for you, you can use Reflective Marking Spray like Isabell and Laura and at the same time spread good spirits and funny (love) messages.
In order to prevent injuries, it is advisable, especially in winter, to prepare the muscles and avoid the typical cold start.
Especially morning runners like Trailcoach Jules should therefore stay under the blanket for a few minutes longer without remorse: "I always stretch myself directly in bed. The muscles are still nice and warm and it's much more comfortable than outside."
In order to keep the warm feeling as long as possible, she also puts her shoes and running gear under the heating the night before and rolls her feet on a golf ball before starting to run, in order to stimulate the blood circulation.
Willi, Captain of the adidas Runners Munich says: "In snow I use a normal shoe. As soon as it freezes, I reach for a shoe with a good profile". This is usually enough, confirms Sandra, who never wears spikes herself, because they are not allowed in the competition anyway and therefore she does not train with them at all.
... Cindy puts it in a nutshell and advises to scale down the ambition and to raise the attentiveness, namely in the dark, as well as in the cold. Especially in open terrain and on trails you can't see unevenness or you detect it too late.
If you still don't want to do without interval runs and fast runs (or can, because experience shows that the form for summer is worked out in winter), you're well advised to "run on more boring, well-known tracks that are tarmaced and illuminated," says running coach and Asics Frontrunner Franky.
The favorite tea with honey, the hot bathtub and warm cushions for the toes - while Cindy and Sandra reward themselves with little things right after running, Jules from the Munich Mountain Girls is looking forward to beautiful feet: "Due to the shorter distances, maltreated runners' feet can recover and I treat myself with a pedicure and sauna during the time and therefore like to show my feet."
"I would advise you to run without headphones or only with very quiet music. When you see nothing or little, it is even more important to listen to the environment," says Sandra, a multiple marathon finisher.
Freerunner Franky runs with sports glasses to improve his vision: "It doesn't look so chic, but it protects you from the cold and snow, and the corresponding interchangeable lenses give you sharper contours."
Everyone agrees on one thing: at temperatures below minus 10 degrees Celsius, even the love for running no longer helps: "It's just too much for the lungs, in which case I'd go for a walk instead," says Franky. A good alternative is to use the time for balance training like Willy: "I deliberately focus on stability and strength training, which is often neglected in the summer anyway, because I simply like running too much."
And exactly this joy of running should not be spoiled by adverse conditions. A common advice by professionals is therefore: "It is important that running does not determine life and become compulsive. It should be fun and give more energy than robbing - then the weather is actually secondary."