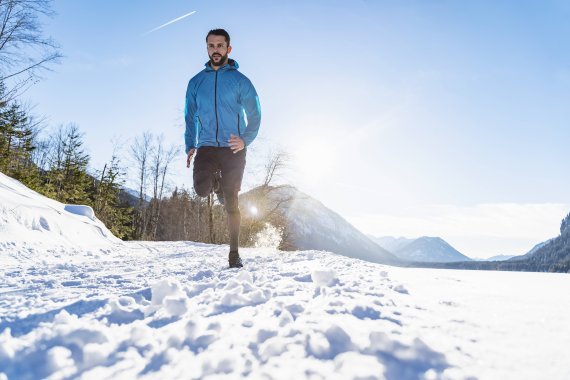 In 2020, ISPO will again welcome ambitious trail runners and interested runners to the ISPO Munich Night Run 2020. On February 1, the running shoes will be laced up in Munich's Olympiapark.
The perfect occasion to run through the winter instead of putting your shoes in the corner. "Running in the cold is basically not harmful, but you should prepare your lungs and organs for it," says running expert Volker Haußmann.
In 2001, the sports science graduate opened "lauf_bar", the first specialist running shoe shop with running analysis in Munich. He even prefers running in winter to summer because of the fresh air.
Haußmann recommends that jogging beginners start in autumn. If it absolutely has to be winter, one should first run in indoor facilities. After all, running in the freezing cold and dry air can quickly overtax your lungs and make you sick. "Then, if you have a cold for a longer period of time, all that running was for nothing, too."
For trained, healthy runners, the following applies: temperatures down to minus ten degrees are harmless. However, you should listen carefully to your body: If your lungs hurt, you're probably running too fast. Scientists advise against intensive training in which you breathe the ice-cold air quickly and deeply into your lungs: it is better to run steadily and slowly. Then regular breathing will also work.
From temperatures below minus ten to twelve degrees, athletes should rather refrain from running and instead switch to hiking or walking. Otherwise, there is a risk of respiratory diseases such as bronchitis, because the respiratory tract dries out and is then more susceptible to pathogens.
Clothes that are too warm when jogging can also lead to a cold. "There is a basic rule: the first five minutes you may calmly freeze a little when running," explains Haußmann. After that, the body is sufficiently heated up.
The danger of running in the cold with too much and too warm equipment: A film of sweat forms on the skin, the jogger opens his jacket due to the heat and the cold air cools the wet skin. On the other hand, it shouldn't get too summery. "I would rather leave the shorts in the closet."
According to Haußmann, one should also pay attention to the right footwear. To jog on mud and snow, you should get models with a tread suitable for slippery surfaces. Otherwise there is not only the danger of slipping. Wrong movements can also become a habit. Injuries could occur in the long term.
Functional material is also a must for running clothing. Moisture can only escape through breathable running clothes. When dressing, the expert recommends the layer principle. Depending on whether you're more of a frostbite or think Greenland is a holiday destination, there should be two to three.
And: "The fit is very important," says Haußmann. Otherwise you can quickly get sick - if there's too much air between the layers, it cools down and the body never gets warm. Many joggers simply wear clothes that are too wide.
You should always wear headgear when it is freezing cold. Here, too, the material should be thin because a lot of body heat is released through the head.
For athletes who quickly freeze at the ears, there are now running caps that are extra reinforced there. Gloves, on the other hand, are not so important and can be worn or not, depending on your preference. The fingers cannot get more than cold and there is no risk of catching a cold.
Sports scientist Haußmann is not an advocate of extensive warm-up gymnastics programs. His tip is to run the first kilometre slowly and easily, incorporating running exercises such as hopscotch or arm circles here and there to warm up the body.
The same applies to running in the cold at the end: "You should slow down for the last four or five minutes. This is good for muscle regeneration and for the cardiovascular system, which can slow down in this way. Joggers who sprint the last 500 meters are not doing themselves any favors - regardless of the season.
However, all these nice tips are of little help if you lack the motivation to exercise. It's particularly hard to get up the nerve to run in sub-zero temperatures. Volker Haußmann recommends being aware of why you want to run. He believes that jogging to lose weight is the wrong goal: "Once you've lost five kilograms, you quickly become lazy again."
Health and fitness are better reasons to motivate yourself in the long run. But weight loss can be a nice side effect, of course. Jogging consumes around 750 calories per hour, the equivalent of one and a half bars of chocolate.
Otherwise, it helps to integrate running training into your weekly schedule and set low goals - this is better for the psyche. A running partner also makes sense, so you can pull each other along.
Many people also get a kick out of having the right music to jog to. Still others are excited about the technology aspect: with apps and wearables, a runner can analyze their results and create a digital training plan.