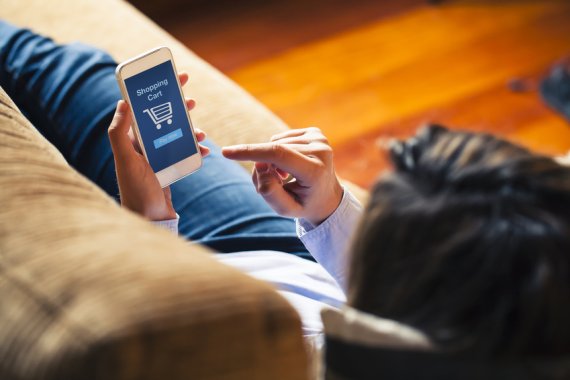 Women tend to love shopping and to see it as a free-time activity. They are more likely to make impulse buys and take advantage of offers. Men mostly buy just what they need – they go with a clear idea of what they are looking for, and try to spend as little time as possible. Really?
Expand your knowledge about women in the sports business and as a target group in the sports industry and watch the panel discussion! Sign up now here for free >>> 
The cliché is correct, the latest studies confirm. A recent GfK study showed that women also spend more time shopping online. "The process of making buying decisions is longer for women and has more stages," explained Diana Versteege, who together with her agency Shecommerce specializes in studying the different e-commerce buying habits of men and women.
"The long process of deliberation before they click the 'Buy' button is very important to women," she says. If you were to depict behavior on a graph, for men it would be linear, while for women it would go in steps.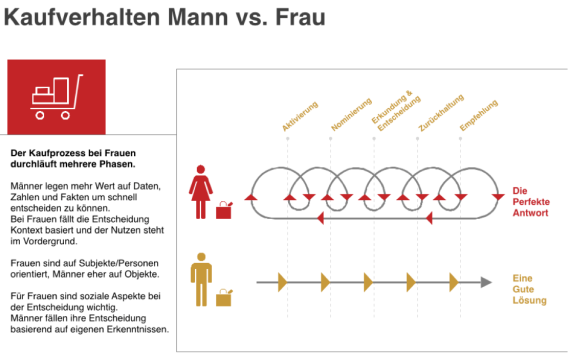 Inspiration Instead of Pure Product Information

What happens in this deliberation process? "Women appreciate it when they can get inspired, when they can browse through different products," Versteege continues. The layout of a shop should therefore be arranged emotively, not rationally. 

For example, images of just the clothes themselves won't do. Women always want to see models wearing the clothes – if possible, with a 360° view, and with a video too – so that they can get a better idea of the product.

As decision criteria, they tend to look for more attention from the retailer, a more personal approach, and an interactive shopping experience. Reviews, customer opinions and recommendations are more important for men.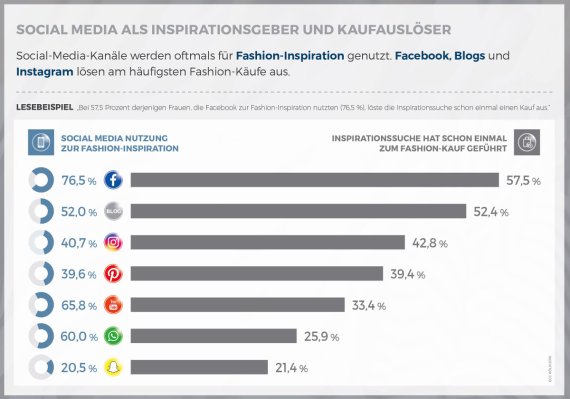 Social media sites are also important sources of inspiration – and they are becoming increasingly important as purchasing triggers. Most important in this are Facebook, blogs und Instagram. "The influence of fashion bloggers and widely-followed Instagram accounts is always increasing. These are already important contact points in the customer journeys of female customers," says Kai Hudetz, CEO of IFH Köln.
Read about how Adidas invited popular influencers to Rio for the 2016 Olympics >>> 
Women Shop on the Sofa with Their Phones

It then makes sense that women like shopping in a relaxed atmosphere, at home on the couch, using a smartphone. This has been established by a new study from ECC Köln and HSE24.

More than three quarters of those questioned make clothing purchases from home and especially do it while the TV is on. Some 54 per cent of the interviewees revealed that they enjoy searching for new clothes on their phone while watching TV. It's no surprise that people are led more by emotions than facts in these surroundings.
Men Need Advice – But So Do Women

This is different to men. They love being able to use information, facts and figures to make quick decisions. However, the GfK study has shown that men are easily overwhelmed by the sheer number of products available on the internet. That is one reason why they are particularly receptive to offers like curated shopping (personal style advice).

Real-time fashion advice via a messenger is already available in several online shops. However, only 28 per cent of female fashion shoppers find this type of service helpful, according to the ECC study. Even for women, enthusiasm for a large choice is not limitless – inspiration doesn't just mean having lots of products to choose from.
Diana Versteege: "I don't know any women who would be happy to scroll through 2864 product results." Not for nothing has Zalando introduced its curated shopping tool Zalon for both men and women, aiming to offer more advice to its customers. "The tool is used by women in particular when they are buying for special occasions," Zalando shared. It is clear that those who provide solutions for the sheer mass of products are the ones who will stand out from the competition.
Women Love Fashion, Men Love Electronic Gadgets

And what are women and men interested in? There are few surprises here. Women shop more in online fashion shops, whereas men release their inner child by buying electronic gadgets.

But electronic equipment is also the number-two choice for women. This is at least according to a study published by the American company Optimizely, a platform for optimizing the usability of websites and mobile apps. Men buy online slightly less than women and buy products in higher price ranges.
Another result of the study is that women are more annoyed by high delivery costs than men. Almost half of the interviewees gave this as the reason for shopping in physical stores. 

Something else that is not surprising is that e-commerce is a man's world: Those who design shops and are part of the decision-making committees are mostly men, so it's not surprising that many stores are still designed very technically, putting the focus purely on product sales.
Male and Female Roles Are Changing

But watch out: As clear as the differences are, they need to be interpreted with care. Customers' purchasing behavior is now more multifaceted than ever before. Ultimately, it's a matter of knowing individual target groups and making conclusions from these.
Those who stay up to date with fashion will know that the young generation of consumers in particular does not confirm the old clichés so clearly. Set ideas of what is masculine and what is feminine are not as important to Generation Z.

Expand your knowledge about women in the sports business and as a target group in the sports industry and watch the panel discussion! Sign up now here for free >>> 
For example, Facebook has more than 50 gender options for users to choose from. Fashion labels work more and more with transgender models, with fashion shows as joint events for men's and women's fashions. For a long time, this would have been unthinkable. Current trends point to both genders moving towards the middle – men are become more feminine, and women more masculine.