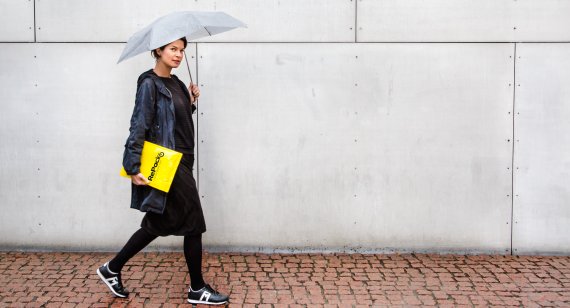 With a continuous focus in the sports and outdoors markets at ISPO in how we can deliver a more efficient, smarter and sustainable business, from materials through to final garments, little focus falls on the packaging involved in getting the final garments and kit from retailers and brands to the consumer.
With "clicks vs. bricks" a competitive aspect of the retail industry, it is clear that the former is increasing as more and more of us order online and embrace the continuous growth of e-commerce. Packaging is piling up, especially if you are a keen shopper, so what to do with it?
Recycling is an option, many brands and retailers are already using recycled packaging and bio-degradeable tape, but there is always some plastic involved. This is where RePack comes into play, a relatively new company from Finland that has developed three different sized bags that offer a massive reduction in waste.
In 2016, world plastics production totaled 335 million metric tons. The main cause of the increase in plastic production is packaging. Half of the annual plastic production is destined for a single-use product. RePack's ambition is as big as it is simple: to eliminate, completely, the waste created by e-commerce.
RePack is an award-winning and globally unique reusable and returnable packaging service. It is designed for online retailers and shoppers. The concept is easy, it simply replaces single-use delivery packaging. After the consumer receives their order, the empty RePack can be folded into letter size and dropped to any post box, anywhere in the world, free of charge.
The innovation results in substantial benefits for the online retailers but also to the environment and is now available at more than 50 web-stores in 14 countries in Europe and in North America and is a concrete solution to reduce packaging trash in e-commerce.
Sustainability is the core value of the company, with RePack packaging can be used at least 20 times. This circular packaging service removes packaging waste and reduces CO2 emissions by up to 80% compared to single-use packaging. Any RePack packaging returned that can no longer be used is upcycled. Zalando is one of the latest e-commerce giants to introduce a pilot program of working with the RePack concept, with the empty bags posted back to the e-tailer to be processed and reused.
"RePack is a very interesting model for us to explore & we are thrilled to kick start a collaboration with RePack and Weekday, one of the brands within the H&M Group. With our commitments to circularity and leading the change, reusable packaging is one model that will support our actions. RePack has built a unique system and we are eagerly diving into how our customers react to a new behavior of returning packaging but also the environmental benefits of this reusable model." Laura Coppen – Creative business Dev & circular lead, H&M Group, the laboratory.
Traditionally packaging from e-tailers is returned when a product needs to be returned due to various reasons. With RePack not only can you send your returns in the original bag, but research has also found even if the consumer is satisfied with their online purchase, they are happy to fold up the bag to envelope size and post it back - becoming integral to the circular economy of this product. And feedback from consumers has been positive.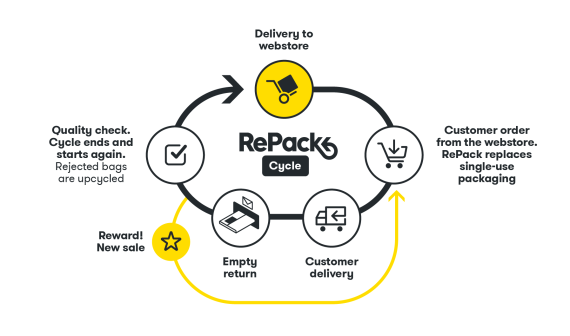 RePack bags come in three different sizes and are made of recycled polypropylene (the same material as the ubiquitous IKEA blue bags) with the addition of velcro straps for extra security. E-commerce brands can offer their consumer the option at check out of having their product sent in a RePack bag, which then can be easily returned to the brand for reuse.
The early adopters have been brands that share the values in sustainability and are not afraid of making a statement; outdoor brands and sustainable fashion. "We truly believed that RePack is the right choice for sustainable packaging, and the numbers of satisfied customers and reduced packaging costs prove it," said Jussi Hämäläinen, CDO, Scandinavian Outdoor.