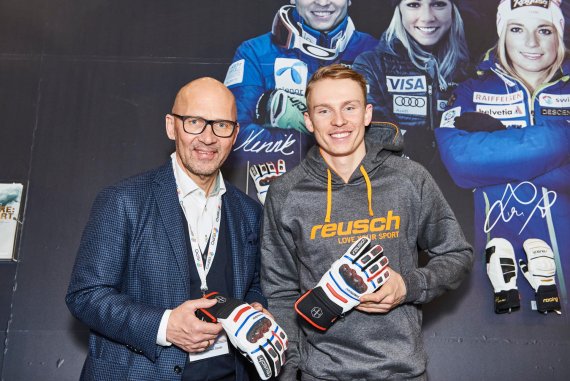 Scrawny legs, white socks under his skinny jeans, and not quite a full head of hair: this is what probably the best slalom skier in the world looks like. Henrik Kristoffersen is a guest at ISPO MUNICH 2017, stopping by with his ski outfitter Rossignol and with glove manufacturer Reusch, which has designed a special model for him and six other top skiers (among them Marcel Hirscher, Lindsey Vonn, and Anna Veith) in the Matador series, just in time for the World Ski Championships beginning in St. Moritz on Monday.
And so the young Norwegian sits at the bar table, writes an autograph, poses for a selfie, writes an autograph, poses for a selfie, and so on. After the fact, a selfie-taker calls out to him admonishingly, "And don't you drive me back to Felix, you beanpole!" Another selfie artist is obviously not quite as in the know. When he goes to share his Kristoffersen selfie with the world, he first has to ask his buddy, "And who was that again?"

Trade fair boss Klaus Dittrich, of course, knows whose hand he's shaking and wishing "Good luck for St. Moritz": the bronze medal winner from Sochi, six-time junior world champion and winner of last winter's slalom judging. That is to say, the fiercest competitor of Felix Neureuther, Marcel Hirscher & co.

"The level is already so damn high. The races against these guys every week are really hard, but it's also really fun," says the 22-year-old about the rivalry with the slalom and giant slalom elites. In terms of muscle mass, the competition is already miles ahead ("I'm still not all that strong yet"), but at the end of the round his name is quite often at the top already.
How does he do it? "It's difficult to say. I can't explain why I'm so fast either. Sure, there's a lot of work behind it, but a strong psyche accounts for a lot, too. In the first three gates everybody's still there mentally, but then when you go through 70 gates, that can make the difference."
No wonder his favorite races in the World Cup are those where the most is going on, where the pressure on the athletes is the greatest: Kitzbühel and Schladming. "Kitzbühel is probably the most difficult slope in the entire World Cup," says Kristoffersen, "And you won't find fans anywhere that are crazier than the ones in Schladming. Both races are really strenuous, but they're cool."
It's difficult for the Norwegian to say for sure where his best skiing experience ever has been: "I look at it like my fellow countryman Kjetil-Andre Aamodt. He always said, 'The next is always the best.'" In any case, Henrik Kristoffersen knows the St. Moritz slalom course from last year: "I was 18th place then - out of only 24 men on the finish line. But I was sick then. This time it'll look different, that I promise you!"