The new trade show concept
Attention: The contents on this page do not refer to the upcoming ISPO Munich 2021!

Information on the online convention from 1-5 February, 2021 can be found on the ISPO Munich homepage.
In 2020, the relevance of sports, outdoor and digital formats in the lives of many people has increased enormously. The relationship to these topics has changed fundamentally.
What do these fundamental changes mean for ISPO Munich?
A new trade fair concept. Aligned to the needs of the new reality.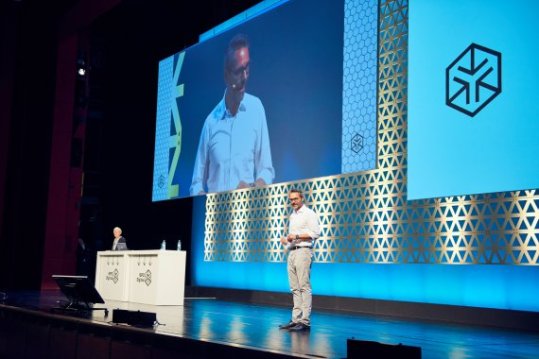 In recent times, the relevance of sports, outdoor, and digital formats in the lives of most people has increased. Where there used to be an "either/or", there is now an "and". Digital and physical, exhibition and theme-oriented, also product and trend-oriented.
As a hybrid trade visitor platform, ISPO Munich 2021 makes the changed perspective of the consumer tangible and offers new opportunities.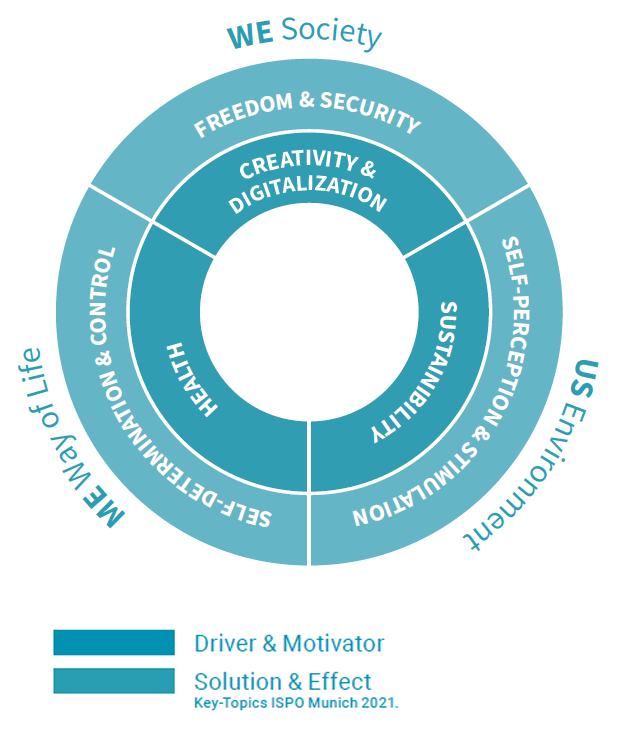 Corona and especially the containment measures have changed our actions, but also our needs. The focus topics of ISPO Munich are derived from consumer wishes.
The desire for self-determination expresses itself in health/freedom
Our health was at risk. Our freedom of movement was restricted. Our spirit was in tatters. We all wanted to take back control. Physically and mentally. Sport has made this possible. Sport has kept us busy and focused our minds. Sport has helped us through all of these adversities. Sport has enabled us to live healthier lives at a time when we were most worried about our health.
The desire for freedom and security expresses itself in creativity & digitization
We have to constantly balance freedom and responsibility in our lives. To solve this problem, we give ourselves new freedoms. We have the choice to take advantage of the opportunities of digitisation and organise sports both indoors and outdoors through apps and digital coaches. We can perform sports indoor in a responsible way and satisfy our need for community and communication in online communities, and we can go outside and escape into the great outdoors. Above all, the 'new normal' means that creative solutions are the way to success. We do not shape the future using tools from the past. We want to explore new paths, make new experiences and shape the 'new normal' with creative people and companies though sport and playful creativity. Through sport, creativity and digitisation tools, we inspire ourselves, connect with one another and together create a new piece of culture.
The increased appreciation for nature expresses itself in sustainability
We are missing social events, big occasions, parties and presentations. Life feels flat and subdued at present. Physical activity, particularly outdoors, really brings our bodies back to life. We enjoy the fresh air and the intensity of the activity, and we even look forward to the feeling of aching muscles. Physical activity and nature give us the opportunity to (re)activate our inner passion at a very individual level. Many people have discovered the power of nature and they now appreciate its value. The momentum for a 'green recovery' through sport and outdoor activity has never been greater than it is right now.
ISPO Munich 2021 enables interaction and participation at any time and from any place in the world.
For the first time, the exhibition halls will be divided into two new categories:
    Lifestyle Halls: Because people don't think in product categories, but in living environments.
    Experience Hall with Hybrid Stages and ISPO Digitize Summit: Because people no longer live physically or digitally, but "and".
Corona has created a moment of maximum acceptance and maximum demand for digital experiences. They have shed the stigma of substitute reality and offer functional and emotional added value. Also and especially for sports and outdoor activities. ISPO Munich 2021 transfers this development into the trade fair context: The Experience Hall is home to the new format of the Hybrid Stage and the established ISPO Digitize Summit. It is therefore the logical transfer of this development into the trade fair context. It enables participation and exchange, independent of physical presence. It is the perfect platform to use new forms of presentation and interaction and thus reach target groups far outside the exhibition grounds.
Get to know more
For many, sports and outdoor experiences were a welcome escape from pandemic-influenced everyday life and one of the few opportunities for self-determination and experience. The relationship of many people to sport itself has changed as a result.
In order to use the energy of this development in the medium and long term, it is essential to think ISPO Munich even more from the people's point of view. The Lifestyle Halls are therefore dedicated to different life worlds, which increases the relevance and puts the respective topics, products and innovations into a lifelike context
Get to know more
The general overview shows the individual halls. The division into Experience Hall and Lifestyle Halls has expanded the hybrid product range and now offers an optimum range for every need - whether exhibitor or visitor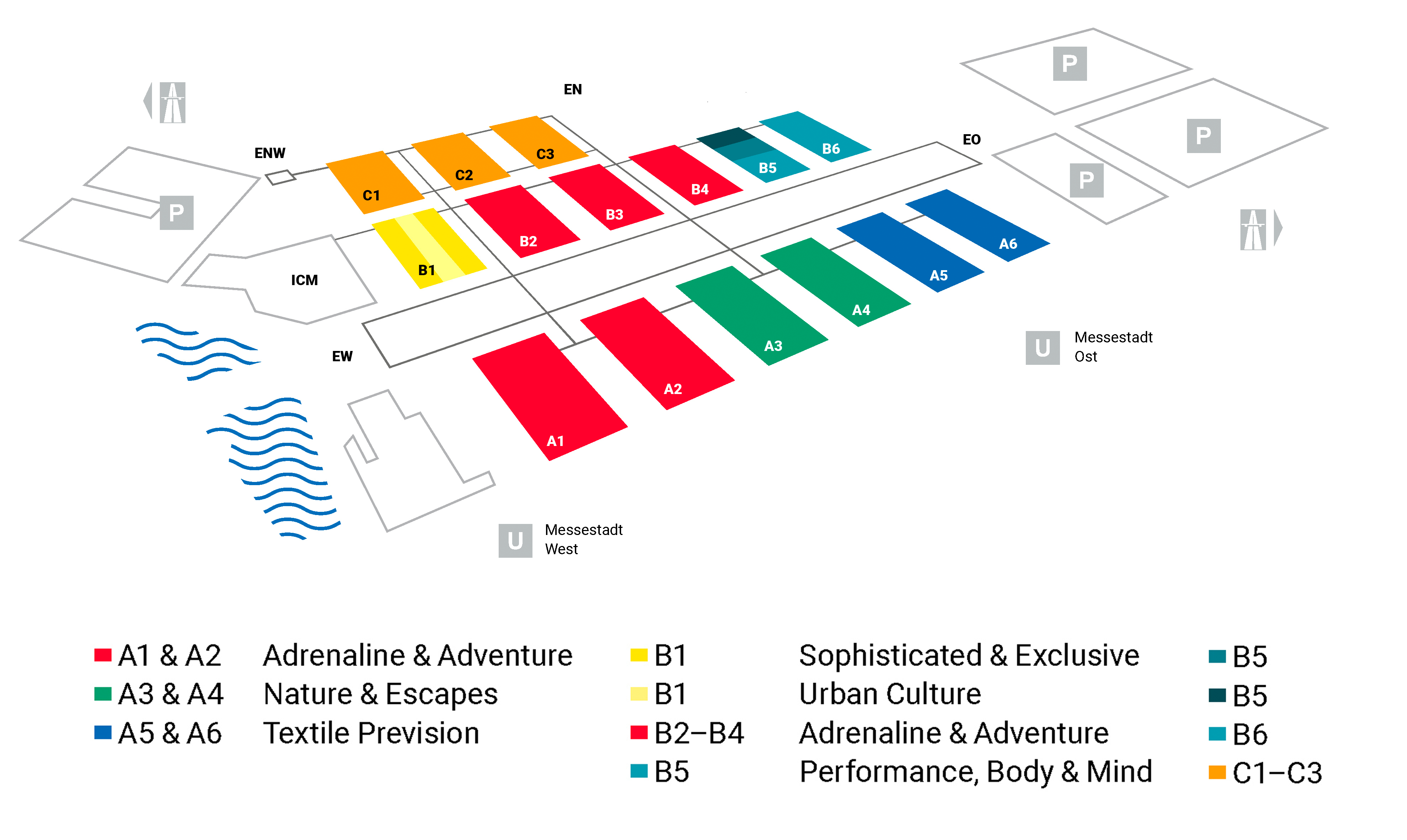 To ensure that trade fairs can also be held safely and successfully during the corona virus pandemic, Messe München, together with other Bavarian trade-fair companies, has drawn up a safety and hygiene concept that was officially adopted by the Bavarian state government on 23 June 2020. It is essentially based on three features:
Social Distancing
One of the most important points is the general rule of 1.5 meters distance on the whole site. Where this distance cannot be maintained, and in general indoors, a mask is mandatory.
Traceability of all participants
The traceability of all participants is guaranteed by pre-registration and our admission system.
Hygiene
If the rate of infection continues to drop, which can be assumed from today's perspective, the mouth and nose cover can be removed at exhibition stands at the table.