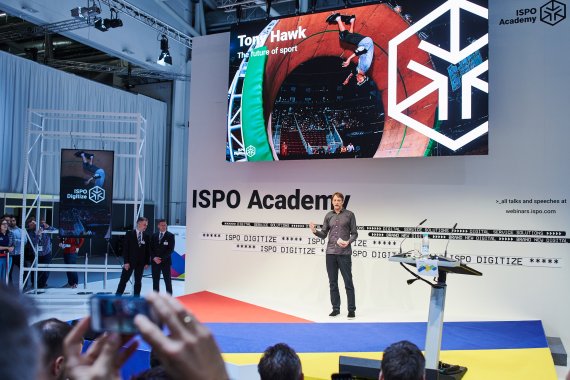 Tobias Gröber had no illusions: "Before you experience the most important speaker of this evening, you will have to follow me for a while", said the Director of the ISPO Group with a wink to the more than 500 people on and beside the ISPO Academy grandstand.
Hall C6 is in a state of emergency. Skater legend Tony Hawk held his keynote speech "The Future of Sports" as an ambassador of ISPO Digitize. And the 50-year-old was in a good mood at the ISPO Digitize Pioneers Night: "The future of sports is bright, the future of skateboarding even brighter."
ISPO.com summarizes the 5 Learnings that superstar Tony Hawk highlighted in his keynote.
Tony Hawk took his listeners on a journey through the climaxes without omitting the low points. "When my video game came onto the market and quickly became very successful, some people called me a traitor," reported the US American. "I was partly accused of selling out my sport - I think they were just unhappy that I was selling anything at all."
The video game named after him has brought Tony Hawk worldwide popularity. On Facebook he has six million fans, but there are also critics. He simply fades out negative feedback, said Hawk: "If I let all these negative comments get to me, it would probably put a lot of strain on me."
Tony Hawk was and is not only a sports idol, he has also managed to turn his name into a brand. That was a lot of work. "I have always challenged myself, even as a kid: I always wanted to get better and bring my technique to perfection," said the father of three sons and a daughter. "And that's the attitude I kept after the end of my sports career."
Already at the age of 14, Tony Hawk was a professional skateboarder. Countless titles, triumphs and awards followed. But after his active career, things didn't go too well at first. There was no income. Until his video game came out in 1999. "I've always welcomed new technologies with open arms," said the superstar, "you have to know what moves people out there and adjust to it."
Tony Hawk is well aware that a career like his is more difficult to achieve today. "Social media and digitalization are spreading attention to many more athletes and niches - I like this democratic process," said Hawk. "Back in the days, if you wanted to become famous, you had to win a lot of competitions. Later, you also had to make good videos. And today, you need to understand social media and be able to stage yourself."
He experienced a key moment a few years ago, reported Tony Hawk. "Twitter was something sensationally new back then. I was fascinated by how fast news suddenly spread." How fast? He wanted to find out for himself.
One day, when Tony Hawk was in his car driving to his Californian office, he came up with the idea for a little experiment: "I pulled over, took my skateboard and threw it into the bushes on the side of the road. I filmed this scene and put it on Twitter. It wasn't long before the first one showed up and started looking. And a little later there was a small cluster of people there."
Tony Hawk is also a crowd-puller at the ISPO Digitize Pioneers Night. After his presentation, the security team had its hands full to get the skate superstar out of the hall again. A leisurely walk through the halls - impossible. This is a pity, said Hawk later in an interview with ISPO.com. "ISPO Munich is the best trade fair in the world for sports business - and has been for many years."
Hawk believes that the chosen path of not only accompanying the digitalization of the sports industry but also actively promoting it is exactly the right one. ISPO boss Tobias Gröber could hardly be paid a bigger compliment. "We are very happy that ISPO Digitize is so well received," he said. "The demand is getting bigger and bigger and I'm sure that we will be able to do more at the ISPO Digitize Summit on July 3rd and 4th, 2019."
With the first event in summer 2018, ISPO gave a great starting signal together with Adidas. The sporting goods giant from Herzogenaurach also sent a top-class representative to ISPO Munich 2019: Tareq Nazlawy, Senior Director Digital Strategy Adidas, presented Adidas' plans to the excited audience: "Digitalization is not a minor matter. For us, it is the focus of our actions."
Tobias Gröber also believes that ISPO cannot afford to ignore growth markets in sports. He therefore believes that integrating eSports into ISPO Munich was exactly the right decision. After all, it is also about giving visitors more than just a feeling for digital developments: "Here we have the opportunity to experience all facets of the sports business and to create interfaces between the analogue and digital worlds.
And so the ISPO Digitize Pioneers Night ended with a FIFA show match between a representative of Borussia Mönchengladbach and Bayer 04 Leverkusen, while next door the visitors discussed their impressions with a drink after work and DJ music.