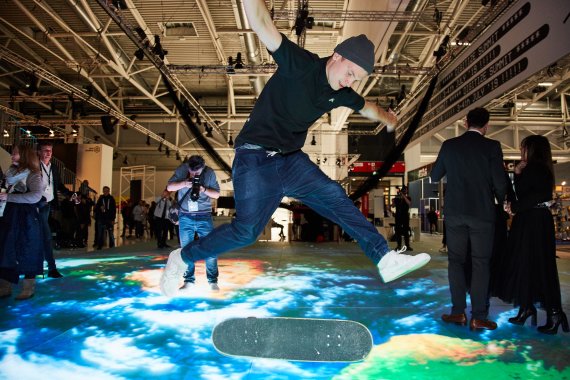 Four days full of sports, keynotes, stars appearances and events are behind Messe München. The ISPO Munich 2019 was again a big success for the organizers in Riem. But not only for them: the exhibitors and sports celebrities look back on four exciting days for their businesses, too. Here are some of their statements:
Ole Einar Björndalen, biathlet, was award with the ISPO Cup: "I was here one and a half days. ISPO Munich is four times bigger than I thought, with so many brands. It is very interesting to walk through the halls and see all the developments of the different companies. Now I wish I'd had a few more days here."
Tony Hawk, skateboard legend and star guest at ISPO Digitize Pioneers Night: "ISPO is such a big movement, ISPO is legendary. Moreover, ISPO is one of the few sports platforms that also integrates action sports very prominently. That's why I'd like to come back in the coming years to see all the new innovations."
Robert Fankhänel, COO of the exhibitor Hologate: "We were super impressed. The area of ISPO Digitize was especially laid out for digital media. And we with Hologate as a virtual reality platform had a huge appeal there. The stand was full all the time, people were really interested. It was great fun for us to show the sports business a new side of sport. The sports industry is becoming increasingly digital: the Digitize area could therefore probably be almost twice as large next year."
Günther Herrmann, Head of Marketing & Sales at Schöffel: "These were very busy days for us. This time, we also had a large international audience and were delighted that our new themes such as ski touring were well received. So we leave the fair with a broad grin, because for us it is always a medium to feel impulses from the trade and trends. Therefore we are very much looking forward to the OutDoor by ISPO in summer. Because we had already committed ourselves to the Munich location in order to advance the internationalisation of the industry, which the ISPO team will certainly succeed in doing".
The multiple SUP world champion Sonni Hönscheid said: "I think it's great that ISPO provides strong support for the topic of sustainability. This is also particularly important in the trend sports. If the young people find it cool to live sustainably, we can really make a difference. I think the topic will also play a role at the first OutDoor by ISPO. I'm very excited about the first OutDoor trade fair in Munich and I'm very happy to be there."
Michael Heina, Head of eSports Europe at Nielsen Sports: "From Nielsen Sports' point of view, ISPO is the perfect platform to bring eSports closer to the sporting goods industry. But also to show the participants in the eSports industry the needs of the sporting goods industry."
Stefan Zant, Managing Director ProSiebenSat.1 Sport GmbH: "ISPO Digitize is a very good opportunity for us to get in touch with industry decision-makers and to present our products".
Stefan Herzog, Secretary General of the Association of German Sports Retailers (VDS): "ISPO Munich offers specialist retailers everything they need to be competitive now and in the future".
Julius Brink, Olympic beach volleyball champion: "Of course, I was very interested in all the beach stuff. I also knew some partners from beach volleyball. It's nice that the whole world of sports comes together here and enjoys some days together and stays up to date with the latest trends. I also find it interesting that the sustainability issue has entered the fair. What I still miss a little - as a young father - is the topic of the power of sports for children. I think that will come in the next few years."