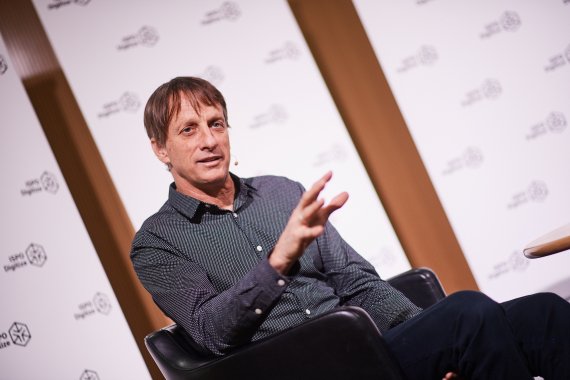 ISPO.com: Tony Hawk, you are a skateboard legend, entrepreneur, hero of your own video game, social media star. Are you the perfect combination of both worlds - digital and analogue?
Tony Hawk: (laughs) Well, I hope so. I have always loved technology and I played a lot of video games. So, when I had the chance to work on a video game, I embraced it. I worked very closely with the developers and I'm very proud of being able to live in that world, as well as keep skating physically, too.
During your speech, you said that the future of sports, also through the possibilities of digitalization, will be great. Can you explain that in more detail?
Because of the age of technology and the speed of information and the way that people can understand how a sport works, I feel like that's an advantage. And it's no longer broken down by geographic or by economic boundaries. It's just more that the information is out there, and you can go figure out how to play something even if you don't have a big support system.
And what role does social media play?
I think it levels the playing field. It allows someone from the most unlikely place to become a star based on their skill. If they have the skill and they're putting content out there it's going to get noticed and eventually it could catch on. And suddenly you could be a star.
And I think that's a great advantage for the growth of skateboarding and the growth of all sports really.
The focus is also on how digitalization is changing sports. When you get back to the US, will you tell your friends about this?
Yeah, I think it's a big movement. I'd say get on board, you should come and see that this is bigger than you can imagine. ISPO is legendary. Moreover, ISPO is one of the few sports platforms that includes action sports so prominently. I think that's a good sign. That's why I'd love to come back here and support it in the years to come to see all the innovations.