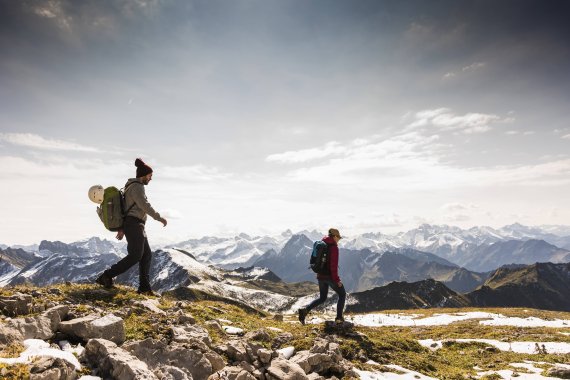 Facebook Follower: 105109 
Instagram Follower: 38,1 k
Line Dubois and her boyfriend Sebastian Canaves blog on "Off The Path" about their travel and outdoor adventures. Products that can be worn outdoors as well as in everyday life convince the couple: "We prefer brands that manage to develop products that we can wear during our adventures in nature as well as in "normal" life in the city.
Ideally, these products should be produced in a sustainable way. The brand behind the product is also important to Line: "What does it stand for? What values does it represent and to what extent does the brand inspire and motivate me?" She sees Fjällräven Classic as a successful example: "The trekking event brings the brand close to its customers and conveys what Fjällräven stands for."
Facebook Follower: 763
Instagram Follower: 36,1 k
For David Herzig, design plays a decisive role: "I'm not looking for the latest trends and craziest innovations in outdoor products. I like simple, timeless design and plain colours that blend in with nature. In general, I would say we are tired of shiny colours and the functional look."
"Apart from the design, the brand has to convince with functionality, quality, durability and sustainable commitment," says Herzig. If the products meet these criteria, the price becomes less important
Facebook Follower: 1342
Instagram Follower: 2455
Sophia Metzler who blogs on "Maybe You Like" sees sustainability as an important topic for outdoor brands. When shopping new products, she tries to differentiate between greenwashing and truly sustainable production. "If I'm convinced that the brand is continuously optimizing its production from an ecological point of you, I'm open to spend more money for their products."
Facebook Follower: 3411
Instagram Follower: 812
Veit Schumacher is one of the editors at the online magazine "Airfreshing". He is convinced that the most important thing is the identification with the respective outdoor brand: "If the brand represents my values, it fits my lifestyle.
Topics such as sustainability and environmental protection are basically mandatory. Furthermore, he thinks that outdoor brands that stay close to their customers through events and marketing activities will be more successful in the long term. The price plays only a limited role.
Facebook Follower: 1912
Instagram Follower: 1646
"As a customer I expect strict transparency from outdoor brands," says Katharina Steglegger who shares her adventures in the mountains and on the lakes of the alps on her blog "Bergseensucht". "Authenticity and sustainability in the production chain" are important to her. When choosing new products, she focuses primarily on functionality, but also on design, which should be rather reduced: "Spare me with pink, floral and hipster prints. Customization options such as monogram embroideries are great too." Katharina also prefers shopping at retail stores offline.
Facebook Follower: 1148
Instagram Follower: 1579
Jana and Christian from Allgäu describe themselves as pleasure hikers and blog on "A Tasty Hike" about their outdoor activities and cooking. Competent advice is important when buying new outdoor products.
"I want type advice, not the most expensive products," Jana explains. "Products that are highly individualized are therefore best suited to create the most perfect product possible for all customers.
Facebook Follower: 573
Instagram Follower: 1180
Hamburg's Björn Köcher reports on "St. Bergweh" about mountain biking, alpine hikes over several days and via ferrata in summer as well as snowboarding and split board tours in winter.
Sustainability is a big issue when buying outdoor clothing: "A brand must credibly convey to me that issues such as environmental protection or clean production are at least as important as earning money.
I want to see initiatives such as repair services or social activities for society, recycling programmes or investments in environmentally friendly and resource-saving production processes. If this is not the case, it will be difficult to win me as a customer or brand ambassador."