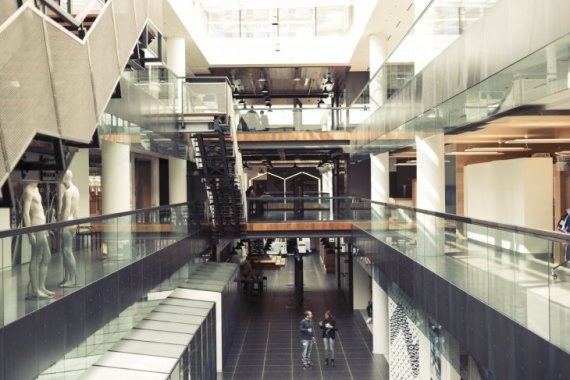 The VF Corporation was founded in Wyomissing, Pennsylvania in 1899. It is now one of the largest clothing companies in the world. The VF umbrella is home to brands like Vans, Eastpak, The North Face, and Icebreaker. The company intends to grow further, both internally and through acquisitions.
VF might be an attractive employer for job beginners and job changers in the fashion sector. Francesca Magni knows this. Since 2011, she has been working as HR professional for various brands of the VF family. She is now Senior Recruitment Manager EMEA and leads a team of recruiters across three different countries in Europe. She lives everyday the advantages and challenges of recruiting for a company best known for its commercial brands than its corporate brand and she best knows what it takes to succeed in VF."
ISPO.com: The VF Group combines several attractive brands under one roof, which can also be a disadvantage on the job market. Are you less noticed there because many applicants don't know about the VF Group?
Francesca Magni: Most candidates know about our brands. At the same time, we are aware that the entire VF family could be less familiar to people. But in recent years we've been increasingly presenting ourselves as "One VF." As the largest clothing company on the market, we've also become known outside our industry that way.
Do you also give your employees the opportunity to switch from one brand within the VF Group to another?
For us, switching between the different brands and regions is not only a possibility, it is also actively encouraged. We like to have different people with different brand experiences to share their knowledge and skills across brands and consumer segments. Most of our senior leaders have previous experience in the other parts of the company. That's true for everybody – not just in distribution or marketing.
How important is it for your employees to identify with your brands? For example, should applicants who apply to The North Face have a high affinity for outdoor activities, and be able to prove it?
At VF, it's about lifestyle. That means that people who work at a certain brand of ours have to be capable of understanding the brand DNA and joining the relevant communities. I'll give you an example: to work for Vans you don't necessarily have to be a skater, but you do need to be interested in that world and be open enough to explore it from the customer perspective. Only with a strong understanding of our consumers' lifestyle we can be successfully in our day by day.
What else does an applicant to the VF Group need to bring to the table?
VF is an international company with very different brands. It's crucial for us to recruit people who will allow our diversity to grow and support it. We need curious people who will act bravely and promote initiatives in a complex, international environment. As part of the company's purpose we expect our associates to live with integrity, act courageously, be curious, act with empathy and have persevere as this are the guiding principles VF is built upon.
Have the applicants' job profiles changed in recent years? Or are they changing even further as a result of digitization?
Yes, the type of applicant profiles required in the digital, e-commerce, and direct-to-consumer sectors are constantly changing. Ultimately, we and our employees have to adapt to the continuous development of markets and consumers.
However, this affects all jobs in the company. That means: The human resources department also needs to become more digital, product staff are more involved in innovations and technologies, sales staff also need to be trained via online channels, and so on.
How can employees continue to improve in their company?
We encourage employees to own their career and support them by providing tools to help them in uncovering their aspirations, their strengths and link them to the company needs. It's about finding the right fit and growing together.  Our employees are supported by a coaching culture.
We believe it is important for employees and for us as a company to have diverse experiences. Therefore, we encourage employees to have experiences in different bands, different functions and different locations.
To continuously develop our employees, we don't only offer training sessions, but also focus on 'on the job learning' (project, assignments, councils, …) and learning from each other (formal or informal mentoring).  For example, all our employees have the opportunity to attend Leadership Journey sessions with our senior leaders to learn more about their career path, their learnings and engage in a conversation.
Where can things go with you? In which locations are you offering jobs?
We offer jobs in our European headquarters in Switzerland, in the two hubs of Belgium and Great Britain, and in most European countries (Barcelona, Milan, Paris, etc.).
Where does your company have the most difficulty in recruiting?
I would say that what challenges us doesn't have to do with VF itself directly. The market is evolving very rapidly, and the main necessity is just finding the best candidates on the market that fit our culture just as quickly.
Are there employees who started with the VF Group at a lower career level and are now in management positions?
Yes, we have a lot of employees who started their careers in junior roles and now lead entire departments. Dirk Jacobs, Creative Director Vans EMEA, came to the company in about 2011 as Senior Retail Design and PM for the Jeanswear collection in Belgium. He switched to different jobs, brands, and locations over the course of his career. Based on his experience, he is now responsible for defining, designing, and implementing the creative vision of the brand. Jacobs leads an international team of 12 employees.
How will you continue to evolve in the future to become even more attractive to applicants?
In addition to our organizational growth, VF is also growing through acquisitions. Naturally, this also enables employees to discover new brands and opportunities and share their knowledge and experience in different countries and cultures. The opportunity to grow with the main players in the market and stay in a company will therefore remain attractive.