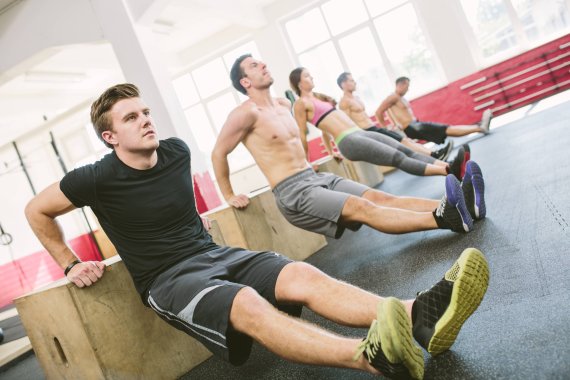 Every sport has a championship, a competition, a winner's podium. For many years in fitness sports, it was only about optimizing your own body, training your muscles to the maximum. In short: bodybuilding. But with the steadily growing number of gym members and trainees, the general body consciousness also rises. Excessive training is out. Athletes want to strengthen their bodies, but not overexert it. But how can Fitness 2.0 be measured?
Digital measurement and digital challenges against your own training data, or directly and live with friends, are nothing new. Using apps and wearables from Strava, Garmin, Polar and co., trainees have been able to control the digital competition for some time now, set up their own competitions, and challenge their friends online.
But the fitness championships of the future offer both. They combine real competitions in which the participants face each other directly with digital platforms. But how can fitness be measured, online and offline? A comparison. 
With the popularity of fitness sports, the popularity and number of obstacle races such as Tough Mudder or the Spartan Race have also increased in recent years.
Hyrox is a new competitive concept that starts exactly there. The fitness competition is a combination of a total of eight kilometers of running alternating with eight different functional training workouts. All of that combined into one timed competition.
"With four different divisions separated between men and women, as well as the Hydrox Doubles, we also offer athletes the right challenge," says Moritz Fürste, hockey legend, two-time Olympic champion, and managing director of the organizer Upsolut Sports. According to Hyrox itself, this competition for everyone: "Everyone who goes for regular runs and integrates strength exercises into their workouts is fit enough for Hyrox."
The nine-part indoor event series will celebrate its premiere in Germany in winter 2018. Cooperating gyms offer specially designed courses to help participants prepare for Hyrox. In addition, a separate app was developed together with event partner Puma in which workouts are presented and registered participants can see how they measure up with others before the competition.
But fitness can also mean fitness in everyday life: Taking the stairs instead of the elevator, going on foot instead of by subway. All of this exercise can be measured thanks to wearables. However, users usually have to initiate direct competition with others themselves.
One way for gyms to invite their members to compete is the "Let's Move For A Better World" challenge by Technogym. In "Let's Move For A Better World," the collected activity of all participating gym members are collected in the "My Wellness Cloud," Technogym's digital platform.
With this cloud-based solution, athletes can not only contribute their collected exercise units on Technogym devices into the competition, but also activity that have been measured with other devices that are networked to the cloud. Partners in the tracking include Strava, Apple Health, Samsung Health, My Fitness Pal, Garmin, and Polar. 
In the last Let's Move For A Better World Challenge, a total of 628,533,319 MOVEs were gathered from March 12 to 31, 2018. A total of 183,921 trainees in 29 countries all over the world participated in roughly 1,000 gyms worldwide. Another edition of the competition will take place in March 2019.
HIIT – High-intensity interval training is on everybody's lips: a short, demanding workout consisting of intensive intervals combined with slow recovery phases. Eliminating the recovery phases and combining the workout with weightlifting results in the supreme fitness discipline: CrossFit®.
The trend that overflowed out from the United States to Europe at the end of the 2000s hasn't escaped many fitness fans' notice. Today especially, CrossFit® is its own community. The comprehensive strength and conditioning training is based on functional exercises that are completed together in the "WOD," the "Workout of the Day."
This happens in special clubs, so-called CrossFit® Boxes. Mutual competition is  ubiquitous. It's about getting the WOD over with as quickly as possible. Individual best times are celebrated and documented in the CrossFit® Box.
The highlight of each year is the world championship, the Reebok CrossFit® Games. In February and March, hundreds of thousands of trainees around the world complete the same five WODs at the CrossFit® Open.
Nothing at all in this competition can work without a digital home: The new workouts are published on CrossFit®'s online platform every Thursday. Participants can take part in their CrossFit® Box and have to register their results online.
CrossFit® is a registered trademark of CrossFit, Inc.. Find more information at www.crossfit.com.