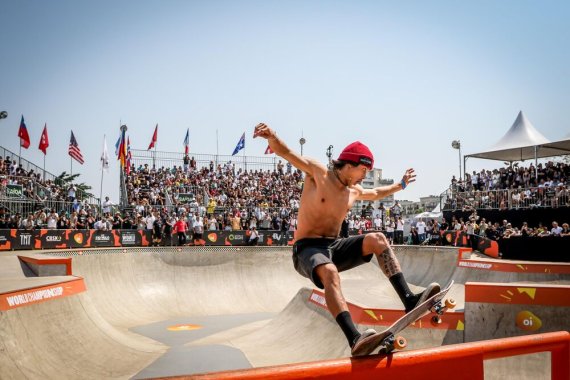 Already in the 1980s and 1990s skateboarding was a mass phenomenon. Nevertheless, decades passed before sport officially became part of the Olympic Games.
The 2020 Olympics in Tokyo will be the first time that medals will be skated for. In the skate scene there is not only applause for this. Many critics are afraid that skateboarding will take away the soul. ISPO.com presents the new Olympic disciplines in a series.
A total of four medal competitions in skateboarding will be held at the 2020 Olympic Games in Tokyo, so there are a total of twelve medals to be won.
The skateboard competitions at the 2020 Olympic Games:
Men's Park

Women's Park

Men's Street

Women's Street
In the park competitions the skaters are judged on their style and tricks, which they show in ramps, halfpipes and pools. Here the main focus is on aerials and grinds.
Streeet Skateboarding focuses on tricks, grinds, slides and aerials in urban terrain. Steps or railings, for example, are classic elements in the street parcours.
From 24 July to 9 August 2020, the skateboard competitions will be held at the Ariake Urban Sports Park in Tokyo. The sports park in the south of Tokyo is scheduled for completion in July 2020 and will then offer space for 8400 spectators.
At the Olympic Games, the BMX races and the decisions in BMX freestyle are also held there.
There are a total of 80 starting spots for skateboarders at the Olympic Games - 20 per competition.
For each discipline, the three best athletes from the upcoming World Championships in May 2020 in London and China will qualify. In addition, the best 16 of the respective discipline world rankings will be added, as well as an additional skater from the host country Japan.
Each National Federation may bring a maximum of six male and six female skateboarders, but not more than three athletes per individual event.