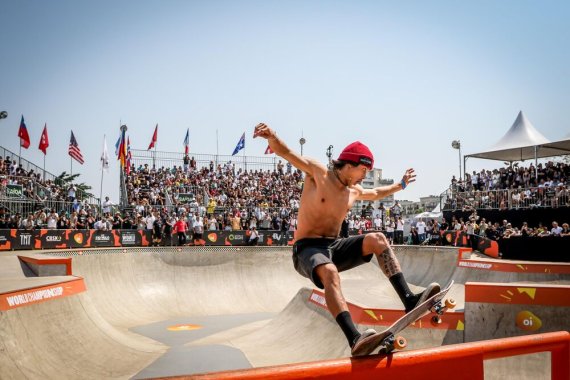 Skateboarding was already a mass phenomenon in the 1980s and 1990s. Yet decades passed before the sport officially became part of the Olympic Games.
The 2021 Olympics in Tokyo will be the first time that medals will also be skated for. In the skate scene there is not only applause for this. Many critics fear that skateboarding will be deprived of its soul. Yuto Horigome won't care. He is the first ever Olympic skateboarding champion. The Japanese won the gold medal in street skating ahead of Kelvin Hoefler from Brazil and the American Jagger Eaton.
A total of four medal decisions will be made in skateboarding at the 2021 Olympic Games in Tokyo. So there are a total of twelve medals up for grabs.
The skateboarding competitions at the 2021 Olympics:
Men's park
Women's park
Men's Street
Women's Street
In the park competitions, skaters will be judged on the style and tricks they perform in ramps, half pipes and pools. Here the main focus is on aerials and grinds.
Streeet Skateboarding focuses on tricks, grinds, slides and aerials in urban terrain. Steps and railings, for example, are classic elements in the street courses.
The skateboard competitions are held at the Ariake Urban Sports Park in Tokyo. The sports park in the south of Tokyo offers space for 8400 spectators.
At the Olympic Games, the BMX races and the decisions in BMX freestyle are also held there.
There are a total of 80 starting places for male and female skateboarders at the Olympic Games - 20 per competition. Each National Federation may take a maximum of six male and six female skateboarders, but no more than three male or female athletes per individual event.
These athletes* are already qualified:
Men Park:
Dany Leon (Spain)

Andy Anderson (Canada)

Dallas Oberholtzer (South Africa)

Heimana Reynolds (USA)

Cory Juneau (USA)

Luiz Francisco (Brazil)

Pedro Barros (Brazil)

Zion Wright (USA)

Keegan Palmer (Australia)

Oskar Rozenberg (Sweden)

Pedro Quintas (Brazil)

Ivan Federico (Italy)

Steven Pineiro (Puerto Rico)

Alessandro Mazzara (Italy)

Vincent Matheron (France)

Jaime Mateu (Spain)

Kieran Woolley (Australia)

Ayumu Hirano (Japan)

Tyler Edtmayer (Germany)
Men Street:
Yuto Horigone (Japan)

Nyjah Huston (USA)

Sora Shirai (Japan)
The other 16 starting positions are based on the world rankings as of June 30.
Women Park:
Amelia Brodka (Poland)

Josefina Tapia (Chile)

Bombette Martin (Great Britain)

Melissa Williams (South Africa)

Misugu Okamoto (Japan)

Sakura Yososumi (Japan)

Sky Brown (Great Britain)

Poppy Starr Olsen (Australia)

Elizabeth Armanto (Finland)

Kokona Hiraki (Japan)

Bryce Wettstein (USA)

Dora Varella (Brazil)

Isafora Rodrigues Pacheco (Brazil)

Brighton Zeuner (USA)

Jordyn Barratt (USA)

Yndiara Asp (Brazil)

Julia Benedetti (Spain)

Lilly Stoephasius (Germany)

Zhang Xin (China)

Maeleine Larcheron (France)
Women Street:
Aori Nishimura (Japan)

Momiji Nishiya (Japan)

Rayssa Leal (Brazil)
The other 16 starting spots are based on the world rankings as of June 30, plus an additional starting spot for Japan.
In the men's event, US star Nyjah Huston is the big gold favorite. In the women's field, the Brazilians around Rayssa Leal are to be reckoned with. The 12-year-old Sky Brown from Great Britain has what it takes to be the crowd's favorite.