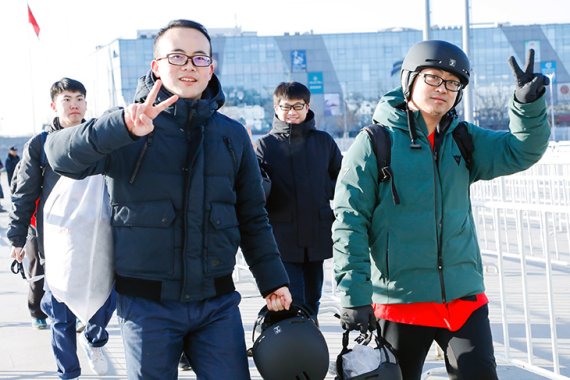 ISPO started a new journey to build a universe of sports lifestyle
From February 10 - 12, 2023, ISPO Beijing 2023, with 368 leading brands and 223 exhibitors, welcomed a total of 37,623 professional visitors and sports enthusiasts, an increase of 50% over the past year. The exhibition is held in the National Convention Center, Beijing.
The successful opening of ISPO Beijing 2023 is undoubtedly sending a strong message to the industry. Its busy and crowded exhibition halls clearly showed the new dynamics of the sports lifestyle industry in the post-covid period. ISPO Beijing, together with the sports lifestyle brands, industry professionals and sports enthusiasts, has witnessed the "restart and rebirth" of the hopeful market.
Ms. Xu Jia, CEO of Messe Muenchen Shanghai Co., Ltd., expressed her happiness: "Three years ago, ISPO Beijing 2020 was the first exhibition that was postponed due to covid-19, and three years later, it is the first exhibition that returns to a normal schedule. It is most fulfilling for us to see everyone here exchange their ideas, make business deals, and find new inspiration. The sports lifestyle industry has never stopped its pace towards new achievements. And ISPO is always willing to provide outstanding platforms for the industry, sports brands, products professionals and enthusiasts. "
As the first large-scale event in the new year for the sports lifestyle industry in the Asia-Pacific region, ISPO Beijing 2023 presented the market trends, innovative products and technologies, supply chain solutions and functional textiles and trimmings in a wide range of fields in the sports lifestyle industry, e.g. Snowsports, Outdoor sports, Camping lifestyle, Rock climbing, Running, Cycling, Land surfing, and Yoga, providing new ideas and inspiration for the future development of the industry.
The covid-19 prevention and control in China is progressing smoothly, and the implementation of new administrative measures treating Covid-19 as a Category B disease has made initial results in market stabilization. Under such situations, the Chinese sports lifestyle industry is expecting an exponential growth. ISPO aims to "seize the opportunity and act as a pioneer" and by upgrading in multiple dimensions to drive industrial development.
After the successful holding of ISPO Shanghai 2022 – Nanjing edition, Messe Muenchen Shanghai Co., Ltd. successfully landed a strategic cooperation framework agreement with the Nanjing International Exhibition Center under the witness of the Nanjing Convention and Exhibition Commission. Through this partnership, ISPO will consistently offer sports events full of joy and freshness to the sports practitioners and enthusiasts in Nanjing and surrounding areas.
In addition Messe München Shanghai Co., Ltd. has struck a strategic cooperation framework agreement with Xiamen International Trade and Exhibition Group under the witness of the Convention and Exhibition Office of the Xiamen Bureau of Commerce. The main goals are to support the development of the sports and leisure industry in South China, to promote a healthy sports lifestyle that integrates into people's lives in the region and to expand the influence of ISPO in South China. Under the agreement, ISPO will be held in the Xiamen.
Creating a universe of sports lifestyle across boundaries
From multi-category to full-category, from building market chains to breaking boundaries, ISPO has assumed many roles in its exploration of the sports lifestyle industry across these years. It has brought many niche categories to the front stage and provided suitable space for their growth with a more clarified development concept of marketing and expansion. Through such roles, ISPO injects fresh blood into the established markets and stimulates its upgrade to achieve long-term prosperity.
Mr. Tobias Gröber, Head of ISPO Group said: "With ISPO Beijing 2023, we want to show the diversity, inclusiveness and sustainability of the sports lifestyle industry, which is also the concept that ISPO wants to convey to the world. The sports lifestyle is diverse and its target group is expanding rapidly. Enterprises and brands need to meet the diverse consumer needs while maintaining a flexible strategy. Thus, they need to develop products that are more inclusive in design, material selection and performance to enable a positive interaction between humans and nature in the long term through sustainable technologies and operations. "
Information technology and algorithms have presented a colorful world of different types of people and cultures. If the sports lifestyle industry wants to develop all its categories, steps shall be taken to educate the customers from different angles and platforms. For the first time, ISPO Beijing 2023 was synchronized in Tmall, Little Red Book and Tiktok. Through these tools, it implemented a complementary strategy that includes both, the sports professionals and mass consumers with products that cover all the links in the industry. By doing so, it offers more exposure opportunities for brands and products and promotes the sports lifestyle in new parts of the population.
"Ye Lu Zi", a KOL specializing in outdoor equipment evaluation, participated in ISPO Beijing for the first time. He had his own understanding of barrier breaking and cross-border communication: "2022 was my first close contact with ISPO. In fact, in terms of outdoor brands and products, I am not a beginner. However, through ISPO I was suddenly reminded of how broad the sports lifestyle market is. It is a valuable asset waiting for me to explore. Therefore, I attended ISPO Beijing. I am very happy because through ISPO more brands and fans from outside our field came to know us."
Valuable industry information and new perspectives
ISPO as a professional exchange platform has always been an important trend scout of industry trends. It is widely recognized by industry stakeholders and decision makers as a place to learn about important industry policies, market trends in China and abroad, professional institution forecasts and valuable experience and case analysis from industry pioneers.
ISPO Beijing 2023 focused on four major questions: the sustainability of the mountain outdoor sports industry, the outdoor sports retail industry under the trend of large market structures, sports fashion trends and sports rehabilitation. Through the interpretation of industrial development plans, the prediction of market structure changes, the comparison of brands and products in China and overseas and the portraying of sports goods consumers, ISPO Beijing 2023 provided new perspectives for the industry and helped practitioners to cope with the changes and challenges in the post-covid market recovery.
ISPO Beijing 2023 also organized more than 20 small-scale discussions on topics such as brand marketing models, long-term development of minority sports and leisure projects and the public participation in sustainability. The atmosphere at the show was at a climax in the close interaction between KOLs and fans and the wonderful sharing case of senior athletes and practitioners.
The ISPO Urban Sports Area and ISPO Rock Climbing Area attracted a lot of new enthusiasts and sports experts with promotional activities as well as the basic courses in yoga, land surfing, paddling and rock climbing. These activities demonstrated the public's high acceptance of new sports lifestyles.
Gratitude to exhibitors, partners and visitors for their support
Since 2020 ISPO Beijing has been postponed for several times. The successful opening this year was only possible with the strong support and trust of our exhibitors, partners and visitors. The ISPO Team in China but also in Germany wants to pay high tribute to all who have always supported ISPO and for their company along the way. ISPO is looking forward to work with you to accelerate the global evolution of sports and make sports and physical activity an essential part of everybody's healthy and lifestyle.
The next ISPO Beijing will be held at the National Convention Center in Beijing in January 2024. Meanwhile, ISPO Shanghai 2023 will be held at the Shanghai New International Expo Center from June 30 - July 2, 2023. Let's shape the future of sports lifestyle together.
Statements of exhibitors and visitors (Sorted by the family name)
Mr. John Cai, Founding Partner, Weihai Skilon Sport Products Co., Ltd.
ISPO Beijing 2023 is very crowded, and everyone is full of hopes. As our life has returned to normal, the entire market will surely have a period of explosive growth, and it will get better and better. We all know the growth of ISPO in all these years, and it has a very good reputation in the industry. We are also very happy to promote our brands through ISPO, so more people will know us through the show.
Ms. Kechen Cao, Marketing Manager of Mobi Garden
ISPO is as good as ever, and we join in every year. There are a lot of experts and KOLs from related industries, as well as sports industry professionals at the show, which ensures a very good exposure of our new products both inside and outside the industry. But what is more important to us is that we can get the most authentic feedback on these new products at the ISPO show. Through these feedbacks, we can see the trends and potential needs, and make improvements for our future marketing and product development. We will definitely come back every year.
Mr. Qingyu Huang, Sales Director, Fujian Suntion Textile Technology Co., Ltd.
In the post-epidemic era, the public are increasingly joining in sports activities, and their ideas of consumption have also changed. We have a very positive expectation about the future of the sports outdoor market. ISPO is a very professional platform. We learned a lot of new technologies and functional products at the show. We also had in-depth exchanges with customers. Meanwhile, we promoted our brand, and had very good results. We are grateful to the professional service from ISPO.
Ms. Yizhen Li, General Manager, Guangzhou Sysmax Innovation Technology Co., Ltd.
This year, ISPO is really impressive because the number and quality of visitors are both rising. Also ISPO is very experienced in both exhibitor and visitor services. Though we haven't seen each other for three years, ISPO is bringing our business back after the epidemic. We can see the users are back, and the market is back. Just as the board at the gate says, the warm spring is back and everyone is welcoming the new outdoor life with a high spirit.
Mr. Haoyu Liu, Equipment Marketing Director, Guangdong Camel Clothing Co., Ltd.
ISPO is the first outdoor exhibition held in Beijing in 2023, and it is also the first outdoor exhibition we participate in. We had very nice experience this time, because the number of visitors is much larger than we expected. It not only shows that the users are very active, but also releases a positive signal from the industry. I believe that the tourism outdoor market will definitely shine this year. I strongly recommend ISPO to you, because it is really a convenient and very great event for market communication.
Mr. Tao Pang, General Manager of Wild Rampage
If I have to use two words to describe the sports and outdoor market in the near future, I would say it's "Chun Tian (spring)". I am overwhelmed (by the show) as we have been looking forward to the opening of ISPO Beijing for three years. We decided to participate in the exhibition as soon as it resumed. The most important reason is that we have to collect market and industry information, to understand the changes in the market. We can see that many new visitors with consumption potential have come to the exhibition. They are younger, with more systematic and professional knowledge, and have started to know what outdoors really means. Participating in an exhibition can open up a world, and it is an important opportunity for us to grow and develop.
Mr. Zheqiang Wang, Head of the Brand Department, TITTALLON OUTDOOR GEAR CO.Ltd.
My first impression of ISPO this year is that everyone is very enthusiastic and the visitor number is huge, which completely exceed our expectations. TITTALLON has been a partner of ISPO for more than ten years and we have maintained very close communication. ISPO is a place for communication and win-win cooperation, and it fits well with our brand and corporate culture.
Mr. Guoqing Xu, Founder of Beijing KingCamp Travel Products Co., Ltd.
We have prepared a lot of product launches at ISPO, including the first release of our flagship products, and the feedback is very good. We did not expect so many people to be here this time, and it is the most crowded exhibition I have ever participated in. I hope that we will have a larger booth in ISPO in the future. We very much appreciate the organizer's work.
Mr. Jianfeng Xu, Director of Planning Departmen, TORAY Sakai Weaving and Dyeing(NANTONG)Co., Ltd.(TSD)
We have a lot of expectations for ISPO Beijing 2023. As a large-scale professional exhibition held after the epidemic, it is still beyond my expectation. Both the customers and the enthusiasts have exhibited professionalism and an increased interest in the industry. For us material manufacturers, they have injected great confidence and new vitality into our continuous development.
Mr. Wei Yan, Deputy General Manager of E-Commerce, Beijing Sanfo Outdoor Products Co., Ltd.
I think that in the future, the outdoor sports market segmentation will develop further, and demand for premium sports products and services will rise. We didn't expect so many visitors this year, and we have been very busy from the first day to the last. We are very satisfied with the results of ISPO Beijing 2023.
Ms. Hua Zeng, Founder and General Manager of Beijing Scaler Outdoor Products Co., Ltd.
We think the year 2023 will be particularly good. We have been very busy at ISPO Beijing 2023, and there are a lot of visitors. Our common perception of 2023 is that it will be very good. I think it is very brilliant that ISPO chooses to open at this point, because it gives us great confidence.
Mr. Kai Zhang, founder of UTO brand, Shanghai Youdong Supplies Co., Ltd.
UTO has been waiting for the opening of ISPO Beijing for three years, and we have a lot of hopes about the exhibition because we believe the entire outdoor industry will have a lot of opportunities in the "post-covid era". Also, the supporting policy from the country is very reassuring, so we are willing to participate in such a large-scale exhibition as ISPO to find more business opportunities. Compared with the past, ISPO has changed a lot. It has a much wider exhibition range, and become far more than a sell-and-order platform. ISPO has invited many professional and experts from related fields to the show, which is exactly what we need the most.
Ms. Nikita Zhang, Head of Boutique Company, He Zhong Auto Group
We are very interested in automobile-related outdoor products. At the exhibition, we see many of our current partner brands, and also a lot of manufacturers that are new to us. They have brought new products that cannot be found anywhere else yet, so we are very willing to establish cooperation with them. I think ISPO Beijing 2023 is very successful. There are a lot of people in the halls, so it is impossible to finish all our targets in one day. We are very grateful to the organizer of ISPO for the careful itinerary tailored for us.
Mr. Yi Zhang, Deputy Director, China Automobile Dealers Association
ISPO Beijing 2023 is very eye-opening for me. It has many distinctive features that are not usually found in its counterparts. I found that there are many ways that ISPO can connect to automobiles. In fact, how to connect the automobile market with the sports market has always been a popular question. Many automobile brands are interested in cooperation with the sports industry. I believe their partnership can create a market that is larger than the two markets combined. We hope that in the future there will be cooperation between the automobile industry and the sports industry. We also hope that ISPO will be better and better.
Mr. Chuanren Zhou, Deputy General Manager, Shenzhen Hello Tech Energy co.,Ltd
After the releasing of vigorous promotional policies for the outdoor industry by China, we believe that outdoor power supplies will be more widely accepted in the Chinese market. Our impression of ISPO Beijing 2023 is that the atmosphere is even more active than before, and it is also more innovative. We are deeply impressed by its innovations in exhibition model, promotional measures and retail digitalization. The discussion about sustainable development of the outdoor industry is also very inspiring. I have met many new and old friends at ISPO, and I feel quite at home here.
Mr. Lei Zhu, General Manager of Schwans Penle Outdoor Products (Shanghai) Co., Ltd.
We have great expectations for the future market. In 2023, the outdoor market will make further progress, and all outdoor brands will have a bigger market. ISPO Beijing 2023 has brought me a lot of surprises. From early in the morning, visitors have been coming in the hall, and they have given very positive feedback. ISPO did a great job this time. We are very much looking forward to ISPO Shanghai. Also, we will come to ISPO Beijing again next year.
"This year, I spotted many professional outdoor products and materials, accessories and innovations to optimize the supply chain here at ISPO Beijing. The atmosphere was very good. There have been new segments and events, including experiential activities such as fashion wear matching. As a grand industry event, ISPO Beijing is not only a display of products, but more importantly, a platform for industry members to communicate."
Ms. Yang Meiqing, Product Manager, Olympic Sports Equipment, Anta (China)
"It is a pleasure to see that Chinese women have become more and more enthusiastic about sports in the past five years. They have chosen a healthy lifestyle and attitude towards life. Yvette and ISPO have been collaborating on an international level for a long time. We hope that ISPO, as a platform for industry exchange, will share more new information from both China and abroad in the future."
Ms. Liu Ningjuan, General Manager of Nanjing Yvette Sports Development
"As an active outdoor activist, I notice that more and more people worldwide become outdoor sports fans and feel the needs for outdoor products. Therefore, I look ahead to the future of this industry with confidence. The atmosphere of ISPO Beijing this year was somewhat surprising very good. Although the venue has changed, there have been lots of visitors. We will continue to participate in ISPO Beijing."
Ms. Zeng Hua, Chairman of Beijing Scaler Travel Products
"This year ISPO Beijing and Toread celebrated anniversary together: 15 years of ISPO Beijing and 20 years of Toread. There have been very many visitors and also many brands in the exhibition halls. Such an atmosphere gives us a lot of confidence. I hope that in future ISPO Beijing will continue to enhance and can make a great contribution to the outdoor products industry and promote its development."
Mr. Kang Tai, Director of Brand Activity Department, Toread Holding Group
"I think for us ISPO Beijing is the most important show of the year in China, where we can meet the retailers and other customers. Here we can talk to other exhibitors about trends and find the collections for the next year. The industry is opening towards new markets, there are presented all kind of sports at ISPO. With Beijing Winter Olympic Games coming up, I see many possibilities to activate the public to try and learn more about sports."
Mr. Jochen Lagemann, Senior Vice President, Managing Director Europe & Asia, PRIMALOFT GMBH
"This year, it is quite obvious that the winter sports industry, especially the skiing segment, has a stronger presence in terms of our customers and the population B.C. Sports has been working closely with ISPO Beijing for years, and we are confident that we will continue to work with ISPO in a friendly and enjoyable manner."
Mr. Zhou Xiaoping, General Manager of Skiing Dept., Nanjing B.C. Sports Products
"At ISPO Beijing 2019, we can see that with the upcoming 2022 Beijing Winter Olympics, many brands and consumers are paying more attention to winter sports, and the demand for functional clothing is becoming more obvious That is very good for our product development and function upgrade."
Mr. Xu Jianfeng, Head of Business Planning Dept., TORAY Sakai Weaving and Dyeing(NANTONG)
"I think that ISPO Beijing is getting better constantly. The products are more diversified, and some crossover products are gradually included. On the one hand, I am here to exhibit. On the other hand, I am very happy to meet my old friends at ISPO Beijing on a regular basis. The development of ISPO is beyond our expectations. I hope that more and more sports are going to be part of ISPO in the future to broaden our horizons."
Ms. Zheng Bei, Marketing Manager, Dragon Trend Trading (Shanghai)
"This year, we welcomed a lot of new and old customers who are focused on skiing. The new venue has a lot of space for exhibition and has great potential for future development. Overall, Alpine is very satisfied with ISPO Beijing 2019. We will work with ISPO and other brands to promote the development of winter sports."
Mr. Tomas Tauchman, CEO, Jiaxing Alpine Clothing Design
"This is the first time ISPO Beijing takes place at the China International Exhibition Center (New Venue) in Shunyi, Beijing. The exhibition layout is clearer and more specific, and the overall environment is also very good. We hope that ISPO Beijing will continue like this and offer a deeper discussion on the diversity of indoor ski resorts and ski products. Against the background of the 2022 Winter Olympics, the entire ski industry is in an explosive growth period. Whether hardware, software or equipment, all the markets are growing. I believe that the future is very promising for both the outdoor and winter sports industries."
Mr. Yi Li, General Manager, Theme Entertainment Branch, Harbin Mingsheng Business Management
"Although ISPO Beijing moved to the new venue this year, the overall organization is still as good as ever. I am grateful to ISPO for setting up this platform. We we can have effective communication during the trade show. ISPO has entered China fifteen years ago and will still develop rapidly in the future. As the lifestyle of the masses changes, their investment in sports will be even greater, and there are lots of opportunities for the future of ISPO."
Mr. Qi Jun, Global CEO, Sigg Outdoor Sports Investment
"I think that ISPO Beijing has always been a benchmark in the outdoor industry, and it is also the most popular professional exhibition in China. The visitor traffic is still very good this year. Many visitors are interested in the fabric and design of the products, which shows that they are quite professional. The outdoor market is relatively niche. I hope that in the future, more urban outdoor, street sports and other concepts such as light outdoor will be accepted by a bigger population."
Mr. Bao Kai, Brand Manager, Zhejiang Mobi Garden Outdoor Products
"I am very excited about the atmosphere at ISPO Beijing this year, we met the highest number of dealers ever. The atmosphere is great and energetic, and we are very happy to be here at the show."
Mr. Craig Smith, Senior Vice President, Burton Cool Trading (Beijing)
"The new venue is very convenient. ISPO Beijing is already doing a good job and I think the team will continue to improve the trade show furthermore as they did in the last 15 years. I am very confident that also for the next 14 years, ISPO Beijing will develop some new and interesting proposals and approaches to attract industry players, end users and sports fans."
Mr. Remigio Brunelli, CEO, Beijing Tecnica Sporting Goods
"This year is our 10th anniversary that we started our business in China, and this is our 9th ISPO Beijing. For us the most important thing is the trade show develops overtime and what I mean about development is not only that a lot of people come, but the right people come. We have more and more high quality customers here, and we do more business with them. And as it looks today, we not only coming back next year to ISPO Beijing, we're also thinking about making a bigger booth, because we need more space, because ISPO Beijing is always so crowded."
Mr. Alex Koska, Vice President & Global Sales of Fenix Outdoor AB
"ISPO Beijing is a very good platform. We can meet a lot of old and new customers here. We have participated every year. As a big get-together of the industry, ISPO Beijing features very good atmosphere. We will definitely continue to come."
Mr. Baggio Zhong, CEO of MAYA Travel Gear
"This is our 10th attendance here in this show. It's a very important leading show for us to promote winter sports knowhow. In French, there is a very specific change in winter sports development and we want to share this expertise and experience, ISPO Beijing and Alpitec China is a great place for that. Each year we will come back, and each year we will be bigger, and it will always be pleasure for us to meet customers in China."
Mr. Benoit Robert, Director of Cluster Montage (French Pavilion)
"We have focused on the European and American market for over 10 years and ISPO Beijing is a very good chance for us to enter the Chinese market. We hope that more people can get to know us through this platform. It is actually our first appearance at ISPO Beijing, but the visitor flow is very impressive. We have received many professional visitors from the Middle East, Japan, Korea and other countries and regions."
Ms. Elaine Pu, General Manager of SKIRISH (HK) Trading Limited
"Since 2006, we have participated at ISPO Beijing every year. As leading professional outdoor and sports exhibition, ISPO Beijing is very important for our business in China. It is a very good platform where we can reach our target customers and promote our brand. This is why we have continued to come every year. The visitor flow is impressive this year. They are also very professional."
Mr. Jack Lin, President of Shenzhen Himalaya Trading
"Toread has exhibited at ISPO Beijing nearly every year. We think the trade fair is a very professional exhibition for the outdoor community. We can meet a lot of outdoor activists here. We want to grow along with ISPO."
Ms. Jing Wang, Chairwoman & CEO of Toread Holdings Group
"As an old friend of ISPO Beijing, we have exhibited since 2005 and this is our 14th participation. There are some very interesting changes in the ISPO Beijing this year, e.g. the ski area and the new sports service vendors. From them you can see the changes in the sports industry in China, along with the development it has made."
Ms. Nina Sun, Marketing Director of Zhe Jiang Mobi Garden Outdoor Co., Ltd.
"We think ISPO Beijing provides a very good platform for ski industry professionals to exhibit themselves and find partners. It is not only an exhibition, but also a big get-together for our peers. At ISPO Beijing, we can find new equipment, new ideas and new concepts. It offers great chances for us to talk to our friends. We believe our cooperation with ISPO will always continue."
Ms. Nini Nie, General Manager, Marketing Center of Thaiwoo Lifestyle Properties
"I think the business match making program at ISPO Beijing 2018 is very helpful. I can get to know the products and strategies of some qualified brands and suppliers, which is definitely better than a hurried visit to different booths. Moreover, making appointments in advance can also save time and ensure efficiency. As a great result, the number and types of brands are all better than my expectations. I would certainly come again if this program continues."
Mr. Shang Yu, General Manager, Beijing Changtian Times Outdoor Products
"This is our 13th exhibition at ISPO Beijing. Why do we come? First of all, it is very good timing, as it is when the product ordering of the next winter season is made. It is also good for the exhibition of our new products and technology to the customers. Second, ISPO Beijing is doing very well in these years. The visitors are very professional and they meet the brands' needs. We can meet a lot of new customers at ISPO Beijing."
Mr. Yonglin Bao, General Manager of TECNICA Group China
"ISPO Beijing is by far the biggest winter sports trade fair in China. If you have any stakes in the market and you want to grow your business in China, I can definitely recommend coming to Beijing. For Austrian and international companies in general ISPO Beijing is the ideal platform to enter the Chinese market."
Ms. Marion Tschernutter, Project Manager of Austrian Federal Economic Chamber (Austrian Pavilion)
"At ISPO Beijing, we can talk to a lot of international brands and partners to find out about the latest trends and discuss further cooperation. At the forums, we can discuss new methods of marketing, ways of development and involving more people. I believe that the cooperation between ISPO Beijing, the leading exhibition for the outdoor industry, and Sanfo, the leading figure in outdoor retail and event organization, will definitely continue cooperation for a very long time."
Mr. Heng Zhang, General Manager of Beijing Sanfo Outdoor Products
"We have taken part in ISPO Beijing every year. This year we can see there are clearly more exhibitors and new innovative products. I have learned a lot at ISPO Beijing 2017. In terms of skiing, there are more snow resort consultancy companies than last year. We talked a lot with the exhibitors and it is very helpful for our purchasing decisions."
Mr. Gaosheng Wu, Deputy General Manager, Chang Bai Mountain International Ski Resort
"I would say that ISPO Beijing is the most influential sports business show in China. All big Chinese brands exhibit at the show and they attract a lot of distributors. Smaller companies can benefit from the high quality of visitors. For our Czech brands, a trade fair like ISPO Beijing is the perfect opportunity to enter the Chinese market and get a feel for the current market situation. What we recently noticed is that there are not only Chinese distributors but also buyers from Japan, South Korea and other Asian countries, which makes it even more attractive for us and other international brands to come to Beijing."
Ms. Kateřina Ďurove, Director of CzechTrade Beijing (Czech Pavilion)
"The reason why we have been exhibiting for nine years at ISPO Beijing is not only that China is the fastest growing market for us, but it is also an important market globally for us to sell our products. Another important reason is that we meet industry and business partners from South Korea, Taiwan, and also Hong Kong, as well as peers and the public media."
Mr. Alex Koska, Vice President & Global Sales, Fenix Outdoor
"GoPro has participated in ISPO Beijing every year, because this is where we can find our core customer group. As outdoor enthusiasts, the visitors are also fans of GoPro. They can see the latest GoPro products here at ISPO Beijing. We always have a really good time at ISPO Beijing with our outdoor, snow and ice sports customers."
Mr. Eddie Chu, Marketing Manager of Great China, Gopro
"As ISPO Beijing's old friend, we think it is a very important platform. Through ISPO Beijing, we can meet with retailers, customers and partners to share new trends in the industry and opinions of the market. We can also show our latest products and technology to sports product buyers. We are really happy that there are so many people here today and we have gained a lot."
Ms. Catherine Hou, Marketing Director of China, GORE-TEX® Brand
"ISPO Beijing is a great platform and opportunity for dear friends to get together. All our partners are here, so it is a place we must be too. I don't know if the aisles are narrower or there are too many people, but it is really difficult for me to get around. The halls are crowded, but in a positive way!"
Mr. Baggio Zhong, CEO, Kailas—Zhanjiang Maya Travel Gear
"Companies that join ISPO Beijing can obtain valuable market insights within a very short time. The conferences and forums help our partners to get more information about the current needs and trends in the market. It is also a very good place to meet with new buyers and build new relationships. ISPO Beijing is one of the very few places where you can get a full market overview and discover the latest developments first hand."
Mr. Soo-hoon Chae, Executive director of KOIA—Korea Outdoor & Sports Industry Association (Korean Pavilion)
"We chose to be here in ISPO Beijing because we are quite a new brand for the Chinese market and for us it is so important to show the most important retailers in China our products. For the first day in ISPO Beijing 2017, as far as I can see now, there's a lot of traffic and I've already met a couple of retailers. And I really enjoy ISPO Beijing; it's really good to be here. I look forward to coming back here a couple more times."
Mr. Mathijs De Vries, B.U. Export Manager, oberAlp Group
"The amount of visitors in ISPO Beijing 2017 is quite a bit more than last year, and much more professional. This year, we have met not only some long-term cooperation partners but also more new clients in and out of our appointed plan. We're quite satisfied with ISPO Beijing 2017."
Mr. Dean Gu, Sports Channel Sales Manager, OAKLEY
"ISPO Beijing is an important event for the outdoor industry. We hope that through ISPO Beijing, we can exhibit our new products and brand concept to outdoor fans. We will come again next year to meet our friends."
Mr. Michael Wangg, Deputy General Manager, PELLIOT
"More than ten brands from SOA are exhibiting at ISPO Beijing 2017. The visitor traffic is terrific. ISPO Beijing is also a great channel for store managers, brands and retailers to exchange ideas. For us, the brands can offer astute promotions and present their latest products to the customers at the same time, allowing for resourceful B2B matching."
Mr. Victor Li, Managing Director, Shanghai Setino Sportswear Inc./Chairman of China Selected Outdoor Association (SOA)
"Switzerland has a pavilion for the first time at ISPO Beijing. Five partners exhibit at the show. All companies want to profit from the huge potential in Asia and from the successful bid of Beijing for the Winter Olympics in 2022. ISPO Beijing is the perfect platform to research the market opportunities and to establish valuable contacts. Our exhibitors at the Swiss Pavilion like Dahu, Glice, Jetset or Litrax are very satisfied with the visitor quality. Many distributors are looking for fresh brands and high quality products."
Mr. Cornel Grämiger, Project Manager of BTO Solutions, Schürch (Swiss Pavilion)
"ISPO Beijing is definitely the place to be for winter sports in Asia, and we've been following it for the ten past years. This year, it looks like a very nice fair with a lot of visitors. We're really happy with the development of ISPO Beijing here."
Mr. Ulf Bjerknes, President & CEO, SWIX SPORT AS
"As an old friend of ISPO Beijing, Toread has always participated. We believe it is one of the best outdoor exhibitions in China. And we will continue to come, because it is a fully developed platform and offers good opportunities to everyone, including the visitors and professionals. The visitor traffic is very good this year. We have received many professional visitors, distributors and buyers. I am satisfied with these results."
Mr. Tai Kang, PR Director, Toread Holdings Group
"ISPO always considered as the key meeting for sports industry. And ISPO Beijing is the great meeting we cannot miss. Rossignol's been in the ski industry almost since the industry beginning, and China now is still the new market, we want"
Mr. Alan Daniel, Group Rossignol, Export Director
"This year is my 6th time to join ISPO Beijing. I think ISPO Beijing's already achieved a very great development. Both quality and quantity of visitors are keeping increasing. For us it's so important to be here for reaching China market. And ISPO Beijing gives us the perfect platform to get contact in the correct people, we're really happy."
Mr. Alex Koska, Fenix Outdoor AB, Vice President Global Sales
"ISPO Beijing has grown even more advanced in every aspect. It is clearly a very successful spin-off of ISPO in China. This year KAILAS won 5 ISPO AWARD ASIAN PRODUCT. Products are the soul of our business. We hope markets all over the world will recognize Chinese brands. We also hope KAILAS will achieve more ISPO Award in the international category next year. To me, ISPO is a platform that we can get together and exchange. We will definitely come again next year and every year!"
Mr. Baggio Zhong, Kailas -Zhanjiang Maya Travel Gear Co., Ltd, CEO
"The Ski Area is a new highlight of ISPO Beijing. The exhibition is becoming even more popular. From the crowd we see today, it is easy to deduce that the number of sports fans is growing and more people are keen of skiing. At ISPO Beijing, all friends will come together. We hope ISPO may share its international resources along with us and promote more exchanges across borders, so as to drive the ski industry in China further."
Mr. Bao Yonglin, Beijing Tecnica, General Manager
"We are very proud of choosing ISPO Beijing as the first time Dynafit shows in China. ISPO is surely the biggest platform for sports, and we want to get most impact on sports industry in China. ISPO Beijing gives me a positive surprise to show so many sports. And it really shows me a big revolution of China market. I'm truly happy to see the potential. And I definitely will come for ISPO Beijing next year!"
Mr. Benedikt Bohm, Dynafit, General Manager
"The atmosphere at ISPO Beijing this year is very positive, much better than last year. The visitors are so enthusiastic. Although we have booked a very big booth, sometimes people still find that it is hard to land foot inside. ISPO Beijing has made significant growth in all aspects—influence, recognition or visitor number—and this year, it's already become a perfect platform. The high quality and perfect timing of ISPO Beijing make it a proper place to start our marketing for a new year. We have continued to participate in ISPO since its entry into China, so we have observed its new highlights, ideas and services. Our visitor flow has increased all the time. We are very happy about this."
Mr. Brian Liu, Thule Trading (Beijing) Ltd., Area Sales Manager, China
"We've brought all the new products and latest technology to ISPO Beijing. We chose ISPO Beijing because it's a very popular show, sales in China is very good for OAKLEY, but there's a large potential market, so we found the right platform, ISPO Beijing to promote our brand in China. I'm impressed with the size, scale of ISPO Beijing this year. It's interesting, and I found some new technologies from other companies to give me inspiration and future ideas, I'm excited to come here. And absolutely we will come back next year."
Mr. Hans Arnesen, OAKLEY, Global Category Manager
"We know ISPO since the first day ISPO came in China 12 years ago, and now we the quality of ISPO Beijing is very high. We considered it as our opportunity to meet the leading brands in the world, and they are here in Beijing. As the ingredient brand, ISPO Beijing is the ideal platform for us to promote B2B for both direction to the brands and retailers."
Mr. Michael J. Joyce, Primaloft. INC., President and CEO
Mr. Jochen Lagemann, Primaloft. INC., Managing Director
"First of all, I want to thank ISPO Beijing for organizing such a great exhibition. It's very successful, lot of new people came, new potential customers, we are very happy about this. The visitors, especially this year, are very high quality, on the first day, we have many buyers from all over China, not just Beijing. We are very impressed. We are moving now more and more into the outdoor segment, sports segment, and activities segment, and that's exactly ISPO Beijing brings its value, because that's exactly the customers group we would like to talk to, and reach. This year so many things are more than expected."
Mr. Ralf Duering, Micro Beijing, Director
"ISPO Beijing has the target customers we need—all the outdoor fans. The population this year is satisfactory and keeps growing every year. Against the background of the 2022 Winter Olympics, I am expecting a lot from the winter sports and action sports markets. We will continue to bring our new products to China."
Mr. Tor Petersen, GoPro, Head of APAC Sales and Marketing
"As the very first batch of brands to join ISPO Munich, I think ISPO Beijing is a good concept for brands to coming into the China market. Our company owns 109 years history. And we've been in the sports industry for more than 60 years. Now ISPO means sports to me, I'm really impressed by how ISPO Beijing's fast growing in these years. In ISPO Beijing, we have found some promising partners; it seems to be right place for us to be."
Mr. Vesa Luhtanen, L-Fashion Group Oy, Managing Director
"Either in size, organization, brand recognition and influence, ISPO Beijing is holding the leading position among similar trade shows in China. ISPO Beijing is a high-quality exhibition calling together the most excellent, professional peers from all aspects in the sports industry chain, including textile, leading brands, buyers, and industry media. Comparing to last year, visitor population has clearly increased, along with the purchasing power. Undoubtedly, we will need a bigger space next year to present us better."
Mr. William Li, One Way Sport, General Manager
"I have virtually witnessed every step ISPO Beijing made. Through the development in these years, ISPO Beijing has become more mature, professional and is deeply rooted in the sports industry in China. I believe the new ISPO Shanghai in summer will also be very successful."
Ms. Fan Jun, China Commerce Association for General Merchandise, Standing Vice President
"I remember when I was first time in ISPO Beijing; it was more than 10 years ago. After 10 years, now I look around, today it is definitely different. If I look at booth, they are of high level and really nice. People come over to the show are full of energy. As for us, ISPO Beijing is the beginning to promote our new products and it is a perfect location to meet our customers and cooperate with new customers."
Mr. Rolf Schmid, Mammut Sports Group, CEO
"Every year, ONE WAY Europe will use ISPO Munich as a very important platform for product exhibition and marketing. As a spin-off of ISPO, ISPO Beijing also features the same authoritativeness and professionalism. At the trade show, all the exhibitors and material suppliers may represent the future trends and potential of the sports goods industry. Moreover, the high quality and structure of the visitors meet the exhibitors' needs nicely."
Mr. William Li, Zhonglan Sports Goods Co., Ltd (One Way), General Manager
"The connection between B.C. and ISPO Beijing started since its first opening. We took part in ISPO Beijing for 5 consecutive years, which then was held in Shanghai. After ISPO Beijing moved to Beijing, we maintained our close relationship with the trade show. For the sports industry in Asia, ISPO is an indispensable drive; for the people working in the industry, it is more like a big get-together, a platform for business expansion. The longer we stay together, the deeper our feelings grow and the more cooperation we have."
Mr. Steve Huang, Nanjing B.C. Sports Products Co., Ltd (LOWA,LEKI &NORTHLAND), President/General Manager
"Kailas has been working with ISPO Beijing for many years. We will continue to promote the sports goods industry in China in collaboration with ISPO Beijing. At the same time, I am very happy to see so many old friends and make new ones here. It is more like a big party to me."
Mr. Baggio Zhong, Kailas -Zhanjiang Maya Travel Gear Co., Ltd, CEO
"We have attended nearly every ISPO Beijing. This year the trade show is even more efficient on the whole procedure and the layout is more concentrated. There are many people here and from a diversified background. There are not only our existing or potential customers, but also many consumers. We have entered talks with many potential customers. All the developments ISPO Beijing has made are offering us more conveniences. We are definitely going to support ISPO Beijing next year."
Ms. Celery Shi, Beijing Snowfavor Trading Co., Ltd (ROSSIGNOL), Vice GM
"It's my third year at ISPO Beijing. It has made great progress in the number of visitors and order inside the halls. It is especially good that a separate exhibitor entrance is set up this year and they can enter the halls quite easily. Moreover, the food is much better this year and the catering area is quite convenient. I have seen new things at ISPO Beijing every year. For us exhibitors, we want to see actual customers and potential buyers. We will come again next year."
Mr. Cliff Ma, Blue Ice Adventure Equipment (AKU, CRISPI, FIVE TEN & PETZL), General Manager
"I think ISPO Beijing is a good trade show that you can see lots of people to come over here. We have new products and we announced to publish them in China. ISPO Beijing is the most important trade show for sports and fashion industry, and we have been working with ISPO for many years year as well. We have met lots of old friends and partners here, and I believe they bring lots of new products as well; ISPO Beijing is a really good platform. We will come back next year."
Mr. Samuel Chong, W.L.Gore & Associates, Inc. (Hong Kong), Asia Pacific Strategic Marketing Director
"The organization and visitor flow of ISPO Beijing 2015 is definitely better than previously, desirable for us exhibitors. Jeep Outdoor has entered the Chinese market for over 2 years. We want to promote our brand to more people through ISPO Beijing. At present, outdoor simply means to be in the open space for many people. We want to clarify to people what outdoor sports really is through these high-tech products."
Mr. Gavin Li, Guangdong Beyond The Clouds Outdoor Product Co.,Ltd (Jeep), CEO
"Reporters and customers gathered together and saw many of our new, high-tech products. In regard to ISPO Beijing, it has grown a lot. There are many new brands. We would like to have further cooperation if possible."
Ms. Isabel Fu, Guangzhou Jarden Technical Center (Coleman), General Manager-Sales & Marketing
"The show is upgraded, and this is very important opportunity to connect our important market-China. People have passion for getting out and exploring the things they love the life. And GoPro is the good way to capture their life and share with the world runners. We are very proud that we can be a part of ISPO Beijing. The reason we chose ISPO Beijing is because of the good timing, it is the perfect time to show our latest products. We get more customers this year, more dealers, retailers, media, and potential customers of GoPro. We love to come back again!"
Mr. Tor Petersen, GoPro, APAD Sales and Marketing
"This is a good time for us to attend ISPO Beijing; it is a very important platform to promote our brand in the Chinese market. A lot of non-Asian professionals do come over to attend the show. So in my opinion, ISPO not only faces towards Asia, but also towards many other countries, like Europe. And it is a very good chance to meet media, retailers and potential customers. There are lots of international brands in ISPO Beijing which attract lots of retailers."
Mr. Claes Broqvist, ODLO International AG, Director Sales International
"Through ISPO Beijing 2015, we learn that the outdoor industry has maintained steady growth in the past few years. In comparison to the past years, ISPO Beijing is different this year. The layout and environment remains the same, but in many other ways better. There are more buyers this year. ISPO Beijing has been in the Chinese market for a long time and takes a leading position in both size and results. It is very influential and great for brand promotion. ISPO Beijing is an important way to keep in touch with the industry. We will certainly come again next year!"
Mr. Brian Liu, Thule(Shanghai)Co.,Ltd.,Beijing Office, Area Sales Manager
"We intended to promote Camkids, our outdoor brand for young people, through ISPO Beijing. We met a lot of old and new friends here which helps to exchange our resources more efficiently. There are two main purposes for us to come over, one is to promote our brands, the other is to develop business. This platform definitely gives us so many opportunities to talk to potential partners."
Mr. Qinming Hong, Camkids Group plc, Executive Director
"As an outdoor brand, we are grateful to join ISPO Beijing which is a party for outdoor professionals, including retails, dealers, and amateurs. We consider ISPO Beijing as a comprehensive platform, where not only to canvass business orders but also to showcase new products, branding and corporate culture as well as to communicate with other brands."
Ms. Hua Zeng, SCALER, Managing Director
"It's the seventh time for Torey to join ISPO Beijing, and the fifth edition to be as an exhibitor. We are here with great hope and back with huge satisfaction. This year, the quality of visitors is obviously enhanced. The brand awareness from our targeted clients, such as athletes and professionals are increasingly improved, as well as the specialty of the questions."
Mr. Jianfeng Xu, Torey Sakai Weaving & Dyeing(Nantong) Co.,Ltd.(TSD), Manager of Marketing & Strategic Planning Dept.
"We have participated in ISPO Munich in Germany several times, but it's our first time at ISPO Beijing. This is a good chance for more people in the industry to get to know our brands. ISPO Beijing is very important for the outdoor industry in China. Many people come here to find out about the trends, changes and new brands in the industry."
Mr. Kafir Chen, Amer Sports, Outdoor Sports General Manager (China)
"We are glad to be here. We are seeing a lot of new brands this year, and a lot of up and coming Chinese brands. ISPO Beijing brings more people into the outdoor market. It's a chance for us to connect with existing customers and reinforce relationships. ISPO Beijing is getting better every year."
Mr. Jeffrey White, Blue Ice Adventure Equipment, Brand Founder
"Happy to be here; this is my second time at ISPO Beijing. The show has been very different from last year and the quality of attendees is much better. This year, ISPO Beijing has attracted more outdoor retailers, department stores, more trade groups and tours. This allows us to have direct contact with those operators in China."
Mr. Israel Maynard, Burton Snowboard, Managing Director
"This is our first exhibit at ISPO Beijing, and our first participation in a trade show. We gained a lot here. The organizer provided us with strong support and we had many visitors. We think that the exhibitors here are more professional than at other similar shows. The trade show also has more global influence. This is why we choose ISPO Beijing as a priority platform for our trade show exhibit."
Mr. Hong Qinming, Camkids Group plc, Executive Director
"For us it is important to make our products more visible to consumers. And to do so, we need to work with more retail customers. And the many retailer groups coming to the ISPO Beijing are looking for the kind of experience that we can share, so this is our primary target. We are planning to be here in China for another hundred years helping Chinese families have fun in the outdoors, and ISPO Beijing is a direct way to connect to our Chinese customers."
Mr. Richard L.Guilfoile, Coleman Japan, President - Asia Pacific Region
"We are very familiar with ISPO and have visited ISPO Munich and ISPO Beijing before as visitors. However, this is our first time attending ISPO Beijing as an exhibitor. The trade show is very successful and the efficiency of organization and professional is great. The visitors here are very professional as well, we are happy to see that customers with high expectations visit the show. We have been really busy during the trade show since there are too many visitors. And we are extremely happy that they are interested in our products. We are very satisfied with this effect."
Mr. Xiao Xiaosong, Gorising, Vice President
"This is my second time here at ISPO Beijing. It is an opportunity for us to show our products to the world. This show is very important for us and we are here to support our Chinese and Asian customers. Every minute that I spend here is very exciting. There are plenty of concurrent events and all of them are very interesting, which may attract more customers to join in the outdoor industry."
Mr. Wayne Gregory, Gregory, Founder
"This is our third time here, and we have found very strong partners at previous ISPO Beijing shows. It is great to see our brand become popular in China and more recognition for ISPO Beijing. ISPO Beijing is getting better known in China, though the key outdoor participants have known it for a long time. We see a lot of competitors around us here at the show. We welcome this; as ISPO Beijing brings us a friendly outdoor industry."
Mr. Nicolas Warchalowski, Haglöfs, CEO
"This is our second year at ISPO Beijing. It looks like we are 30% busier at this year's show. We've been extremely happy with the visitor traffic and retailers coming by our booth. We are really excited about the growth. It is interesting to come to China; we are ISPO Munich exhibitors, and there are a lot of different brands here in ISPO Beijing than at other places."
Mr. Randy Verniers, Jarden Technical Apparel, Director International Sales
"LOWA has always been close to ISPO Beijing since its market entry in China. In the past two years we have seen more brands join ISPO Beijing. This year we observed a lot of channels like department stores and specialized stores, as well as the media. They offer us plenty of opportunities for communication and exposure to a wider range of people. ISPO Beijing has established itself as an advanced, mature platform and is able to provide us with abundant information from professional brands and opportunities to promote our products."
Ms. Zhou Yue, Nanjing B.C. Sports Products, Lowa & Leki Brand Business Department Director
"We just started our subsidiary last year, that's why this is only our second time. But we are looking for a very long-term relationship with ISPO Beijing. There are more people and exhibitors this year. ISPO Beijing gets more and more westernized, I believe there are more western visitors than last year. Over all there is significant growth."
Mr. Matthias Preussel, Mammut, Head of Sales Division Far East
"I think ISPO Beijing plays a symbolic role to the outdoor industry in China. Every year, there are many famous brands presenting their latest products here and exchanging trend information in the sports and outdoor industry. No matter whether manufacturer, distributor, amateur or consumer, ISPO Beijing has a strong impact on them as an industry leader. It helps us to better understand the international outdoor trends and information."
Mr. Cao Jun, Maya Travel Gear Co., Ltd., Marketing Director
"As the outdoor industry and the general economy develop, ISPO Beijing has matured and boasts more influence. The quality of visitors is better every year. We want to meet more brands, retailers, channels, the media and professional visitors. ISPO Beijing is just the place to be. We definitely get to see more professionals from the industry here."
Mr. Zhu Gang, Nanjing B.C. Sports Products, Operation Director for Northland Brand Business Department
"This is our second time attending ISPO Beijing. There are more new brands at this year's event. Many new outdoor brands have appeared as well as professional outdoor equipment suppliers. ISPO Beijing will allow our customers to directly access and experience our products."
Mr. Nicholas Huang, Oakley China, General Manager
"ISPO Beijing is a great show. It is a very famous and impactful show in Asia; that's why we come here. The quality as well as quantity of the visitors here is very good. There are also many competitors here, some are local, and some are international. We are able to meet them here, hear from them and learn from them. This will be a good opportunity for us to improve ourselves."
Mr. Claes Broqvist, Odlo, Director Sales International
"This is our first time at ISPO Beijing and we enjoy it very much. Our purpose is to showcase the brand and present our products to the Asian audience. This show provides us with a good opportunity to achieve these goals. We are pleased with the number of visitors, and we want to continue with ISPO Beijing as part of a long-term strategy."
Mr. Martin Netinder, Peak Performance, Sales Director—Emerging Markets
"We have exhibited at ISPO Beijing since its beginning and have always supported it. Compared to prior shows, ISPO Beijing now features more brands and more visitors. In consequence, we find more target customers here. ISPO Beijing plays an important role in the promotion of our brands. We hope to exhibit our latest products with the help of such a platform. Our distributors and customers also come to the exhibition to find out about our products and order goods for the next season. In addition, we can attract new agents at the trade show. So ISPO Beijing means a lot to us."
Ms. Shi Minqin, Snowfavor Trade, Vice General Manager
"The range of industry costumers is much wider at this year's ISPO Beijing. In previous shows, the audience usually came from the outdoor industry and market store industry, but this year's customer group has clearly been diversified. At this year's event, many visitors are from department stores, the e-commerce and gift product industry. I think the number of visiting clients is increasing considerably."
Mr. Barry Lin, Sea to Summit China, Sales Manager
"We have been with ISPO every year since it started. ISPO Beijing is getting bigger and bigger. We can meet all customers here and see all our main dealers during the show. It's great for us to be here."
Mr. George Brown, VASQUE, Director of Pacific Rim Sales