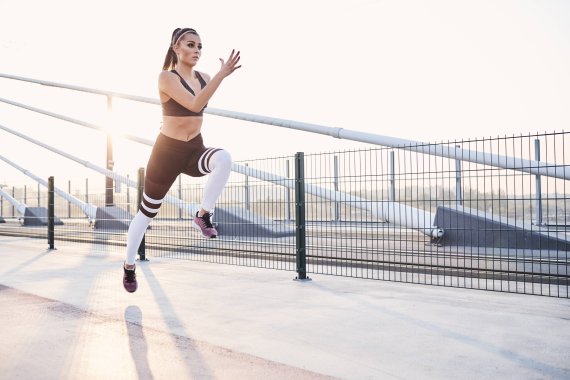 ISPO.com asked market representatives about the various running topics and together with the input of the sports industry identified these seven important trends for the year 2018. An overview.
Technologies, innovations and movement of the masses. Experts from Adidas, Brooks Running, Icebug, La Sportiva, Puma, Salming, Salomon and Saucony see these seven important trends for 2018:
Product innovations are mainly offered by the running shoe market this season. Everything revolves around personalizable designs, customizable fit and technological features. The well-know brands want to adapt the needs and circumstances of runners in the product even better in the future. That's why they develop exciting technologies to meet the trend customization.
Brooks Running, for example, presented the FitStation at ISPO Munich 2018 together with its partner SuperFeet. The system will provide runners with personalized running shoes in the future. "FitStation powered by HP is a groundbreaking hardware and software that combines 3D foot scanning with dynamic gait analysis and foot load measurements. FitStation creates a unique, holistic digital profile of the runner that combines the individual fit, biomechanics and running experience," explains Brooks Running Marketing Manager Lara Hasagic.
With the growing range of brands and models in the market, the demand for professional, comprehensive advice when buying running shoes is also growing. Jan Kratchovil, Head of Marketing of the Scandinavian sports brand Salming, confirms this: "Consumers initially expect a quick but nevertheless correct overview. With today's almost infinite choice, we have to convey clear messages to customers with this very first information."
Professional advice in the specialist sports retail is and remains important. "Well-trained, motivated staff in retail always score points and consumers expect the same when they enter a specialty store. On top, analysis systems can help with consulting," says Martin Borgenheimer, Sales Manager Germany at On.
To motivate people to run together in real life, more and more brands rely on digital networking. Through their digital channels and not to be underestimated online reach, regional and national influencers are encouraging runners to join forces in their cities. When and why Running brands cooperate with influencers depends on various factors. What everyone agrees on: The authenticity of the cooperation partner is key.
Mika Froesch, Country Manager Germany / Austria at Saucony: "For us it is very important that the influencers fit us and our brand orientation and are convinced of our products. This is the only way they can credibly communicate this to their community."
On top, cooperation with professional athletes in marketing and product development continues to be important. Michael Carli, La Sportiva product designer: "Basically we cooperate with two different kinds of influencers: athletes that run and possibly win the races (sykraces, ultra marathon and vertical series) and the instragrammer/blogger that is more an online influencer. The purposes are different: in the first case we focus on the performances and the credibility of our product, in the second case we focus more on post reach and audience reach."
For a few years now Trail Running has been expanding into a popular alternative to urban running scenes: Running in nature, in woods and meadows and on the mountain. Julia Schehl, Brand Manager Salomon: "We know from market research that 72 percent of all runners want to run in nature and that the (nature) experience is more important to runners than the result.
The Scandinavian brand Icebug merges various trends with their "Forest Femmes": "We have noticed that women often hesitate to go alone into the forest or on trails, because they may not feel confident in the sport or avoid being out there alone. With the Forest Femmes running group, which started in Gothenburg, we wanted to give women the opportunity to simply try out trail running in a group of women. The Forest Femmes running group has been held in Munich since the beginning of 2018," says Mathias Basedow, Country Manager Icebug Germany / Austria.
The successful premiere of the ISPO Munich Night Run at the end of January with over 500 participants shows that trail running has long since arrived in the middle of society.
The target group of women has moved in sights of the running brands. The image of woman sports brands draw today, are active, fit and self-confident females who are not afraid to pursue ambitious goals and train perseveringly for them. The German sports brand Puma also conveys this image.
"Our focus has been on female athletes for a while now. The current DO YOU campaign features strong and self-confident women like Selena Gomez, Cara Delevingne, Pamela Reif, Anne Kissner or the New York City Ballet, who inspire women through their extraordinary personality," describes Hannelore Weiß, Head of Merchandising Puma Germany / Austria / Switzerland.
Whether students, young managers or sporty mothers, running is becoming more and more of a community experience, especially in big cities. Runners are turning their rounds together in self-organized running groups or professionally initiated running communities. You compete together, do other sports, meet in a café and make friends.
From Adidas Runners, Icebug Forest Femmes to the Brooks Run Happy, the Salmon How To Trail Run or the Saucony Run Your World Tour - almost all brands cooperate with running communities, create their own running events and tour with them across the country. It's about making the brand become alive, accessible and approachable. Depending on budget and capacity, this can be done on a small or large scale.
Today, technological innovation in the field of running wearables and apps enable runners to enjoy a holistic, measurable and therefor comparable running experience.
"Runtastic has been part of the Adidas Group since August 2015. With over 240 million downloads and approximately 150 million registered users, Runtastic is market leader in digital health and fitness. They aim to inspire as many people as possible and help them to become more aware of their daily lives, to achieve their goals and to live better and longer lifes," says Adidas spokesman Oliver Brüggen.