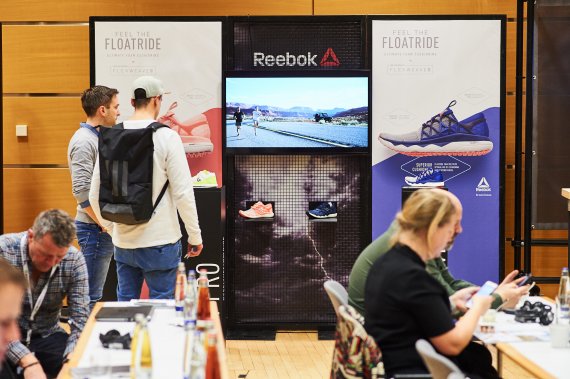 Running is more than just movement with running shoes. Running is passion, and that is a very individual thing. "And anyone who goes running, has to find out for them self what the fascination of running is, or what the fascination is for them self," says Sebastian Hallmann, a professional runner and participant in the ISPO Munich Night Run.
The night before the opening of the ISPO Munich 2018, the Night Run already brought a fascination for movement, energy and fitness to Munich. But the passion continues in the exhibition halls: ISPO Munich offers a wide variety of possibilities, numerous new products and other highlights, all of which have a purpose: They should help to discover or even develop further the fascination of running.
For example, the RUFUS walking robot. He rolls together with the runner and sets the individual tempo, checks the pulse and makes corrections. Healthy and important training is also very popular at Evalu: It has developed a sensor for insoles that gives feedback on the load on the feet when running. These data can then be linked to a Kettler treadmill.
"For me it's really interesting to get an evaluation personally", says the fitness blogger Flooorrriii. On the Kettler treadmill, he also likes the new cushioning system made of foam, which protects the joints. "Up to now I only know that many treadmills are very hard."
In spite of all the fascination and emotion in running, one must not forget: Without the right running shoes it is not possible, even if they are "only" a means to the purpose for the running experience. At the ISPO Munich, INOV-8 presents 2018 running shoes in which the company has installed graphene for the first time. "It is two hundred times stronger than steel," says Product Manager Michael Price. "And that means it is the best most durable toughest grip on the market."
The right nutrition also plays an important role for a healthy, holistic training. The start-up SWARM, also ISPO Brandnew finalist, has developed a fitness bar that contains protein from insects. "Insects have very good nutritional values, consist mostly of protein, very high-quality, but also have many micro-nutrients such as vitamin B12, zinc, iron," says Christopher Zeppenfeld, Managing Director of SWARM Nutrition.
But, as the processing of insects in food is rather unusual in Europe, some people have a hard time bringing themselves to tasting. "Oh, that's awful! OK, I shouldn't have asked," said moderator Nina Eichinger at the presentation of the bars at ISPO Brandnew. But, after all, everyone has to find out for themselves what the fascination is for him or her, haven't they?