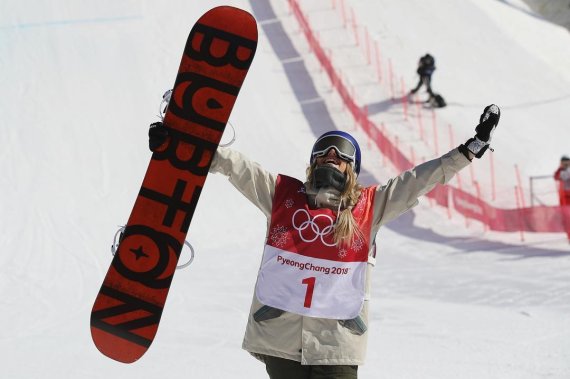 In 2018 nobody could stop Anna Gasser. The Austrian snowboarder is not only a superstar in her home country. With 345,000 followers on Instagram, 104,000 Facebook fans and top-class sponsors such as Red Bull, Burton, Audi, Blue Tomato, Absolut Park and the watch manufacturer Jaques Lemans, Anna is one of the top female earners of the scene - and with her six-figure income she approaches the best alpine drivers like her famous compatriot, Marcel Hirscher. We talked to Anna Gasser about success and motivation.
ISPO.com: Anna, everything ran like a clockwork until the Laax Open in mid-January, when you were unfortunately injured. What were your personal highlights last year?
Anna Gasser: 2018 was definitely a great year for me. The gold medal at the Olympic Games and the triple are of course among my sporting highlights. Personally, I am happy that I moved into my first own apartment at the end of the year.
Congratulations on your Cab Triple 1260! You jumped the trick quite spontaneously. Do you always let your gut feeling decide?
Often, yes. On that day everything just fit perfectly, the kicker, the weather, no wind - and my gut feeling. That was ultimately the deciding factor in trying the trick that day.
How did you feel after the jump and have you tried it again ever since?
I trembled right after the jump. Such a trick is quite an effort, also mentally, and the tension was enormous. A small mistake can have fatal consequences. Afterwards, I was just happy and the initial tension turned into relaxation. It was really incredible how much attention the trick got. I haven't tried the triple ever since - which doesn't mean I won't show it again when the circumstances are right.
You were the first woman to do the Cab Triple 1260. And you tried many more jumps that no other woman has tried before. It seems as if you don't let yourself be deterred by the fact that so far no woman has made it, but are motivated by the "impossible". Is that true?
Yes, because I believe that a lot more is possible. I want to inspire young girls and show them what you can achieve if you believe in yourself and work hard on it. For many years in our sport they said that a woman could never do this or that. That's wrong! Of course, we can!
In fact, the level of female snowboarders is getting higher and higher. What do you think is the reason for the rapid increase in recent years? Better parks? Better training opportunities and/or more appreciation of women?
We certainly push each other and that helps to raise the level. Besides, it's clear you can't just sit back and relax after a good run. Because a run that brought you to the top last season won't be enough to win this season. Knowing this encourages boarders to learn new tricks. In addition, there are many more good possibilities for training nowadays.
How do you train yourself?
Of course, I prefer to be on the mountain, but a lot of things happen mentally long before that. I had gone through the triple several times in my head before trying it and had totally internalized the motion sequence.
How do you deal with the pressure at contests?
Well, you have to deliver at exactly the right moment, but that's what spurs you. Pressure isn't so bad, because it makes you focus on that moment. You want it, now!
You inspire many people with your extraordinary achievements. You have a wide reach on Instagram (327,000 followers) and Facebook (100,000 followers). What is your recipe for a successful social media presence? What do you value most?
Of course, my social media presence is important to me. With photos and videos I pay a lot of attention to quality. I am certainly very choosy and think very carefully about what I want to show.
Do you still post yourself?
Yes, I spend quite a bit of time on that, specially on Instagram. I don't post every day now, but I check my social media networks daily. I already notice that many followers also mean a certain responsibility and therefore I consider very carefully what I post. But it's also nice to enter into a direct dialogue with fans via social media.
Do social networks annoy you sometimes?
Now and then, since you are open to attack from everyone. It's hard to defend yourself when negative comments come in.
What are you focusing on right now?
Right now my focus is on getting fit again after getting injured at the Laax Open.
We wish you a quick recovery and good luck for the next season!