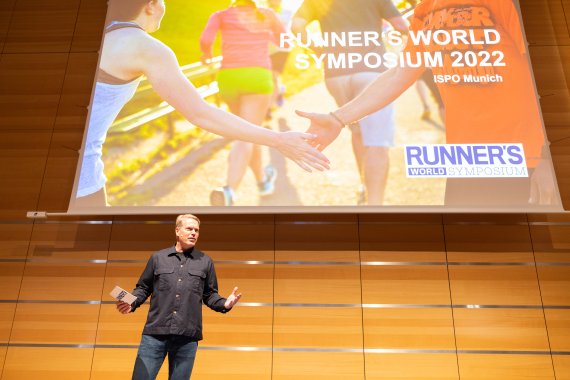 The fact that a crisis can be an opportunity has probably been embodied more by no other industry in recent years than the running industry. While the fitness industry has suffered, running shoes and running apparel have been in constant demand over the past two years. Trail running, in particular, made a stunning ascent.
But with global supply chain issues and consumer buying uncertainty in the face of the energy crisis and inflation, the next uncertainty factors are already around the corner. The sustainability of the running hype is also an open question: How many of the newcomers to running will ultimately stick with it?
Many uncertainties. Running oracle Urs Weber shed some light on the subject at the Runner's World running symposium at ISPO Munich 2022, and he had some good news to share: "The market is booming, even among retailers," Weber said. Running brands are currently seeing sales increases of up to 60 or 70 percent. McKinsey also forecasts growth in the sporting goods market of up to ten percent over the next three years.
Weber also identified trends that could encourage the running industry based on the current Runner's World reader survey with more than 9,000 respondents.
The running community is growing rapidly. "One in six of the survey participants has only started running in the past two years," says Weber. A side effect of the "newcomers": Relatively speaking, the number of competitive runners is declining. Gone are the days when 80 percent of survey participants also competed. In the current reader survey, 58 percent said they had taken part in a running race in 2021 - the lowest figure in the history of the survey.
However, running events have also fared better in absolute terms: according to Weber, the number of participants at major running events in Germany has fallen by between 20 and 60 percent across the board. Company runs have experienced similar declines since the pandemic.
A look at the motivation for running provides insights: "Running is much more recognized as a health sport. The personal factors of health, fitness and stress relief are now the top three motivations for running," says Weber.
At the same time, running competitions in China remain a hit despite draconian corona lockdowns: 30,000 participants took to the starting line for the marathon in Chengdu in 2022, which was only allowed to take place as a city championship with severe restrictions. And Weber also expects an upswing in Germany: "The marathon issue is certainly not over.
According to the reader survey, German running fans spend an average of 377 euros a year on running shoes. On average, respondents own six pairs of running shoes - and this despite the difficult heat summer of 2022 for the running market and rising prices. In 2022, the average price for a pair of running shoes was approximately 98 euros, about four euros higher than in 2019.
Above all, road running shoes are in demand. They were able to reverse the downward sales trend of the past two years. Track & field shoes were also able to make significant gains in sales again. By contrast, sales in 2022 are down in the sub-segments that had still benefited particularly during the Corona pandemic: road-entry level shoes and trail running shoes.
The running industry is a paradise for specialist retailers. When it comes to buying running shoes, the majority of survey participants trust specialized running stores and stationary sports retailers. A total of 77 percent of respondents said they often or occasionally bought running shoes in running stores, while 71 percent did so in specialist sports retailers.
Online offers from specialized running stores (59 percent) and online offers from sports retailers (56 percent) follow in third and fourth place. Online generalists such as Amazon are only ranked fifth (32 percent).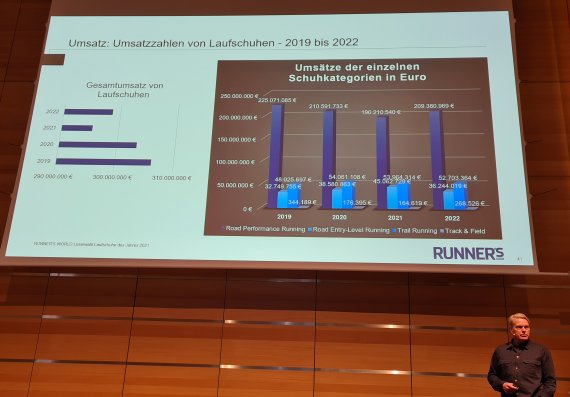 The selection of innovative running shoes continues to grow. According to Weber, 19 new running shoe brands have entered the German market since 2000. Among the hottest current running newcomers, Weber counted ISPO Award-winning brand Infinite Running, Kenyan brand Enda or China's sports giant Li-Ning, which will also sell its running shoe Feidian with in-house Boom technology in Germany from 2023.
In addition, there are other fresh running brands such as the Berlin brand Winqs, Joe Nimble, True Motion or the Mallorcan brand Normal with support from ultra-running icon Kilian Jornet.