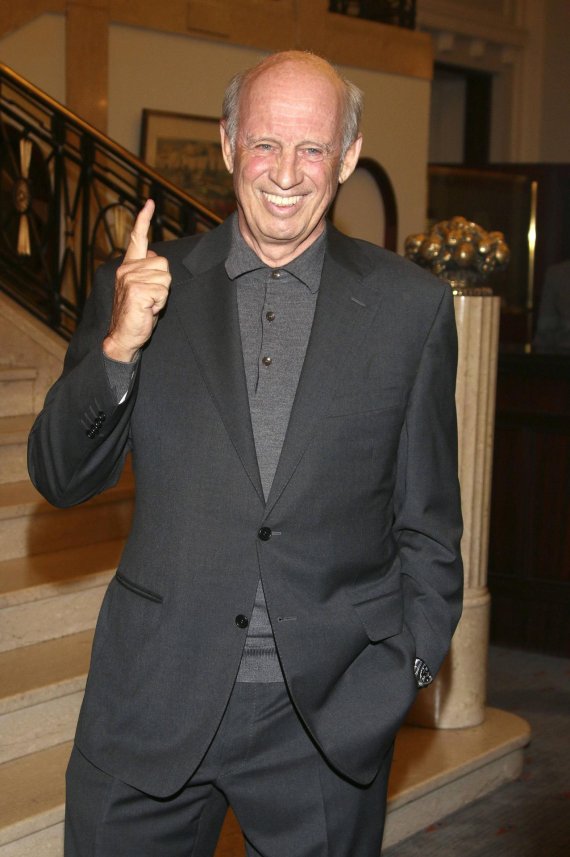 Be it skiing, directing movies, or doing business: Willy Bogner put his heart and soul into everything he does.
He transformed the sports brand Bogner, established by his father, into a big player on the winter sports market. After 39 years, in 2016, he passed on the leadership baton – but that didn't stop him from representing the company at ISPO MUNICH 2017.
ISPO.com spoke with the 75-year-old about the value of innovations, the core of the brand, and his new role at Bogner.
Willy Bogner: "It's still early days for VR"
ISPO.com: Mr Bogner, one of the highlights of ISPO MUNICH 2017 was Bogner's Holodeck VR, which allowed visitors to wander over a virtual walkway up among the clouds. How did that come about?
Willy Bogner: Over the years, we have always tried to introduce new media: from the first movie format to IMAX, 360 degrees, 3D and so on. The basic task of bringing skiing into a certain space isn't possible without the use of media. You need to prove time and again that it is possible to take the products with you wherever you go – and you need to find innovative ways to do so.
Do you have plans to develop and expand this technology?
It's still early days for Virtual Reality, however this technology has such potential to change especially young people's media experience. We want to tap into the newest developments in the media world and are looking forward to working with this most recent product. We have already learned a great deal about its advantages and challenges. It's really fun!
Videos and movies are still a key part of Bogner and are something you yourself as a movie director are very much involved in. How do you manage to find new ideas and new ways of portraying your company, even after so many ski movies?
On the one hand, that is indeed a challenge – and on the other, I really enjoy it. Sports are also in a constant state of flux and development. There are people out there experimenting and coming up with completely new ideas. I am amazed by these extraordinary bursts of creativity. And we always give ourselves the opportunity as a company to try out different things.
It doesn't matter if it works the first time or not. What matters is that we amaze people, we get them talking about us along the lines of, "Look what they've come up with now!" This attitude is particularly important for a traditional brand such as Bogner, to ensure that we are always ahead and don't become old-fashioned. We need to attract people to our brand, to get them into our stores to see what we have to offer.
Willy Bogner the movie director: Here's how he sets new trends.
I find the old movies fascinating and just can't get enough of them. They are classics that don't die or become dated.
It's amazing. Even movies that are 20 or 30 years old still manage to enthuse young viewers, who come out of the experience saying: "Wow, that was cool!"
 ...even if the characters were still wearing the old wooden skis...
There have always been performers who used all sorts of equipment that simply cannot be compared with what we have today. What today's athletes do and dare would pale alongside some of the things some people back then attempted.
I have even heard of skiers racing down bobsled runs on their skis – just like in the 1980 James Bond movie "For Your Eyes Only."
That was one of the easier problems to solve – once you got used to the fact that you couldn't brake. Our solution was to remove part of the wall of the run in Cortina d'Ampezzo, which allowed me to leave it and brake outside.
We actually zoomed down the bobsled run at St. Moritz on ice skates during production for our new ski movie – and this led to the creation of the Red Bull event Crashed Ice. It's just fantastic when you have the opportunity to try out new things in a playful way and work with the best athletes in the world.
Willy Bogner: Advisor for CEO successor Alexander Wirth 
Of course this makes it even harder to stop. You have now passed on the leadership baton to a new CEO and withdrawn from business operations. How has your life changed with your new position in the company?
As the owner of the company, I continue to participate in daily business, even though I have passed responsibility for operations on to Alexander Wirth, who has been CEO since last September. I watch the action from the sidelines, handing over the reins to the new team but always prepared to offer my assistance.
For me, it feels good to know that my company and colleagues are in safe hands, and to be able to take a step back from it all and concentrate on other things in my life. I can now dedicate more time to my passion, directing movies, and that's something I really enjoy.
In your eyes, how well has this new structure been working?
We're really happy with it. In particular with regard to restructuring the company and against the backdrop of the challenges we are facing on the Russian market – although fortunately, the situation there is relaxing at the moment.
Did these challenges affect your Bogner fashionwear?
We felt the effects in our turnover, because Russia was one of our strongest export markets. But now things are picking up again. In any case, as a company we have always been quite diversified. As a luxury sports brand, it doesn't matter to us where people come from.
Our customers just happen to be people who can afford to spend quite a lot of money and are frequent travellers on the international scene. Whether our customers spend their vacation in St. Moritz, Aspen, or Sochi takes a back seat.
Bogner to remain luxury sports brand
So that means that the essental Bogner style hasn't changed?
We are a luxury sports brand, and we hope to remain the leading luxury sports brand Bogner, just as Mercedes is defending its title as the leading luxury car brand.
How stiff is competition in the luxury sector? Has the situation changed a great deal in the past few years?
Not much. There's an art to it, to luxury, and to constantly producing goods that unite innovation, intrinsic value, and of course functionality.
What approach will you be taking in future? The same as in previous years, address a younger target audience, or do something completely different?
It's really a standing order for us not to grow old with our products. That said, our range is not aimed at the youngest target audience, given that our fashion is expensive and requires a salary. For us, what matters is attracting future generations and younger target audiences.
In this respect, how important are VR or cool videos?
They are extremely important for the brand image! Our brand must constantly be topped up with new, high-quality visual features. Adverts are becoming increasingly tailored to entertainment: stop advertising, start entertaining! This is precisely what we have been doing for years now and it has really established itself as a format.
We actually have fan communities for our movies, even though these people can't even afford our products. Our brand has to come across as cool, which is something I feel we have achieved.
Bogner also joined in the action at St. Moritz – as the outfitter for the German team.
It is impossible to imagine skiing without the black and white flame motif. In the last 30 years, the flame has established itself as Bogner's distinguishing logo. We plan to continue using it in future.
Willy Bogner Jr was born on January 23, 1942, in Munich. In the 1960s, he was one of the world's best Alpine skiers and was crowned German champion several times. He missed out on gold in slalom following a fall at the 1960 Olympics. He took part in the production of four James Bond movies in his role as a ski cameraman and movie director.
In 1971, he launched his first ski fashion collection "Formula W", and in 1977 he took over the reins from his father Willy Bogner Sr as head of the Bogner company, acting as CEO for 39 years before passing on leadership in 2016.