Be there when the global sports world comes together in Munich. Our Home of Sports awaits you with trade show, integrated hybrid conference for business professionals (run: Jan. 23, 2022 - Jan. 26, 2022) and with the new Consumer Festival in the Collaborators Zone (run: Jan. 21, 2022 - Jan. 23, 2022).
The pandemic has constrained us all and shifted priorities. Sports have never been more important, challenges never more complex, and opportunities for sustainable growth never greater. It's time for us to meet again: In Munich from Jan. 21 to 26, 2022.
Products, Trends & Innovations [B2B]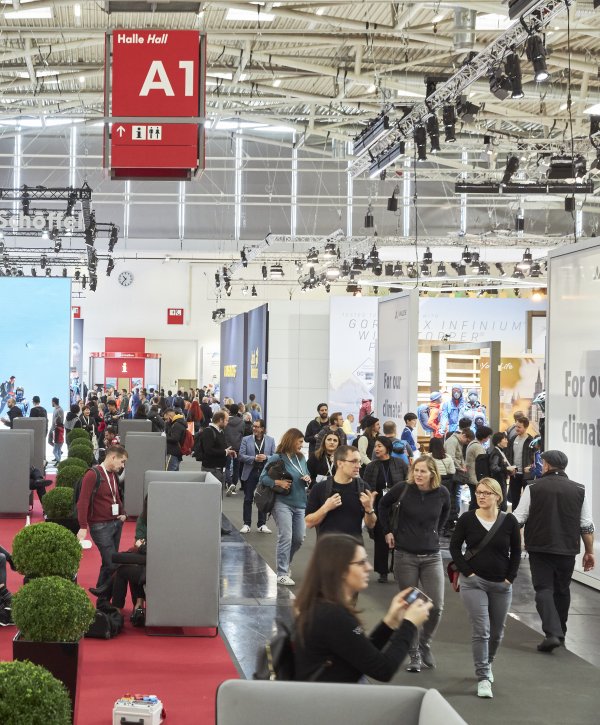 Products, Trends & Innovations [B2B]
The exhibition halls as you know them and the biggest part of ISPO Munich. Present your brand and what it stands for. 
You can bring your own booth (floor space) or choose one of our pre-built stand packages (plug & play).
In the Exhibition Halls you will experience ISPO Munich the way you are used to. International, business-oriented, unique. 
Choose this option for floor space and to present your products, trends and innovations. Feel free to contact us here if you need advice.
Close
Summit, Solutions & X-Industry [B2B]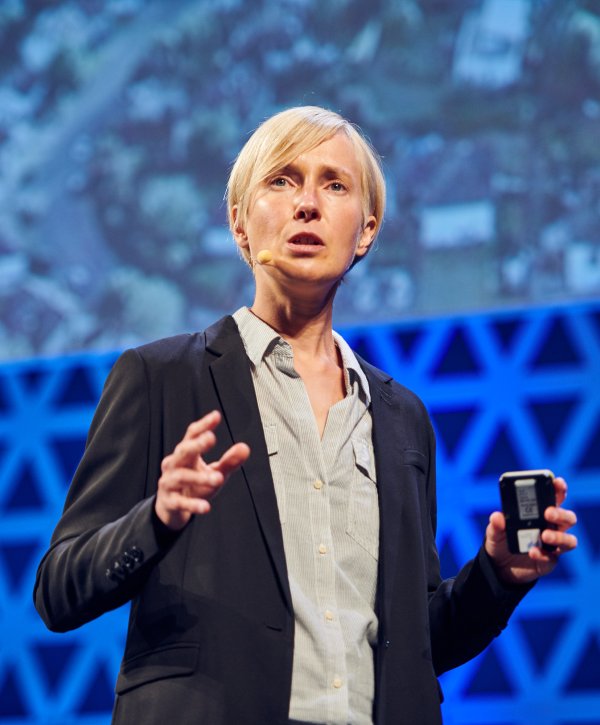 Summit, Solutions & X-Industry [B2B]
This year we are taking ISPO Munich one step further. In our Experience Hall, you as an exhibitor can present innovations, concepts and solutions for the megatrends of the future. 
The Experience Hall is the perfect space for anyone who develops solutions, presents innovations or offers consulting services. Here you can bring your expertise to the sports business, regardless of the industry.
The Hybrid Stage in the Experience Hall brings together brands, retailers, media and influencers. This is the place to be if your knowledge advances and inspires the sports industry. Needless to say, we also provide Hybrid Stage content live and on-demand online.
Choose this option for your booth space and/or Stage Time (upon request). Feel free to contact us here if you'd like advice.
Close
The Consumer Festival [B2C2B]
The Consumer Festival [B2C2B]
The desirability of ISPO Munich among sports, outdoor and lifestyle enthusiasts is huge. For the first time in the history of ISPO Munich, selected consumers will be admitted to Halls B5 and B6. The Collaborators' Zone - closely linked to the member-strong ISPO Collaborators Club - is the place to meet opinion leaders and address new interesting target groups.
Here you can show products, offer tests, workouts and workshops. This is the perfect environment for you to meet with your customers and consumer experts. Trade visitors of the B2B areas automatically get access to the Collaborators' Zone.
Choose this option for your booth space, stage time (upon request) and/or workshops as well as workouts. Feel free to contact us here for advice.
Close
ISPO Munich is offering even more possibilities in its halls this year. In the future, the world's largest and most important sports platform will give even more sports and sports-related topics a home and bring together all its movers and shakers and trendsetters from all over the world. We are proud to present our lively and hybrid hall concepts for your brand!
You still have questions? Don't hesitate to get in touch with us.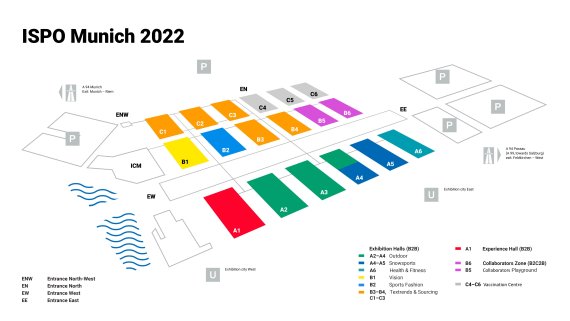 Your start-up is not older than four years at the time of registration and has never exhibited at an ISPO event before? Then register now for our Start-up Package and present your start-up at ISPO Munich 2022.
4 m² floor space
incl. 2 exhibitor passes
modern & sustainable stand construction incl. set-up and dismantling
Visitor tickets for customers
Graphic space (≥ 0.6 m²) for logo and name
included additional costs: stand cleaning, ≥1 KW power connection on three sockets, waste disposal flat rate
obligatory communication fee
Locker
Digital company profile on the virtual conference platform
Booking of additional stand equipment (subject to a fee) possible
Price: 1990 EUR plus VAT 
More Information
You have questions? We have the answers. Feel free to read our FAQ and if you have any further questions contact us directly.
Which topics will be staged and what is the best way to deal with Consumer Experts?

In the Collaborators Zone, current trends (both sporting and social) and moving topics are staged and discussed. The Consumer Experts are highly involved consumers and multipliers. They are therefore not only potential customers, but also a kind of live focus group with valuable feedback and a high level of dialogue and language skills on trends, ideas, materials and products - ideally suited also for prototype testing. Otherwise, the period is suitable for collections for the current (Fall-Winter 21/22) and upcoming season (Spring-Summer 22). Consumer Experts can also be addressed very well via workout offers and the entertainment programme.
Will the Collaborators Zone have different opening hours?

Yes, the Collaborators Zone will open later and close later during the runtime and will have extended opening hours on the first weekend of the trade show.
How can you participate?

Booking of stand space for stand-alone booths, booking of pre-built stands, workshop slots (e.g. for repair shops, snow & safety courses, prototype testing with focus groups, dialogues and exchange on social topics), workout slots, stage slots.
Tip: Due to the already high demand, we recommend a registration as soon as the registration process is open. For a consultation, feel free to contact us already now.
Is it possible to register in more than one area?

Yes, it is possible to register in several areas at the same time across ISPO Munich. It is also advisable to optimally supplement your stand concept with further participation opportunities such as workshops or similar.
What does B2C2B mean?

B2C2B is the abbreviation for Business-to-Consumer-to-Business. For the Collaborators Zone this means that the focus is on interaction with consumer experts, but business professionals (trade visitors) are also invited with the regular ticket and of course have access.
Is it possible for a sporting goods brand to be represented in the Experience Hall?

Yes, that is possible. However, it is important to know that the Experience Hall is essentially about megatrends. To exhibit products makes sense when they adress innovative technologies, materials, manufacturing processes or similar or when they adress upcoming lifestyles and megatrends. In line with the X-Industry philosophy of the Experience Hall,  companies and organisations outside the world of sport are welcome.
Note: In addition to sports professionals, the Experience Hall reaches international media representatives and accredited influencers, corporate decision makers and strategy managers, innovation and change managers, sustainability managers, digital & technology managers, new ventures managers and similar.
Are other organizations besides sporting goods manufacturers allowed to exhibit in the Collaborators Zone, e.g. a specialty retailer or an FMCG brand?

Yes - any organisation that wants to reach Consumer Experts in the thematic context of sports is welcome. We also recommend the use of workshop and/or workout slots as an alternative to the stand. Please feel free to contact us.
May business contacts be cultivated in the Collaborators Zone?

Yes, in the case of pre-built stands, there will be special restricted-access meeting areas for business professionals, which will be made available to all guests in the evening (at the start of the entertainment programme). Freestanding stands are welcome to set up meeting rooms or zones for their business guests.
Are visitors allowed to purchase merchandise in the Collaborators Zone?

The sale of merchandise is only permitted if it is not(!) handed over in the exhibition area. The sale of remaining stock (sale) will not be accepted. We recommend, for example, that the customer make the goods available for collection in a suitable shop or send them to him (analogous to online shopping).
Are the Exhibition Halls or the Experience Zone open to consumers?

No, both areas are B2B areas and reserved for trade visitors.
How does digital access to ISPO Munich take place?

The main stage in the Experience Zone will also act as a studio for the Digital Conference Stream for all digital attendees. There will also be the opportunity for digital participants to present themselves and their companies purely digitally or to offer purely digital workshops.
What does X-Industry mean in the context of the Experience Hall?

The abbreviation "X" stands for "cross" and enables cross-industry exchange. Social and global trends are increasingly causing industries to merge. The Experience Hall therefore facilitates completely new forms of business partnerships, exchange of know-how and, above all, presentation opportunities for all those who are looking to enter the world of sport or who have new expertise to offer.