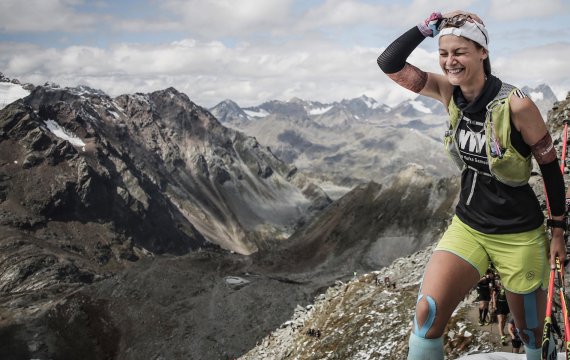 We are in Trieste, a charming port city in northern Italy, from where I walked 100 miles (168 kilometres with 7200 metres of altitude difference) in January this year in the border triangle with Slovenia and Croatia.
And based on this ultramarathon experience, I would now like to share with you my five very personal tips for a positive attitude - not only in the nerve-racking times of curfew and social distancing - but in general.
When I told my environment that I wanted to run an ultramarathon in January, I mainly came across reasons why this was not a good idea. "Better wait a little longer, then the external conditions such as weather and temperature are certainly better for such a project ...".A lot of 100-mile specialists who hadn't run 100 miles yet. Each with reasons why it would probably not work out.
But I should not care about what the others said and so I concentrated on the facts. The way was my goal, and the road ahead was long - the circumstances, no matter when, thus almost unplannable – healthy and fit I wanted to be on day x and strong in my head, ready to make the best out of all circumstances, whatever that might be.Isn't it exactly like that now, at least a little bit?
Since the pandemic there are people who supposedly know better. "How is the economy supposed to recover from this and in general, let them all get infected, then at least they are immune, so probably." "The output restriction comes too soon." "It's all too late now anyway."
A lot of pandemic specialists who had not yet experienced a pandemic. All of them with reasons why it wouldn't work.But we don't care what the supposed specialists say, so we focus on the facts.
We want to reduce the infections, so we stay at home and reduce our social contacts to the necessary minimum. The road ahead is long – the further circumstances were almost unplannable – healthy and fit we all want to stay healthy and fit and strong in mind, ready to make the best of all circumstances, whatever that would look like.
Trieste, Saturday night, 3 a.m. on January 4, 2020:
The starting signal for the 100 miles is given. I feel good, motivated and optimistic – Body and soul feel strong!
Bavaria, Friday noon, March 20, 2020:
Bavaria imposes a strict limitation on the starting point - we are all motivated and optimistic– our minds and bodies feel strong enough for the unknown.
Trieste, Saturday evening around 9 pm on 4 January 2020, about 86 kilometres after the start:
My legs are heavy, I am cold and I think of the doubters. Were they right? Was I in over my head? Only halfway through? About half again – how can this be? Why is it so damn cold on a clear January night in the mountains?
Running, I have to keep running, then I get warm, every step is one step closer to civilization.
Bavaria, Friday evening 27 March 2020, 9th day of the initial restriction.
Only a week around? How can this go on? The whole thing is more exhausting than expected. I want to go back to the office ... my colleagues are not that bad and the coffee tastes better in company.
How do the teachers do it, do they have nerves of steel? What's the dot before the line calculation again?
I won't stand it for another week, will I? - Yes, yes! It goes on, on and on. And each day mastered is one more day towards "normality".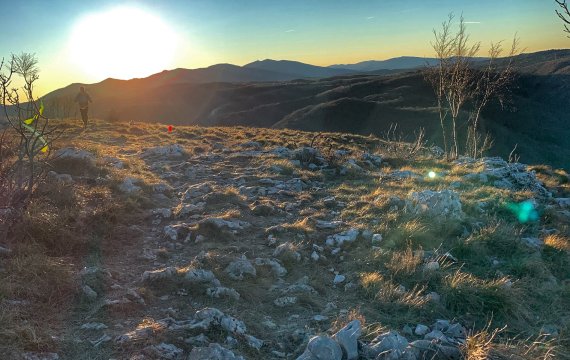 Sunday night around 1:00 am, January 5, 2020. – the 100-kilometer mark
The silence of the night is oppressive. I find myself somewhere in the middle of the Slovenian mountains, all alone. In the light of my headlamp the tips of tank trapping wire flash. The Croatian border! Don't stumble. Stay focused. Breathe deeply. Visualize the target. Imagine the moment when the road takes me back to civilization.
People cheer as I drag my tired body towards the finish line, happiness flows through me; I too cheer. Only a few more meters and I enjoy them on my wobbly legs, happy about everyone, about everything, ... I'm almost there!
The idea alone is enough to equip my body and especially my head with new strength and courage.
I can do this, I can do this! Only 68 kilometres to go, it would be stupid to turn back now!
Week 14, future scenario:
The confinement of my own four walls is overwhelming. We know how many tiles the bathroom and kitchen have. Our skin is thin and the air at home is thick from time to time for cutting. Emotional and mental chaos. Don't trip now. Stay focused. Take a deep breath. Visualize the target.
Imagine the moment when our exit is unrestricted again. Imagine the power of the embrace. To recall the flair of small cafés. To recall the feeling of anticipation for an afternoon of friendship. Homemade cake from grandma, stories from grandpa.
The imagination alone is enough to equip head and body with new courage and stamina. We can do it! Anticipation is the greatest joy.
Sunday morning around 6:30, 5 January 2020 - somewhere between kilometre 125 and 130:
I need both hands to master the steep climb to the cliffy plateau above the Gulf of Trieste. The soapstones, covered with morning dew, give little grip. Slowly it gets light while I climb the vertical ascent. My lungs are burning, my muscles are trembling. But at some point I reach the top. All of a sudden I stand on this rocky outcrop and watch the sun rise over the Adriatic Sea, wrap the sleepy Trieste at my feet in warm light and kiss it awake very slowly. I try not to wink away my tears, I grant.
After the steepest climbs you will be rewarded with the most beautiful view.My gaze rests on the city that has so much beauty to offer. Soon, soon for me again. Just one more marathon. One more marathon to enjoy the silence and the view.
Week 15, future scenario:
All games are played, all friends are called several times, the "Eyes square" from many television and display shows. The last days were incredibly exhausting. The small pleasures give only little hold. But very slowly it is getting light, while we live through these last days. Our nerves are trembling, our soul is burning. Burning for closeness, contacts, togetherness. But at some point an end is in sight, and it's getting closer. The goal. Our goal, our common goal.
And then we'll stand there, be witnesses. Witnesses of how men, women and children suddenly appreciate again all the little things our world has to offer.A beautiful view, isn't it? But only after a very steep ascent.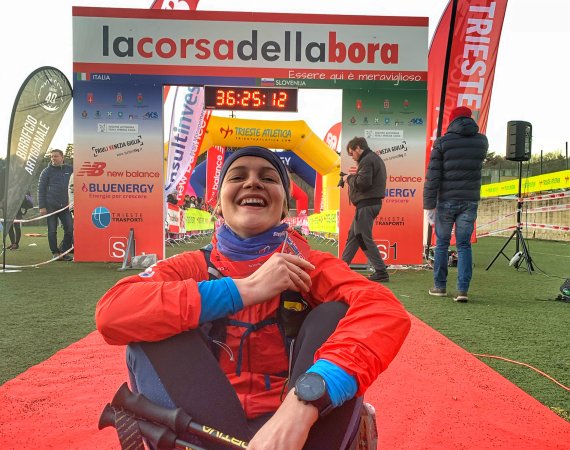 The morning after, January 6, 2020:
It feels unreal. My fingers grope for the medal on the night cabinet. Had I really made it? Yes!
Happiness, joy, pride, hunger, pain, gratitude. I feel it all at once. Then I get up; the first steps feel unround. My partner says, I remind him of a freshly born foal that dares the first steps.
We go to a small café for a reward breakfast. The pasticcini and paninis taste better than ever before in our lives. The smile of the waitress is balm for my soul. Another coffee, another coke. Life is beautiful!
Week x, future scenario:
It feels unreal. Over and over again we read the update on the mobile phone: "Corona is over, curfews lifted". Had we really made it? Yes!
Happiness, joy, pride, thirst for adventure, pain of long loneliness, grief for the victims, gratitude to all helpers, appreciation of one's own health. We feel everything at once. Then we get up, get out. Meet, unite. Touching each other. The first steps feel unround, like freshly born foals taking their first steps.
We meet in small cafés and restaurants. The food there tastes better than ever before in our lives. The smile of the waitress is balm for our souls and our balm for her soul. Giving and taking seems to be in harmony again. Another coffee, another coke. Cheers, we'll toast. To us! Life is beautiful!
Until then:
Stay healthy, sensible and sane
Your Sandra
PS: To be fit for the last ascent, I recommend the following chair workout in addition to the couch workout last week
About the author: Sandra Mastropietro is 32, lives with her husband and child (8 years) in the Munich area and is an enthusiastic trail runner. Since she didn't really want to "go fast", she escaped to the long distances and since then she runs everything between 80 and 168 kilometres - and that strangely enough always with a smile on her face. Sandra is a specialist coach for endurance sports, a mental coach and, to top it all off, a writer (book Transalpine Run, Delius Klasing 2019 & Läuferleben, Komplett Media 2015). First and foremost, however, she sees herself as a mummy.
Among her greatest successes are the 4 times finish of the Transalpine Run, 2x 100 miles at the S1 Corsa Della Bora, the Lavaredo Ultratrail, the Namibia Wild Run and the passing of the hardest race in the world: the Dragons Back Race.