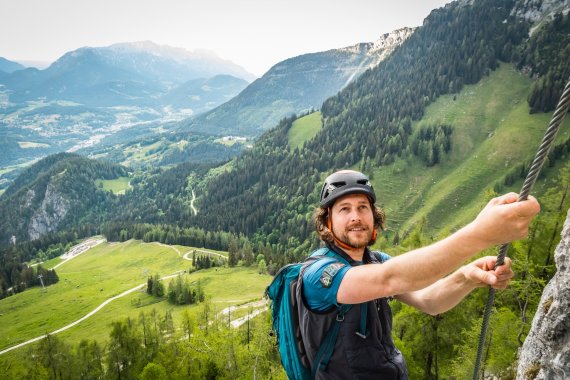 Corona has postponed everything. Our biggest challenge at the moment is to inform as many of our guests as possible about what's going on here this summer.
Our advantage: We had already installed a very modern booking platform before the pandemic. So we can reach and inform our guests directly via the website and via targeted mailings. Neverthelesse: the best system cannot replace direct contact. At the end of the day, personal contact is important to our guests.
The way we have set ourselves up in the company only works digitally anyway; and it works very well. We have the big advantage that we have a very lean office, measured by our turnover and the program we run. In normal times that's great, but right now it's very stressful. Since Corona we get four times as many calls as before, you have to work through that first.
Over the past few weeks, we've used the time to improve our online platform. With the relaunch we want to inform our customers even better and faster. In addition there will soon be a customer app. Because one thing is clear: Reliable information gives security. If you succeed in informing people in a targeted manner, you will save yourself a lot of work.
Now I'm looking forward to the summer. Of course it will be exciting, especially on the mountain. At high altitudes and in the huts, I think it will be quite straightened out. To put it this way - I think the cabins are gonna be the cleanest this summer ever. And there will be more space too - actually ideal.
Digitisation helps us in many areas. However, it will never replace the experience gainedin a hut or when climbing a steep path in serpentines. In the illustration of our sport we are maximally limited in the digital. The smell, the taste, the wind, the air - you cannot transfer that to the digital.
In the lockdown we have provided digital variety on our platforms. We have the offer "mountains at home" on our site of the Alpine Club. There you can find fitness and training tips, virtual tours and instructions for repairing your equipment. Of course - pull-ups on the door frame can never replace real climbing.
Nevertheless, the digital was important for our members: In the weeks when it was not possible to go to the mountain at all, just as many annual licenses were called up in our tour portal as in previous years. The number of hits also skyrocketed during the lockdown. Obviously many people used the time to plan tours, as a digital escape, so to speak. We saw that people spent a lot of time and effort on the content.
The next challenge will be to straighten out the rush. On our tour platform alpenvereinaktiv.com, for example, we are increasingly focusing on low mountain tours. Since the end of 2019 we have been offering low mountain weather in addition to mountain weather. In this way, we want to create a conscious incentive to be on the move in nature right on our own doorstep.
Especially with the conditions we still have, the online booking system for the huts has become more important. For this year, the target is: No overnight stay in a hut without reservation. It is especially important for the hut hosts to be able to plan their occupancy to a certain extent. With the booking portal, we want to ensure that beds are not left empty unnecessarily.
This also applies to the climbing gyms, where you have to book fixed times.
Of course I have to register and reserve times.
At least I can climb safely at the booked time and do not stand in front of closed doors, because the maximum number of climbers is already reached. And there is a good thing about it: once you are inside, it is much quieter and more relaxed than usual.
I see the digital technology as quite divided. Of course, communication with our participants, and the entire registration procedure, is completely digital. This is also reinforced by Corona, which we are expanding further. In nature itself, we don't need digitalisation, apart from emergency systems such as the avalanche transceiver.
When we are outdoors, it is all about feeling nature - that is why we are outdoors. I don't want to stare at a display all the time, it only distracts from the beauty of the mountains. There are many nice apps and other digital offers, especially for children. At certain stations you'll be told fairy tales or you'll get explanations on theme trails. However, this leads to the fact that children are constantly having the screen in front of their noses even when they are outdoors. I personally find that difficult. In fact we go out to enjoy nature.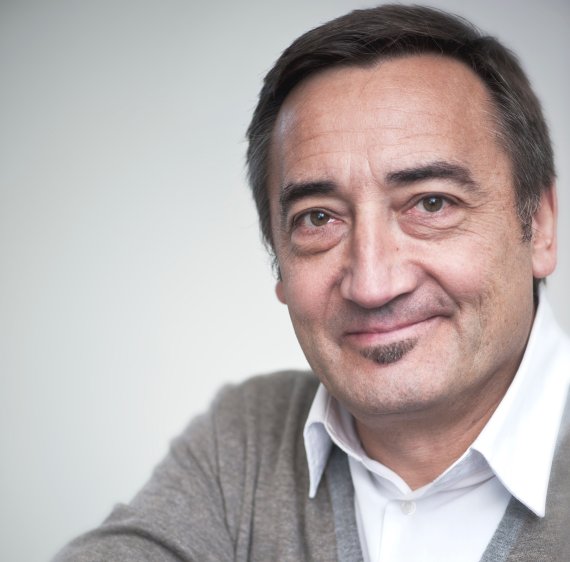 Corona didn't catch us so cold at the Snow & Alpine Awareness Camps, we were already quite well positioned before. Our courses always consist of two parts. In the theoretical part a mountain attendant or a mountain bike guide gives an introduction to alpine safety. Depending on the topic, this takes two to four hours. We can already reproduce this part completely digitally. Any number of people can participate in this part of the camp via the usual platforms - digitally.
The second part of the camp always takes place in the terrain and persistently in small groups. You cannot replace this practical day digitally. And we don't want to. Not only can you learn an awful lot from the guides and mountain guides on tour, they were also hit very hard by the shutdown. So it's clear that we want to send them back now.
The shutdown and the travel warnings were of course brutal for the economy. In fact it was good for nature here so little was going on. Anyone who sets off again now can experience special moments.
I am sure that tourism can be managed gently. This helps the nature, at the same time it also makes the experience of the guest more beautiful. Perhaps one should, for example, measure visitor flows digitally and then direct them accordingly to avoid too many people in one place. Thanks to digital technology there are many possibilities.
It was a hard time for us. March, April and May are exactly the months when we are still offering ski tours, but also when we are already on the road with our six big events of the RUSH series. These are tours by bike, later on foot and finally on skis, for example from Vienna to the Grossglockner or - in the case of the Venice RUSH - from Salzburg to the Grossvenediger. We were able to postpone some of these, but this year we had to cancel the big tours without substitution.
With us it's all about the intensive experience in nature, you can't digitalize that. In fact we tried to motivate and entertain our people with a digital TV format. In cooperation with Alpentour.tv/ Studio 19, we broadcast Digi-RUSH live for one hour on Thursdays for five weeks. During this time we drove the original tracks of the RUSH series on the training reel and talked to prominent guests. Practically a talk format on the exercise bike. Many people just watched - at peak times about 250 people rode on their own at home. This helped us a lot: We are traditionally well positioned in the social media sector. We used the weeks when nothing worked at all to further improve our online presence. Above all, we planned new formats and offers together with our partners. We work a lot with tourism regions - for them, things have to continue after Corona.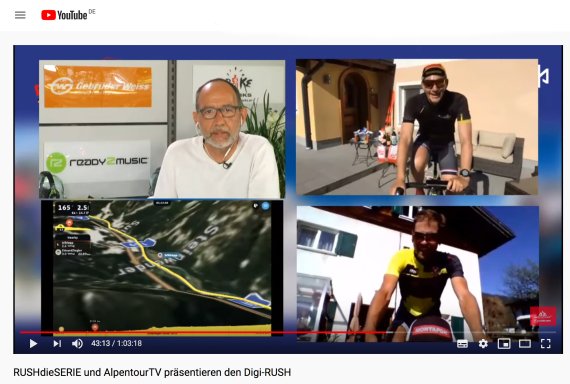 Digitalization helps us to network people and quickly convey even complex content and to inform guests. For example, we invest a lot of money in professionally produced pictures, texts and films to make the fascination of RUSH a digital experience. However the actual experience and feeling of the RUSH - the wind, the snow, the road and the camaraderie in the team - this you can't digitalize.
I am sure we can have a good summer. Nevertheless what is important now is that we explain to our guests what their holiday could look like this summer. On the one hand, we need new formats quickly, so that we can work out the special features of the individual regions - digital media will play an important role here. We will also see digital solutions with which we can record and perhaps even control the flow of visitors.
In the first step, these will probably be simple reservation systems, but in the future, intelligent signposts that take into account the number of visitors are also conceivable. In any case, digital technology can help us to maintain the necessary safety distance and put a stop to Corona.