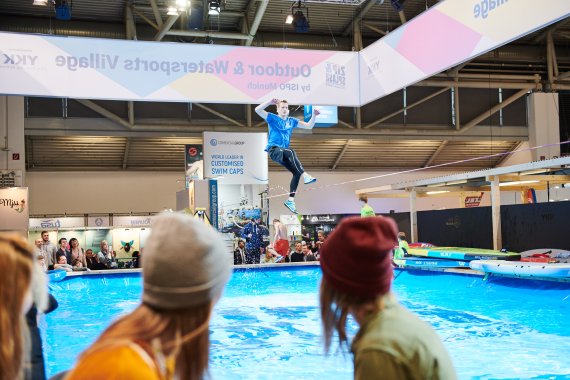 The third day will be the longest of ISPO Munich. It will start at 7.45 a.m. in the Seeblick-Restaurant (West Entrance) with the Industry Breakfast of the European Outdoor Group (EOG). And it ends late. In the evening, Ole Einar Björndalen will receive the ISPO trophy at a spectacular VIP dinner that starts at 7 p.m. and ends at 9.45 p.m. With eight Olympic gold medals and four silver and one bronze medal as well as a total of 95 World Cup victories in biathlon and cross-country skiing, the Norwegian is the most successful winter sportsman of all times.
The ISPO Academy stage in Hall C6 on Tuesday will focus on China. The list of speakers of the first edition of the China Deep Dive Conference is spectacular: Karl Wehner from the Alibaba Group will present facts about the e-commerce market in China. Representatives of the top sports clubs Borussia Dortmund, Schalke 04 and Alba Berlin will also be present on this day. In the new indoor climbing hub in hall A3, a discussion round from 11 a.m. is about "strong people and strong emotions", which can be admired at bouldering events.
The OutDoor by ISPO Lounge in the West Entrance will be the venue for another highlight from 4 p.m. onwards: Marcel Beaufils from the Rheingold Institute talks about the results of the outdoor study. Together with OutDoor by ISPO, Rheingold analyzed the core of outdoor from a consumer perspective.
At the end of the day, the trade visitors will of course be able to celebrate together again: From 5.30 p.m. onwards, the "Outdoor & Watersports Get Together" will take place in Hall A4.
Further information is available in the event database of ISPO Munich 2019.