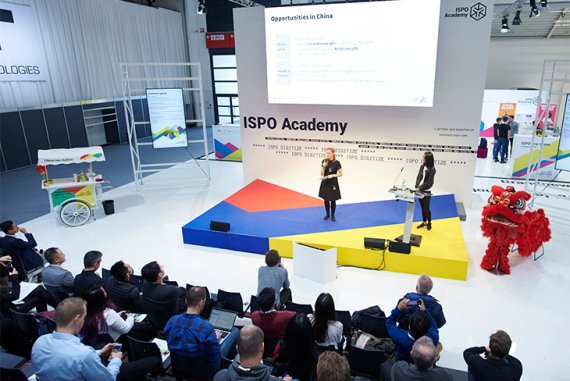 The future of high growth rates in the sports and outdoor market lies to the East: China. A rapidly growing middle class with increasing purchasing power is open to brand-name products and technical innovations from the West. For all those interested in this future market, we are offering the perfect information platform: the China Deep Dive Conference on January 28, 2020.
As part of ISPO Munich, an entire morning will explore insights about the Chinese sports market: market development and purchasing power, perspectives and prospects, concrete contact points and important tips, fascinating lectures and case studies, as well as information about support programs on site.
Location: tba, ISPO Munich 2020
Time: January 28, 2020, 9:30-12:30
Language: English speeches
The Agenda of China Deep Dive Conference
9:30-9:45
Registration & warm-up
with snacks & tea
9:45–10:00
Welcome speech & introduction ISPO opportunities in China
Ms. Majka Patuzzi & Ms. Karen Dai, ISPO Beijing & ISPO Shanghai
10:00-10:30
The Consumer Value Index of China 2019
Mr. Ulrich Köhler, Managing Director Trendbüro
10:30-11:00
Wintersports Industry in China
Mr. Bao Yonglin, President China Golden Snowflake Ski Industry Alliance
11:00-11:30
Create the new retail experience for outdoor industry in China
Mr. Steve Huang, Chairman Nanjing B.C. SPORTS PRODUCTS Co., Ltd.
11:30-12:00
Digitalisation & Marketing tools in China
Dr. Tu Lam Pham, digital business expert
12:00-12:30
Panel discussion: Future retail
Secure your participation at the China Deep Dive Conference.
Further information about the way your personal data is processed can be found in our privacy policy.