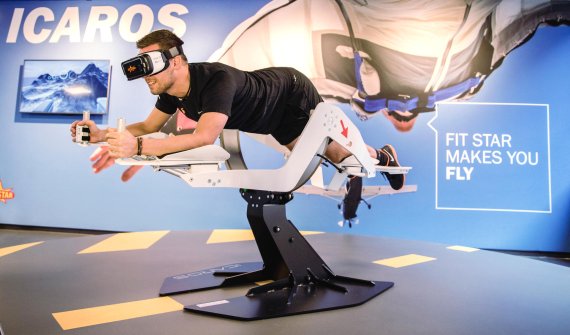 Icaros has now set up its own area in the Fit Star studio in central Nuremburg and it is already in operation. Fit Star is the first fitness chain to install the equipment and is hoping to bring more equipment into usage after further testing.
Fit Star has dedicated 30 square meters for the futuristic apparatus and has given over a whole area just for Icaros. The Icaros equipment can be found in an area designed to resemble a helicopter landing pad. "We discovered the equipment at ISPO MUNICH 2016 and it interested us greatly," says Kevin Werner, responsible for marketing and product development at Fit Star.
Icaros did it: From the ISPO BRANDNEW startup competition to the fitness market. Register your startup for ISPO BRANDNEW here >>>>
Fit Star has invested around €18,000 in the innovation. Icaros itself costed €8000, while a further €10,000 was used for designing the area and technological and studio requirements.
Read here: How to use Icaros: ISPO.com tested the trending equipment
Could 2017 See Icaros Be Introduced into Other Fit Star Studios?
Fit Star users don't have to pay to use Icaros: "We are the first fitness chain to introduce the equipment. The costs of using it are included in basic payments," says Werner. 
"We are working together with Icaros on integrating the equipment into our studio concept. For example, we rewrote the user instructions, which were quite technical, so that every user is able to understand them quickly," Werner explains. 
If Fit Star customers in Nuremburg take to Icaros, Fit Star plans to start installing the VR equipment in other locations as soon as the first quarter of 2017.
This is Icaros
The system comprises the Icaros device itself, a controller with sensors, a VR headset and an app – it is set to become the home trainer for the 21st century. Strapped to a futuristic-looking frame, the user glides through virtual worlds, training the whole body while also having a lot of fun. It is primarily the core muscles which are trained during a flight through the virtual canyons.
Read here: All the info about the Icaros VR fitness apparatus