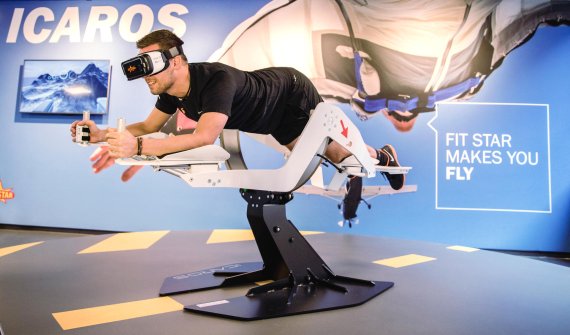 As of now, Icaros can be used at Fit Star Nuremberg Center in a specially equipped area. Fit Star was the first fitness chain to secure the device and, following a successful test, intends to install further equipment in its studios.
In Nuremberg, Fit Star created 30 square meters of space for the futuristic fitness machine and geared an entire area just for Icaros. Now people can use the Icaros in an area disguised as a helipad. "We discovered the device at ISPO MUNICH 2016, which made it very interesting for us," says Kevin Werner, responsible for marketing and product development at Fit Star.
Fit Star invested around 18,000 euros in the innovation. The Icaros itself cost 8,000 euros - a further 10,000 euros were spent on space requirements, technology and design of the area.
Icaros in more Fit Star studios from 2017?
The new fitness equipment costs Fit Star members nothing: "We are the first fitness chain to use the equipment. For us, use is included in the basic fee," says Werner.
"We are currently working with Icaros to integrate it into our studio concept. For example, we have rewritten the previously very technically based instructions for use so that every user can understand them quickly," Werner explains.
If the Icaros is accepted by Fit Star customers in Nuremberg, Fit Star plans to use the VR device for other locations as early as the first quarter of 2017.
The system consists of the Icaros device, a controller equipped with sensors, a VR headset and an app and is intended to become the home trainer of the 21st century. Strapped to a futuristic-looking frame, the athlete glides through virtual worlds and trains the entire body in a playful way. The torso muscles in particular are exercised as the user flies through virtual canyons.