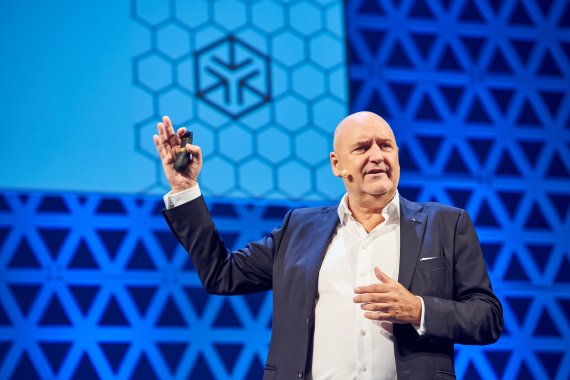 This offers great opportunities – if you've prepared yourself as a brand or retailer for the impending change. "When you know what's going to happen in 2050, you can start positioning yourself accordingly now," says Thomsen. To this end, it's especially important to develop a suitable, sustainable strategy: "And that always begins with your products. Not with the communication." Shortly before these words, Thomsen had faded in a rider at sunset on the huge screen.
The older guests in the auditorium could immediately link the image to the Marlboro brand through decades of advertising – but many young people don't know what to do with it anymore.
The same applies to the future viability of the brand: Once one of the world's top five most important companies, the cigarette company has fallen far behind. By contrast, the sporting goods corporations Nike and Adidas have, according to Thomsen, tripled their brand value in the past decade. Technology companies such as Apple, Facebook, and Google have risen even more sharply.
This builds a bridge directly to the topic of digitalization. Thomsen: "It's going to be completely normal in 2050." The shelf life of a megatrend like this, which really began in 2002, is about 50 years. That was when more data began being stored digitally than analog for the first time.
Digitalization can't be an end in itself, it always has to be done with employees and customers in mind: "Robots can do a lot, but we're better in terms of creativity and sociality. Digitalization needs people."
In this context, Thomsen had pointed out the major deficits in the sports industry in an interview with ISPO.com: "Let's not be deceived by the supposed dynamism of the industry. Like almost all classic industries, it's less in the expert stage and more in the infancy of innovation! There's increasing investment in digitalization and start-ups, but no discernible plan. Digitalization and innovation need a business plan, however."
In addition, Thomsen said that one shouldn't focus their future strategy solely on digitalization: "Don't forget: Digitalization is just one of maybe 25 assets of the future." As a particularly important trend for the future, the innovation expert – and here again the sports industry comes into play – has filtered out the topic "iconic health." This is going to become people's "new religion" by the year 2050.
"Health is going to be completely redefined. Happiness, diet, and sports will play a role," says Thomsen. In order to ride on this and other mega-trends of the future, you have to be clear about the "DNA of your own company." The slogan of the Thomsen Group, which he founded in 1984, reads, "Courage to go for the impossible." This also the perfect motto for the topic of digitalization in the sports industry.