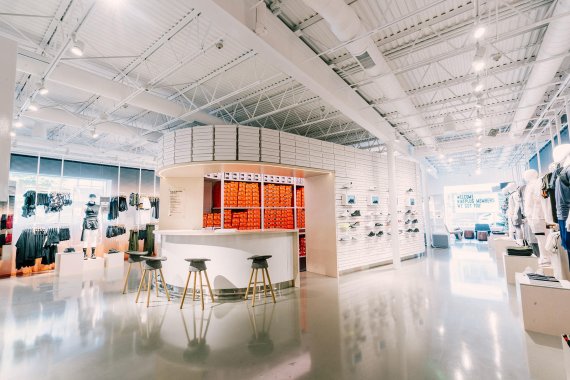 Titici is a high-end Italian bike manufacturer specialized in quality racing and mountain bikes. Titici developed a bike configuration tool for their online shop, allowing customers to personally create their own bikes using 3D design software. This idea has also been implemented in their physical locations. In Titici's 'Innovation Core Shops' in Amsterdam and Milan, customers can design their bike via touchscreen configurator. Other locations feature laptops or other such devices with which customers can assemble their own unique bicycles. There are already plans to install more of these innovative touchscreens in other locations, as well.
Similarly, Levi's is also encouraging customization at their new flagship store in New York. Customers can adjust and design products in Levi's Tailor Shop on the first floor. Visitors to the shop can use iPads to choose between a wide variety of options, including pre-installed photos, images, logos, and text.
With the mid-July opening of "Nike by Melrose" in Los Angeles, Nike has opened a store based on data gathered from local target groups. Thanks to the NikePlus app, Nike is extremely familiar with the local target market and selected its product range accordingly. For example, Nike was aware that NikePlus users in that particular area place great value on style, that they love running and basketball, and that they enjoy taking part in competitions. So Nike opted to create a store designed to cater to these specific needs. This means, however, that this store can't just be duplicated. The next store based on this concept, 'Nike Live,' is set to open in Tokyo next spring, and will be just as unique as its counterpart in the US.
How is it possible for a purely online retailer to open innovative - brick and mortar - stores? Eobuwie, the Polish shoe retailer, has answered this question by opening its new flagship store in Wrocław - with no products. Instead of working like a traditional store, Eobuwie's Wrocław store displays all of its products on screens, although it is still possible to try shoes on.
Customers can look directly into the warehouse, which houses around 110,000 shoe boxes and features 450 brands, from the back of the store. The shoes are automatically transported from the stockroom to the checkout area, where the customers can try them on and buy them. This concept was developed by Dalziel & Pow, a London-based retail design agency. According to Creative Director David Dalziel, "This ambitious and tricky concept combines the comfort of online shopping with the immediate order-fulfillment of physical stores." Also innovative: This is where warehouses, online shopping, and physical stores come together.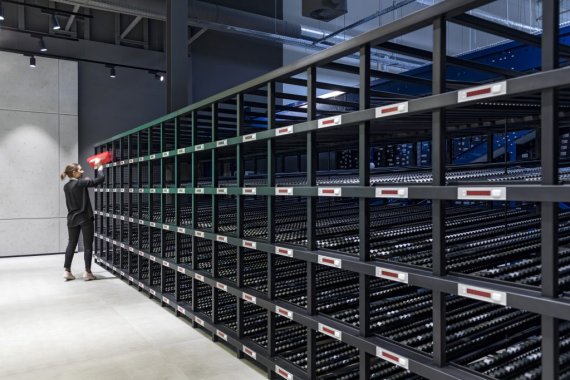 High quality service online and in store are crucial for luxury brands. As such, the US brand Rebecca Minkoff is improving its stores with integrated digital technology. Every location sports interactive mirrors in its fitting rooms, allowing customers to view other sizes or search for other products that could compliment what they're already trying on. Screens built into the walls recommend new, personalized outfits and even make it possible for customers to order champagne. Since their debut, these intelligent mirrors have already boosted the company's revenues. According to Rebecca Minkoff, thirty percent of customers have tried on additional articles of clothing recommended by the smart mirrors.
On top of all this, Intersport is opening a new megastore in Beijing this year in collaboration with Tmall, a subsidiary of Alibaba. This store will see them test out the newest digital services: For example, customers will be able to receive product recommendations via VR glasses and view further information on smart mirrors.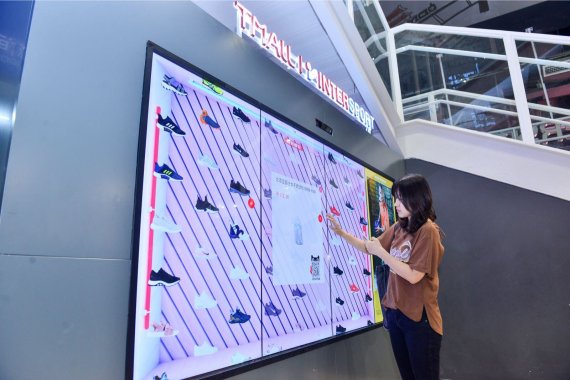 Amazon is focusing on its customers more than ever with its new "Amazon 4 Star" concept. The newly established, 400 square-meter store in New York only stocks products rated four stars or more. As if this weren't enough, customer reviews are displayed throughout the premises. There are no checkouts, rather products can be bought directly from tablet-carrying employees – and will of course also be delivered to home addresses.
SportScheck is experimenting with the latest digital tools and services in its newest branches. Jan Kegelberg, CDO of SportScheck, recently announced on Twitter that it will soon be possible for customers to pay sales assistants directly, doing away with the need to line up at checkout completely. The first branch featuring this new concept was just opened in Magdeburg. Among the new concepts being tried out there is a fitting room permanently reserved for clothes ordered online.
It's the internet's fault that fewer customers are visiting physical stores. But the internet can also be used to undo this trend with so-called local inventory ads. Retailers don't even need their own online store for this, as it's made possible by advertising formats from Google, Facebook, or special industry portals that display local product availability. If someone searches for a product on their smartphone, they will see an advert from a local retailer saying that the item is available in a shop nearby. This kind of advertising could prove the end of aimlessly trawling through an endless stream of stores.