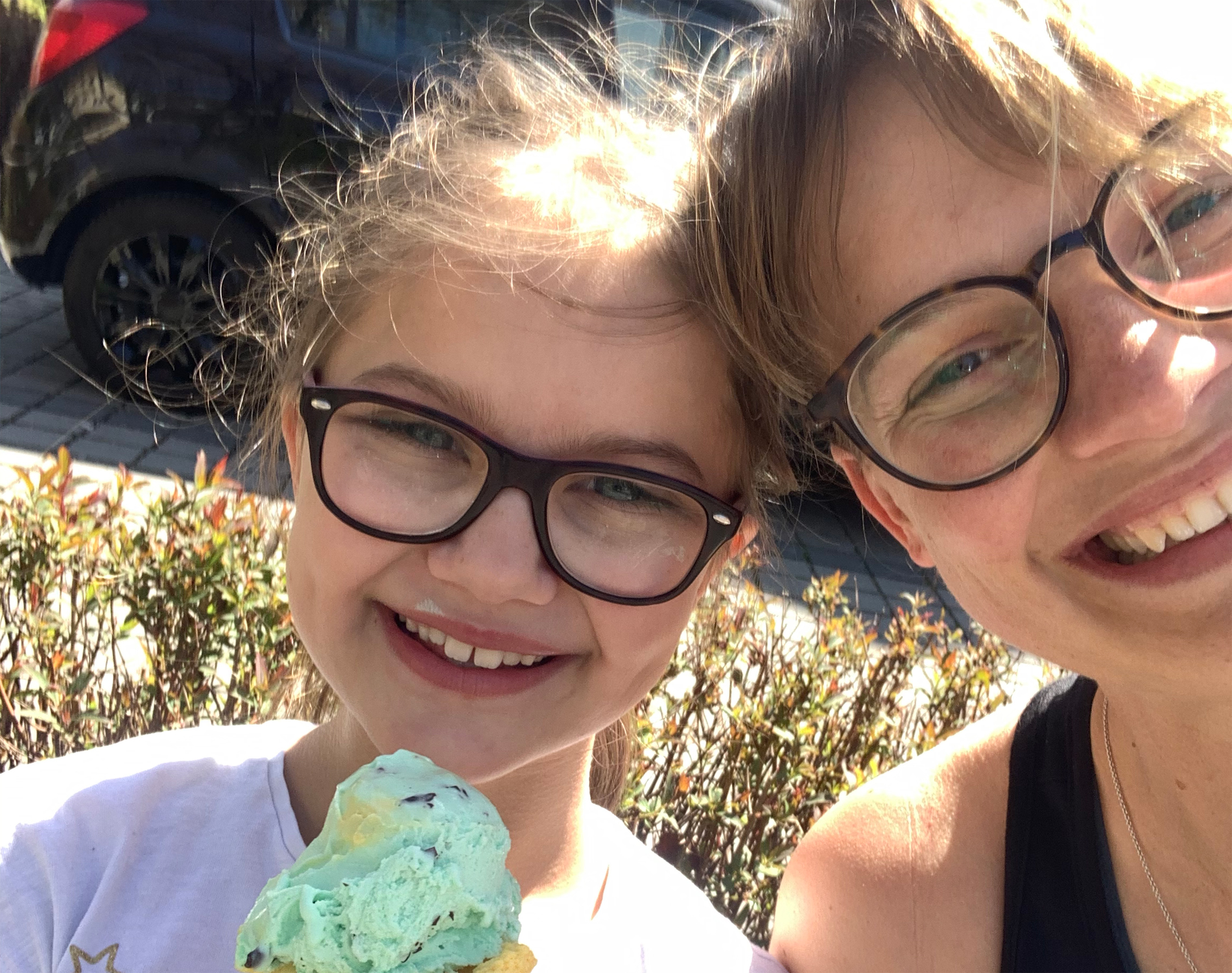 "For parents, it is an art to register everything but to concentrate on the essential. And that requires spending time together." This is what the family therapist Jesper Juul writes. But what is essential? Before the pandemic, this question was supposedly easy to answer. It was the time spent together as a family - whatever constellation that might be. 
And of course, sport and exercise are elementary for every child as well.
And now? Now the essential suddenly seems omnipresent. Even work from home has on the spur of the moment reconciled with homeschooling. But if "we grown-ups" are already stumbling, how do "the little ones" feel? And how can we manage to do justice to everyone?
So while I'm sitting there reading an interview with family therapist Jesper Juul as part of the research for my article on work-life balance working from home, my daughter comes to me and starts scribbling in my "holy notebook"."Mum, when I grow up, I want to write stories too", she says and I find myself in a state somewhere between "melting away with emotion" and "only half an hour of concentrated work at a stretch, please, please!"
And then I get an idea, or maybe an enlightenment. Who can explain more authentically how children feel in this exceptional situation than a child? So I interviewed my eight-year-old daughter - and got some amazing answers. And of course, I also added some exercises for kids and her parents. But read for yourself:
Sandra: Marina, what does Corona mean to you? I don't mean the obvious, like "disease", "virus" etc. - but in general. What do you think about it when you hear this term?
Marina: For me Corona is another life. A life in which a lot of things are forbidden and that is stupid. Also a life in which we have more time. That is nice. I also think it's nice that we children now do "old things" like painting stones and writing letters.
We spend a lot of time together at home right now, even if that doesn't mean that we necessarily play more than usual, because I am working a lot at the computer. How would you like to spend the day, considering that I have to work from home?
Well, when I think back to the Easter holidays: I get to sleep in the morning and you bring me breakfast in bed.Then relaxation morning with radio play and a few episodes of a series. Then it's your lunch break, we play tennis or ball in the yard or build a course that we have to overcome. Afterwards we are hungry and make noodles or even a steamed noodle. Then is creative afternoon. I write letters to my friends and paint pictures for people who are not so well and you can work. But only one hour or maybe two. Afterwards we go for a walk and throw the pictures into mailboxes of old people, so they can be happy. And later you can go back to work and I'll phone my friends.
Sandra: That sounds fantastic! And how are we going on when you will go back to school? What do you think about the fact that school has been closed for a long time now - are you happy about it?
(serious pitch) No mum, I really like going to school and I miss my class, my teacher and the yard break on the climbing frame and the games. It's not like summer holidays that we go away and I meet friends. It's more like being sick without feeling bad. And sometimes I even feel a bit sick, even if I'm not. It's because I miss my friends so much. I wish that next week we could maybe just make a video call with the teacher and the class at 8 in the morning and she could explain a little bit to us. You also explained the math problems well, but Mrs. Müller (name changed) would have done it with cake pieces or gummy bears. That is much more fun. And if the video call doesn't work out, you can still wake me up when you get up and I'll do the puzzle app, it's like an exercise sheet at school.Or you can do it in such a way that only a few children are allowed to go to school every day, always different ones, so that everyone was once. You can also keep your distance if there are small groups.
Yeah, the puzzle app is cool and so is the math app. Tell me, we're very active. What do you think is best and what would you recommend to other kids who are bored, too?
Building a course! That's so funny. With everything that's in the apartment or garage. A different one every day. And then the jumping jacks record attempt, I was completely knocked out afterwards and could "relax" well. I also think it's great when we go jogging together. Or if we invent exercises ourselves! Actually, I recommend all children to do what makes them forget Corona for a while. For me, apart from sports with you, making our own piece of cake and then pretending we're in a café.
That's a nice finish, thank you my dear!
I'd like to share one more thing with the parents reading this. Keep a Corona diary as a family, in which you describe every day what you did, what was good and what was bad. What you plan to do the next day. It is a special time that requires special measures ... and in the best case we will get the book out in a few years and remember with a smile what we have achieved as a family during this time and what is worth being grateful for every day.
Concluding remark of the author: Every day we thank - absolutely rightly - all nurses, logisticians, salesmen and other system relevant professions. I would like to extend my personal thanks here to all children and parents. Thank you for your patience, your courage to face life and your broad understanding!
Your Sandra - and Marina :)
PS: Who wondered what my daughter means by "inventing exercises" - here is the solution