It is an extraordinary story that Maurice-André tells: Two and a half years ago, he crashed his paraglider and broke his third lumbar vertebra. The 24-year-old from Kempten remembers the day of his accident, October 24, 2020, very well: "Towards the end of the flight, I was already relatively low, but still wanted to make a turn to be able to land a little closer to the lift. As a result, I gained a lot of speed and crashed to the ground from about two and a half meters." After a rescue flight to the accident clinic in Murnau near Garmisch, a CT scan and subsequent emergency surgery provided the shocking certainty: The third lumbar vertebra was broken, and the diagnosis was paraplegia.
Several months without any leg function followed, but then Maurice-André became aware of the Neurofit360 therapy centre in the USA. "On Instagram, I saw a video of one of the therapists completing the final meters of a five-kilometre run with a patient. I also wanted to be treated by therapists who were willing to do things like that with their patients." With a total of four multi-week stays in the U.S., his leg function improved from crawling to running with orthotics to walking freely without crutches. "I can now perform almost all daily activities again without restrictions. For many things, I am a lot slower than before and involve my upper body much more in the movement sequences," says Maurice-André. The 24-year-old is not yet satisfied with this: "According to my doctors, none of what I do today was achievable. No one knows where this journey will end up, but I'll definitely be the first to find out."
Despite the seemingly insurmountable task, Maurice-André refused to bury his head in the sand. Isolated cases of success and medical miracles gave him hope: "I decided to fight. My goal was to be able to say in four to five years that I did everything in my power to overcome this challenge." He drew positives from every bit of progress, "I had life in a wheelchair for sure, everything beyond that was optional and dependent on my will, dedication and the right therapists. Because no matter how hopeless a situation seems, in life you always have the option to fight. You always have the option to set a goal and give it your all along the way."
Mental health has been a crucial topic in sports for some time now. For Maurice-André, too, mental strength is an important part of his career. Exercises and knowledge from many years of mental training helped the ambitious athlete. One of these mental techniques was the "10X Rule" by American author Grant Cardone. "This rule is a kind of guide for achieving goals. It deals primarily with the path to the goal and breaks it down into many individual steps and intermediate successes," says Maurice-André. "The 10X Rule is designed to help people expand their horizons and go beyond themselves. Therefore, you take your original goal and increase it tenfold. In my case, the goal of eventually being able to run again became the goal of completing a marathon many years from now. The former main goal became one of many small steps on a much larger path. Even if I had only achieved part of the planned goals on my way to the marathon, the chance that I would be able to walk again at all was enormous," the Allgäu native continues.
Maurice-André is an enormously positive person. When he talks about his story and thinks back to his life before the accident, there is no sense of melancholy. Quite the opposite: even if he had the chance, he would not reverse his fate: "The experience of having made such a journey is incredibly valuable. Since then, I go through life in a completely different way. I'm simply relaxed and look positively to the future, because what else is there to come? I've already mastered the biggest challenge."
For some time now, running has been an integral part of this amazing journey, a passion that Maurice-André only discovered for himself after his accident. In addition to various running series, quarter and half-marathons, he regularly exerts himself at Hyrox events.
Hyrox is a modern fitness trend sport that combines running with functional training. A race consists of eight running intervals over a distance of one kilometre each. Between the running intervals, the starters complete eight different fitness exercises, for example 1,000 meters on a ski ergometer, which simulates the movements of cross-country skiing, or 1,000 meters on a rowing ergometer. He first became aware of the indoor series in September 2021 through a Hyrox fitness test offered at his local gym. "I had been wanting to compete in one of these events for a long time. But after the fitness test, I was actually sure that I would need at least another year of preparation for it," says Maurice-André.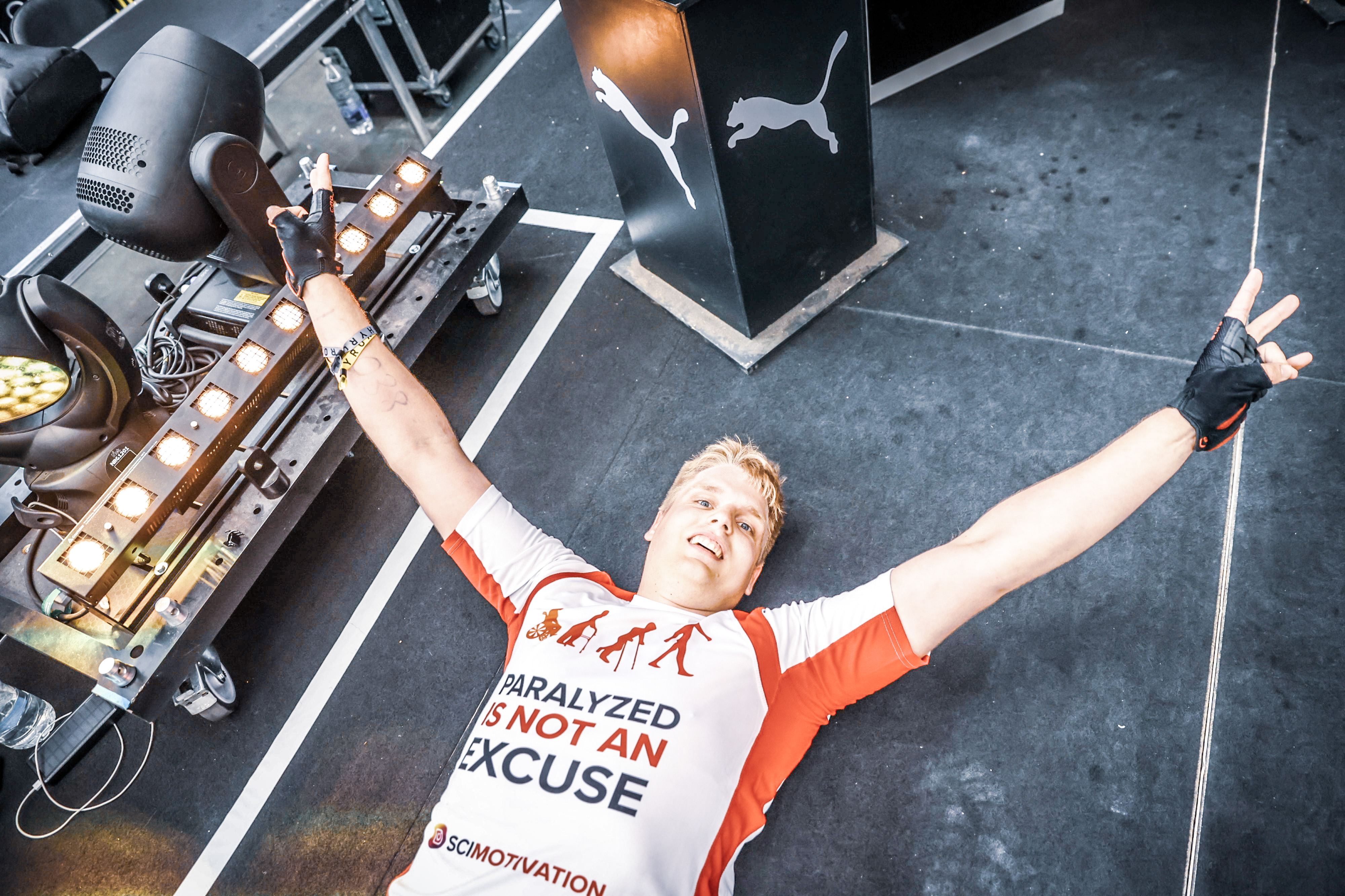 When he flew to the U.S. again a month later to undergo another session of therapy, he visited a friend in Chicago. "That weekend, we struggled through the 105-story stairwell of the Willis Tower. As if that wasn't enough, my buddy also talked me into participating in my first Hyrox competition. And what can I say? It was just fantastic and the biggest challenge possible at the time," Maurice-André recalls. He was sure that the competitions in Germany would not be able to match the events in the States: "Nevertheless, I signed up directly for the next event in Frankfurt in December and found that the competitions on German soil were even more fun. At the latest, then it just grabbed me."
In addition to the many wonderful experiences, Hyrox competitions also involve an enormous physical strain for the 24-year-old. "For me, the biggest challenge is definitely the duration of the competitions. Performing at absolute peak performance for over two hours is incredibly exhausting. I have to go beyond my limit at times," says Maurice-André. In order to prepare for the competitions in the best possible way, he is constantly working on optimizing his running performance. Compared to other disciplines such as ski erg or rowing, in which he already meets the competition on an equal footing, he is still able to get the most time out of running. "As a result, I have already arrived at a time of under two hours. Compared to my first events in Frankfurt or Chicago, I have now found a consistent level and have improved my time significantly as a result," said the German.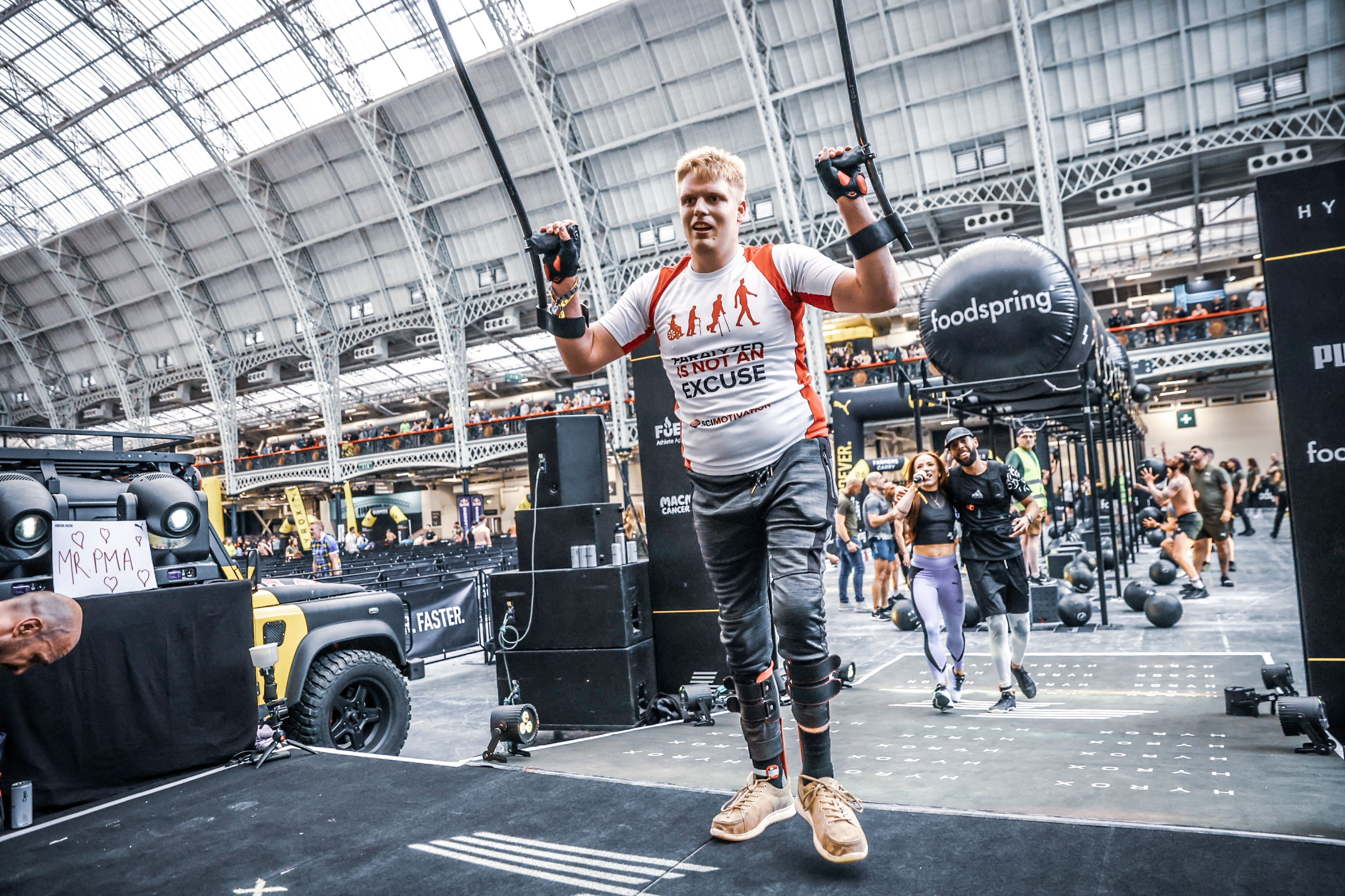 In addition to his athletic successes, Maurice-André is also happy about the positive effect on his fellow human beings: "In recent years, I've managed to motivate a lot of people to overcome their inner badass. When they see me with my crutches on the running track, many realize that they actually have no excuses at all." For many athletes, Maurice-André is a true hero because he makes the seemingly impossible possible.
Maurice-André advises Hyrox beginners and people who are considering participating to take the Physical Fitness Test at a gym. Here you can get an idea of the workouts and adjust to the load: "And then you should just sign up and go for it. Because the bottom line is that it doesn't matter what time you run. At Hyrox, everyone is celebrated for their performance." In the future, the next exciting challenges already await Maurice-André.
Next year, a separate Hyrox adaptive division for people with physical disabilities is to be launched. "For these events I am currently looking for a suitable partner to run a double. In general, I am looking forward to the series and of course want to achieve some strong results," says Maurice-André.