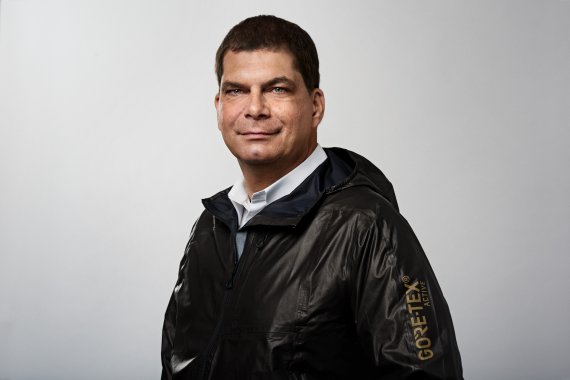 ISPO.com: Mr Kiehl, you have been with Gore for 25 years. How has the handling of sustainability changed?
Bernhard Kiehl: At that time, everyone first looked at themselves and tried to understand their own products better. We have been dealing with life cycle assessments for a long time now, examining the environmental influences in the value chain and discussing who is responsible for the respective areas.
When did Gore first tackle the subject?
As a science-driven company, we have been dealing with life cycle assessments since 1992. They are still the scientific tool of choice today for measuring the overall environmental impact of a product. The aim is to record all processes of production, distribution, service life and end-of-life with the aim of reducing, for example, water consumption in production and dyeing processes, use of chemicals or CO2 emissions.
Kiehl: "More than a third of a product's environmental impact occurs during use. So acting truly sustainable means to wear the products for a long time."
What does a life cycle assessment reveal?
It shows that 65 percent of the environmental impact is created in production and distribution before the product goes to market. More than one-third of the environmental impact occurs during use, less than one percent in the end-of-life. So acting truly sustainable means to wear the products for a long time.
What were the specific measures?
We set up the company in such a way that environmental influences are systematically and continuously reduced by means of an environmental management system. In recent years we have increased the proportion of Bluesign certified laminates enormously. In addition, GORE-TEX laminates increasingly use recycled textiles that are dyed using the spinneret process. In 1993, we set up a take-back system in a recycling pilot project with competitors and dealers, but the response was low. Maybe we were early. But what we learned: Even if the effort to increase sustainability becomes more complicated, it is never worth compromising the lifetime of a product.
Is the cooperation with the competition going well?
Sometimes more, sometimes less. There is still a lot of greenwashing. Often in form of slogans that are little or not at all supported by facts. But it is difficult to pursue such a topic alone. With microplastics, for example, you have to work scientifically, and it is difficult to fund this alone.
There is still no getting around some moderately environmentally friendly substances, correct?
When approaching the topic, there seem to be strong contrasts: the use of chemistry for a product to be active in nature. However, chemistry can help make the product last longer, which is the most effective way to use resources. If you leave out the chemicals, you face other drawbacks. Responsible use of the materials used is the central question.
Which substances are still indispensable?
If there are substitutes that are less harmful, there is no reason not to use them. In the past, certain technologies were used because they should work everywhere. In retrospect, this was an overkill for some purposes. Today we are much more conscious.
What can we do without?
The water beading effect is achieved by chemicals, for example perfluorocarbons (PFCs). This pearling effect or impregnation is very important to prevent the outer material of a jacket from getting soaked with rain, causing a clammy feeling and cooling the body in additional wind. Market tests show: The consumer looks at the drip-off effect. If this function is missing, the customer is dissatisfied, starts reimpregnating at home or even buys a new jacket - both have an environmental impact.
ISPO Product Highlight: GORE WEAR GORE R5 GORE-TEX INFINIUM™ Jacket

Gold Award 2020 & PRODUCT OF THE YEAR🌟⭐ : the GORE WEAR GORE R5 GORE-TEX INFINIUM™ Jacket! Weighing in at just 250 grams this extremely light, absolutely windproof and insulated jacket, is the runner's choice for cold conditions. It combines a GORE-TEX INFINIUM™ WINDSTOPPER® lining with a very thin synthetic insulation. It will be available in August 2020. #ISPOmunich

Posted by GORE-TEX Brand on Monday, January 27, 2020
Let's get back to the "bad" stuff: How many of those chemicals are there?
Bluesign analyses 600 chemicals and creates a profile: How dangerous are they? How much is being used? Take the example of ecologically questionable PFCs: if they are released into nature, they remain there for a very long time and are transported around the globe. PFCs have already been found in the Arctic. So we better not release any. But there is no equivalent replacement for this highly effective substance available today, especially in the "Extreme and Extended" sector.
Even if we share the goal that the industry has set itself, namely to get rid of these PFCs, we have to do basic development - that takes time. We set ourselves 2023 as a goal, although Greenpeace puts pressure on us to do this by 2020. But Greenpeace supports the change in development times because it seemed logical to them. It's that kind of care that made Gore powerful.