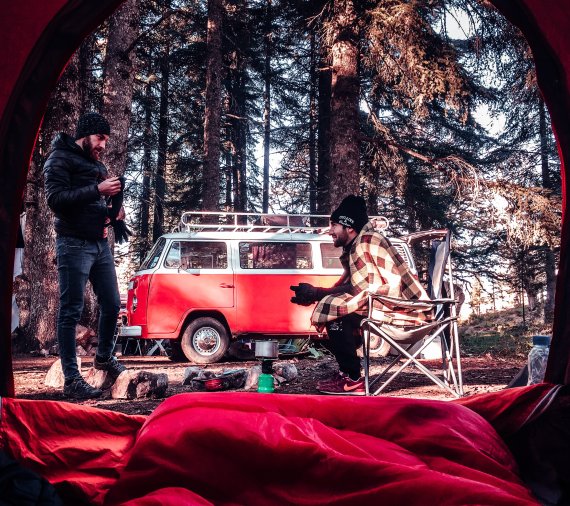 Record 1: 674,700 motorhomes are registered in Germany - and the trend is also rising worldwide. Record 2: According to ADAC, Germans are traveling more and more to their own country - followed at a distance by destinations in southern Europe such as Italy and Croatia. Record 3: Camping is a strong trend among the young, urban, educated and better-earning target group.
.
Whether vanlife, camping or glamping - to be on the road in nature, and also to spend the night there, is more popular than ever. Motorhome and VW bus owners*innen - in March climbed the VW bus in the new registrations in Germany, by the way, on place 8 - know that Vanlife is a lifestyle that extends far beyond the drivable Untersatz. Above all, it's about freedom and self-determination. Camping enthusiasts also want to live the megatrend of individuality on vacation, on a short trip or on the next workation. The Corona pandemic has reinforced this trend.
.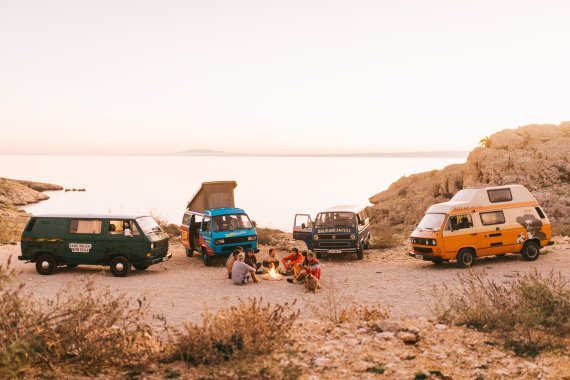 With a record number also the fair city Munich comes up: In the past two years, motorhome registrations have increased by around 44 percent (according to an evaluation by the law firm Goldenstein based on figures from the Federal Motor Transport Authority). And in June, everything in Munich then really revolves around the topic of camping and outdoor lifestyle. At the OutDoor by ISPO<./span><.span> it is one of the Four focus topics., to which there are exciting new products and trends of the extremely exciting developing market segment to discover on the outdoor areas, but also indoors at the booths of the brands and manufacturers.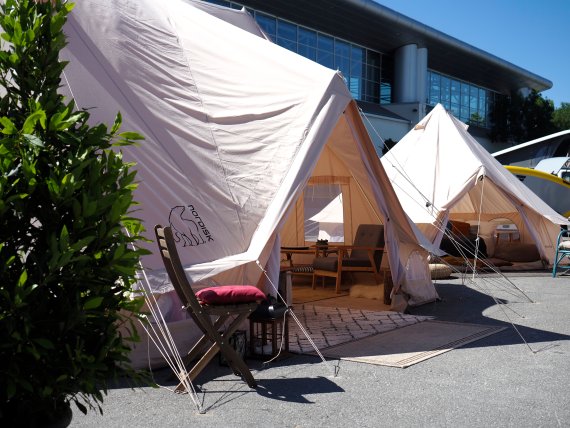 Not everyone is an experienced camping professional. Many are just discovering traveling with a tent or motorhome for themselves. Or to sound out, how and whether this way of being on the road fits them at all. Different requirements and preferences characterize both product innovations and the diversity of the offer, which there is to discover on the open spaces of the OutDoor by ISPO.
.
Nordisk from Denmark has set itself as a traditional company also in the camping sector to the goal of implementing "Hygge". "Hyggelig" can be described as "cozy", "pleasant" or "quaint", is considered typically Danish and has long been popular as a style of interior design in this country. In its Nordisk Villages, which now exist on three continents, the brand also offers exactly that: cozy little villages with cotton tents, lots of wood and plenty of leisure facilities. At the same time, natural overnight accommodations have been created that are also comfortable. Just the thing for glamping fans and newcomers who want to try camping, but at the same time enjoy a certain comfort. 
.
Also, there is a lot of news within the group, which Nordisk will present at OutDoor by ISPO on the open spaces. Because the company took over the sleeping bag specialist Yeti and thus expanded its range.
.
At the OutDoor by ISPO is of course also the standard equipment for campers, Vanlife-Lover and Wohnmobil-Freund*innen in focus. Because the manufacturers have given a lot of thought to the standards, and show improved cooling solutions, camping gear or awnings, as well as complete new editions.
Dometic< For example, new solutions in outdoor cooking and mobile power of the new sub-brands such as Front Runner. 
The diversity of the market was the focus. <./span>"We have a clear agenda to expand our range, focusing on effortless and comfortable outdoor living. We want to share our vision with others and get more people to enjoy the outdoors. Even if they don't want to climb mountains or eat camping food," said Rasmus Järvinen, Global Head of Business Development at Dometic.
In addition to the appropriate vehicle, any (roof) tent and standard equipment, of course, it also needs the right accessories to travel relaxed. So that, for example, sports equipment or luggage find their place and can be transported safely. From the roof rack for bikes or canoe, ladders or storage solutions for equipment or luggage shows Thule. for this also solutions of the new collection at the OutDoor by ISPO. 
.
In addition, it is just as much about giving families the right tools for camping and outdoor travel. Articles such as Kraxen to the Outdoorbuggie belong to the lifestyle of modern outdoor families, who also like to spend their parental leave on the road in nature. Thule also offers the right products for this. Because anyone who has ever slept four or five in the bus knows that sensible storage solutions are everything, so as not to have to constantly rebuild or look for important things.
.
When it comes to suitable storage solutions, lightweight luggage or even the right tents for weekend trips or longer family vacations, there is a lot to see at OutDoor by ISPO on the outdoor areas: For example, Tambu, Sea to Summit, and Marmot offer from comfortable sleeping to the right shelter quite a lot of inspiration, what's new on the market. 
.
But also .Helinox<./span><.span> /span>is with the party and provides lightweight furniture and practical equipment for relaxed outdoor feeling.
As much as camping and outdoor enthusiasts appreciate freedom, this should not be at the expense of nature and the environment. Also by the camping market pulls itself the megatrend lastingness, which moves the entire Outdoorbranche. And especially for a growth market, dealing with this issue is important, also in terms of Camping Etiquette.or trends in <.a data-entity-type="node" data-entity-uuid="c73e0f8f-b5d6-4ea2-b48f-01a3d3bc87a4" href="//www.ispo.com/en/trends/prof-dr-manuel-sand-trends-adventure-travel">Adventure Travel. concerns. 
Meanwhile, it is apparent that different brands are choosing different approaches and strategies to deal with the issues of corporate social responsibility, sustainability and environmental protection. The issues of supply chains, work practices and social responsibility play a major role. For example Vaude promises as a company that already does a lot right, exciting impulses on the open spaces of OutDoor by ISPO. In addition, of course, there are <./span>many more reasons,.why a visit to the OutDoor by ISPO is worthwhile.