You are a sports and outdoor retailer, product designer or manager at an outdoor brand, or work in wholesale, in sports PR, are on the road as an influencer or in sports marketing? Then you simply can not miss out on being  at Veranstaltungs- und Ordercenter München from June 12 to 14. Why?
You want to know what the new collection of Maloja, Schöffel or Rab looks like, why Ortovox is so successful, how the traditional company Dometic wants to conquer the outdoor world and Lowe Alpine a new customer segment ? Then you've come to the right place at OutDoor by ISPO. But of course also if you want to meet one of the other brands, such as Fjällräven, Merrell, Meindl, LaSportiva, Petzl or Edelrid.
Video calls are quite efficient, but let's be honest, when was the last time you laughed boisterously, did business and had a nice cold drink at the same time? Could be that it was at a trade show, right? Anyway, OutDoor by ISPO is the best opportunity to do just that. 
In addition to your own network, you will of course find all the important contacts of the co-organizer European Outdoor Group at OutDoor by ISPO. In addition, for example, the portuguese community with many textile specialists, the Scandinavian Outdoor Group with countless strong brands such as Fjällräven, Nordisk, Halti or Icebug and the French Outdoor Sports Valley with brands such as Mammut and Millet will be present at their own exhibition areas.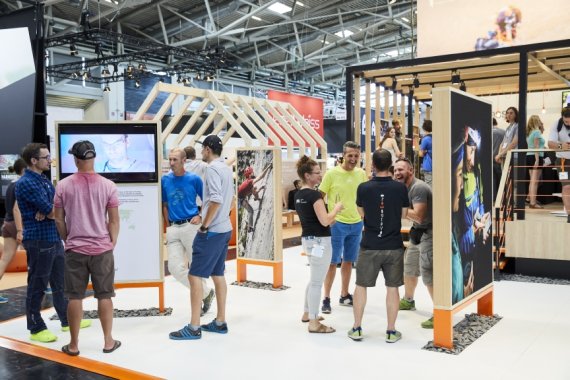 So many brands in one location - that makes it easy for you to get a good market overview in a short time. At the same time our ISPO Award exhibition helps you to discover highlights from the latest product ranges. The Scandinavian Outdoor Group will also present the winners of its awards. Both in the four halls, in the atriums, showrooms as well as in the open spaces, products to take in your hands and try out will be in focus.
Already curious? Then get an overview of our first award winners this year here. A second jury meeting will take place shortly before the trade fair, and you will of course get to see the products awarded there at OutDoor by ISPO.
Invited? How? Surely you have partners in your network who work for the exhibiting brands? Then do not hesitate, talk to them directly about Connect by ISPO. With this tool exhibitors have the opportunity to invite all partners and colleagues to OutDoor by ISPO for free.
Honestly, where can you get such a casual ambience for your work as here? We offer open spaces with hammocks, outdoor kitchen, cozy seating areas, a large tent and camping exhibition as well as after-work parties (see point 7).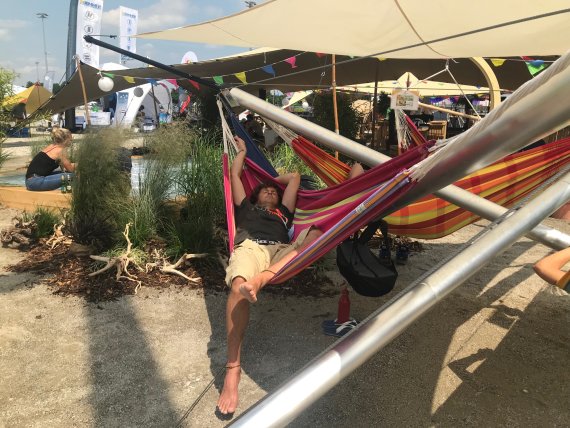 How does regenerative value creation succeed? How does sustainable management succeed? These are the central topics that are driving our entire industry. At the OutDoor by ISPO Conference, the program also revolves around these questions. This year, the Sustainability Hub is themed "Traceability and Transparency." There will be daily guided tours here. Running fans can register for the Runner's World Run & Trail Summit and the Adventure Tourism Conference is all about the growth market adventure travel.
OutDoor by ISPO is no ordinary trade fair, that's for sure. This is where an industry full of passion meets. And we as organizers have that too, so of course you can contact us if you want us to help you. We'll find a solution to your needs - guaranteed.
And therefore we have also scheduled two parties. And it's no surprise that finding CO hosts for the parties was of course no problem. On Sunday, the party sponsored by Keen, Equip and Vaude will take place on the outdoor area and in the party tents. Invitation only" applies here. On Monday, it's simply a matter of being quick: The official OutDoor party sponsored by Dometic - the biggest outdoor party in the industry - is open to all party lovers. Tickets are available here. Drinks, BBG and a free Shirt are included.