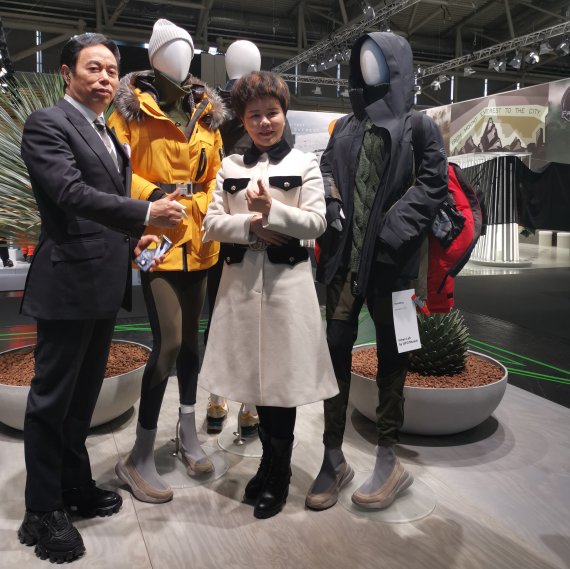 Within 44 years, Bosideng founder and CEO  Gao Dekang has turned the Chinese jacket specialist into a market leader in his home country having 200 million customers. However, he took the final step onto the world stage with his product at ISPO - for good reason.
"ISPO is the leading sports platform in the world. We are taking the milestone of its 50th anniversary to start our international growth with ISPO as a catalyst. Hopefully for the next 50 years", Gao Dekang explained in an interview with ISPO.com.
The cooperation with ISPO Open Innovation should help to make his company's products even better.
For example, in terms of sustainability: "I was at ISPO Munich for the first time with my team and we saw the trend in terms of where we need to go in the future. That gives us the self-confidence to position ourselves even better in this area as well."
Bosideng has already developed 100 percent recyclable jackets in the company's own innovation centre, where even the zipper can be completely recycled. Also, the topics of environmental and animal protection, in the procurement of goose feathers, and corporate social responsibility have become even more important through the cooperation with the ISPO Open Innovation community.
After all, the world is growing together more and more - and the wishes of Chinese regular customers have long since been influenced by the global sustainability trend.
"Our goal is to find new partners with the help of ISPO and to integrate the latest technologies into our products. In this way we want to achieve an international top level in all areas and become the leading brand in our field in the world", said Gao Dekang.
To this end, the company, which has over 20,000 employees and an annual turnover of over 10 billion RMB (well over one billion euros), works together with global companies such as Gore-Tex or international top designers like Kenzo Takada and Jean Paul Gaultier.
Top celebrities like Orlando Bloom, Anne Hathaway or Elizabeth Olsen have already worn Bosideng jackets. There are licensing cooperations with Disney, Marvel or Star Wars. The brand was guest at New York Fashion Week and there is a flagship store on London's Oxford Street.
Despite all these remarkable results, ISPO is at the heart of Bosideng's expansion strategy. Gao Dekang: "We want to use the ISPO platform to listen to the market and become part of the sports industry community around the globe. In this way, we want to build our brand image worldwide step by step - this is only possible with ISPO".