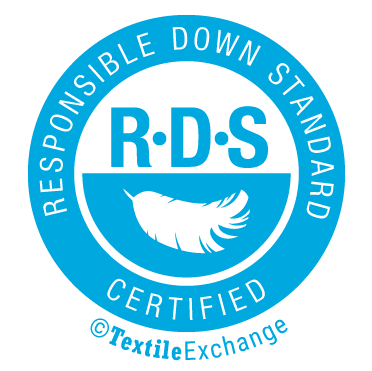 The Responsible Down Standard (RDS) was created in 2014 and is now one of the most widely used down standards in the apparel industry. Originally initiated by The North Face and developed in collaboration with the non-profit organisation Textile Exchange and the independent certification agency Control Union Certifications, it aims to ensure that ducks and geese from which down is derived are kept in accordance with various animal welfare criteria. The reason for the creation of this standard was the growing protests of animal welfare activists who denounced the methods used to obtain down and demanded more responsibility from the clothing industry.
Added to this was the particularly complex supply chain, which could hardly be controlled by the clothing companies. The North Face has transferred ownership of the RDS to Textile Exchange.
The down may only be obtained from slaughter plucking, i.e. from dead animals. Live plucking is prohibited. The animals must be kept under conditions free of animal suffering and may not be force-fed. Since the 2019 revision, animals must be stunned before slaughter. In addition, the breeding farms where the parent animals are kept are now also to be included in the inspection. It makes sense to include them, because especially the parent animals are threatened by live plucking due to their longer lifespan.
Only products that contain 100 percent RDS down are allowed to carry the seal. An RDS certificate is valid for 14 months and within this period is checked by announced and unannounced inspections. The criteria and requirements of the standard are available in detail online. Worldwide 900 large and small farms have already been certified.
The seal exclusively addresses the aspect of animal welfare. Accordingly, no further statements are made about environmental or social aspects of the further processing of the down.