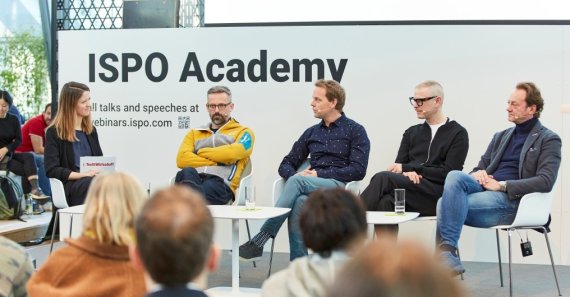 When four managers of major sports brands meet on the stage of the ISPO Academy, there is not always agreement. And that's a good thing: For the result is not a dispute, but a collection of ideas that should inspire others. The editors of the trade magazine Textilwirtschaft invited four heads of well-known brands to the first Panel Talk:
Erman Aykurt, Creative Lead Gore Wear

Oliver Pabst, CEO Mammut

Christian Schneidermeier, CEO Ortovox

Dennis Schröder, General Manager at 11 Teamsports
Textilwirtschaft Editor Mara Javorovic moderated the 45-minute event in front of a large audience.
Who's the head?
The 46-year-old has only been Creative Leader at Gore Wear since November 2019. The cyclist brought 20 years of sports and fashion industry experience to the company, is responsible for communication and storytelling, among other things, and wants to make Gore Wear "emotionally tangible".
Who are the customers?
"Our ideal customers are endurance athletes who set themselves sporting goals," says Aykurt. "They depend on our products because they allow them to train in all weathers."
What is the goal?
"On the emotional level, endurance sports also have to do with suffering," says Aykurt. "To train in adverse conditions and then to be relieved when you have made it - that's what I can identify with as a passionate cyclist. We would like to pass on these experiences, which we ourselves have gained in sports, to our customers - and in return we hope that they will honestly feed back to us their emotions when they play sport".
How does the company address the customers?
"In addition to the classic social media channels, we also have Strava. We're gonna be great with this app."
Who's the head?
Mountaineering and mountain biking, via ferrata and deep snow - the managing director of the brand, which was founded in 1980, is constantly outdoors like his customers. "I have the best mountain experiences when I am out and about with my children", says Schneidermeier, whose local mountain is the Heuberg in the Inn Valley.
Who are the customers?
Whoever buys Ortovox goes out into the mountains. "Dangers lurk in ice and rock," says Schneidermeier. "We give people the equipment for it and want to tell them: It's fun out there - with the right equipment."
What is the goal?
Ortovox has grown strongly in recent years, "but we do not want to address all 80 million Germans at all", says Schneidermeier. "We shouldn't get greedy now, because we don't want to become a mass brand. We are special and we want to stay that way."
Sustainability and safety in mountain sports are important to Ortovox. "But I cannot support the mindset that sustainable products are more expensive," says Schneidermeier. "This discussion is not right. It is important that sustainability becomes the norm and that we all work together. That's the only way we'll be able to turn this thing around."
How does the company address the customers?
"The excitement was great when we announced our own webshop last year. We are known as a loyal trading partner and we want it to stay that way," says Schneidermeier. "But our fan base is growing and so are the expectations of our customers. We want to make it as easy as possible for you with good service."
Safety is an important issue in the company, which began selling avalanche transceivers. "We have a ski touring app and a safety academy."
However, the social media strategies of the competition sometimes go too far for the CEO: "I don't sit around day and night thinking about how to reach our customers. Ortovox has no scientific analyses and models for this. We do what we enjoy doing, and then the customers come to us - we don't have to force ourselves on them. We don't want e-sports, we want to go out in the snow, in nature."
Who's the head?
The head of the company, which was founded in Crailsheim in 2007, came to the football online shop from Nike in 2017. Prior to that, he worked at Puma and for Fortuna Düsseldorf for five years. Schröder completed his studies at the German Sport University Cologne in 2007 with a degree in sports economics.
Who are the customers?
"Our customers are Bundesliga clubs such as FC Augsburg, VfL Bochum, VfL Wolfsburg and 1 FC Heidenheim," said Schröder. "But we also provide jerseys for small clubs."
What is the goal?
Team sports are the USP of the company and a very personal business, says Schröder. "The fact that we have comparatively few brands could be seen negatively because we are more dependent on each one. But the good thing is that we get the same message as these brands to the customer - and that in turn has a positive effect on our cooperation with the brands.
Two similar views, Schröder finds, "rather connect than repel each other". 11 Teamsports wants to emphasize the amateur sport in the future as well. "This is a huge audience, which delivers completely different stories than the professional sport. We're one step ahead of the rest."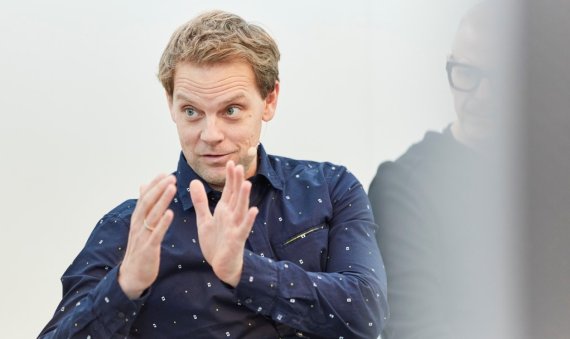 How does the company address the customers?
"Facebook and Instagram are relevant to both of us. In the future, we will also use Tiktok", says Schröder. "Because we are less concerned with reach and more with interaction, eSports is a big issue. This is also a lot of trial and error, but I can learn from it very well how to best address our target group. This is especially true for younger consumers."
Social media, according to Schröder, is only interesting for brands, however, if the communication of the users is also tracked and this information is used.
Who's the head?
Since September 2016, Pabst has been the CEO of the Swiss mountain sports equipment supplier. Willy Bogner, who holds a doctorate in economics, came to Mammut from Willy Bogner and has a clear goal: he wants to make the company, founded in 1862, the digital leader in the outdoor industry.
Who are the customers?
Mammut's customers need mountaineering, climbing and outdoor equipment because they go to the mountains. Their activities are demanding, as they need ropes, headlamps, climbing harnesses or clothing for high altitudes.
What is the goal?
To remain true to oneself is the most important thing for a brand, Pabst believes. "Mammut invented the mountain rope and we're gonna hold on to it." The selection of trading partners is also crucial for success, says the CEO.
"We first ask ourselves where we want to go as a brand and how the respective trade partner reflects this. Then we need to know which customers we want to address and which ones the dealer wants. Only when everything fits together, we move forward together and motivate our customers.
How does the company address the customers?
CEO Oliver Pabst wants to "get to the customer via the product" by digitizing the equipment, among other things. "In selected products, we integrate an NFC chip that customers can address with their smartphone, whereupon our app opens." Pabst admits, "That was a provocative idea." This is because the chip carries an ID that Mammut only issues once. "Like an identity card, the product is unique - as unique as the person wearing it," says Pabst.
According to Pabst, Mammut chipped 30,000 parts for the 2019 launch, and twice as many in the following season. The CEO explains that Mammut is still far from knowing everything about its customers. "We are learning a lot about timing and how to best interact with customers. Whether it's worth it, we can't say yet."
Mammut's social media experts use Facebook, Instagram, Wechat in China, Line in Japan and Pinterest in the USA. "Using all these channels has changed the way we look at our customers," says Pabst. "We sort of went from broadcasting mode to listening mode. As a result, we know more and more about what the consumer is doing out there and how they see themselves in our product."