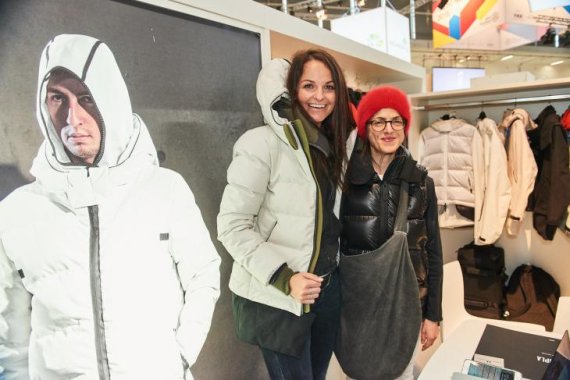 Would I like to be a trend scout for ISPO.com during ISPO Munich 2018? I didn't need to think about it for long when I was asked this question. As it's paradise here for an outdoor and adventure fan such as myself. After all, you see the trends of the sporting goods industry here long before they arrive in the shops – and as a non-trade visitor, you don't usually make it to the business trade fair. 
So: Yes, of course I'll do it. And yes: Of course I'll venture a look over the "ISPO fence" and at the future of sport, outdoor and nutrition for everyone who can't be there. My first point of call immediately had a lot to offer. In the ISPO Brandnew Village, I came across prize-winning start-ups from the sport business – and several unexpected ideas. 
When I was walking through the Start-up Village for the first time, the overall winner of ISPO Brandnew caught my eye: My Esel. The "Esel" (engl. donkey), which takes up the biggest area in the Brandnew Village as the overall winner, is 100% individually adjustable and was fairly and sustainably produced. The word "bike" is not really appropriate in this case. The design of the Austrian two-wheeler is memorable and the wood is "Made in Austria".
The bike not only scores in economic terms through the use of renewable resources but also feels great. The central idea is that the bike should adjust to the rider and not vice versa – and that's how My Esel hits just the right nerve in today's increasingly more demanding consumer.
I'm immediately taken by the idea that anyone who owns a My Esel also automatically has a bicycle with a distinctive, unique frame – such wood grain cannot be reproduced. Besides "off the peg items", I'm a big fan of unique products and am also happy to dig deeper into my pocket on occasion. Perhaps it'll be for my own Esel next time...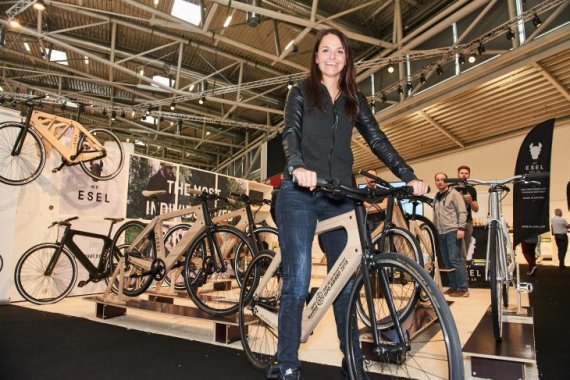 A big insect stares at me as I draw closer to the next stand. There are an astonishing number of visitors milling around here at Swarm. Little wonder as it offers something to eat. The only food in the Brandnew bar also relies on renewable resources, and the design of the packaging is not the only thing which makes it hip and trendy.
Swarm produces sustainable "insect bars "and relies on Thai grasshoppers as an innovative source of protein. I'm initially somewhat skeptical at the thought of eating flying crawling insects; however, I'm happy to be persuaded otherwise.
The bars look almost identical to standard energy bars; however they have a particularly well-balanced fiber and vitamin formulation – and taste unexpectedly good. Positively surprised, I chew on the grasshopper and listen to facts on how insects are becoming increasingly accepted as a foodstuff in Europe.
If energy bars of this type play a role as an alternative source of protein in the future – Bon Appetit, I'm in!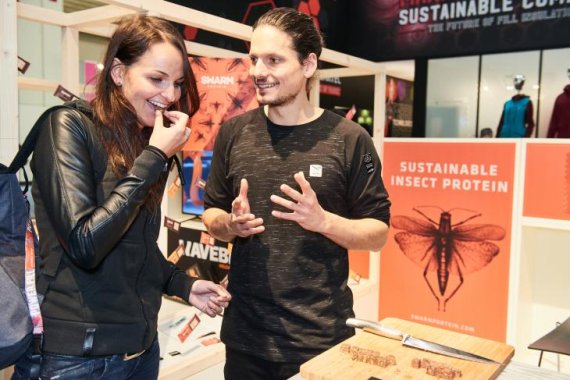 The Black Forest brand Rollholz wants to compete with well-known massage and foam roller manufacturers. Here visitors roll on pieces of wood which look like watch glasses with overly thick necks; it initially looks painful but is surprisingly not at all so.
Admittedly skeptical, I lie "on the roller" and am immediately impressed. It doesn't hurt and it doesn't pinch; instead, it feels super comfortable. I'm sympathetic to it immediately as there is REALLY no plastic in it, but instead sustainable, regionally produced 100% wooden rollers.
Even the packaging is organic: A fairly produced, organic cotton bag rounds off the product. In this way, Rollholz is literally "as natural as it gets" and also looks good in the living room compared to some of its competition. I like it!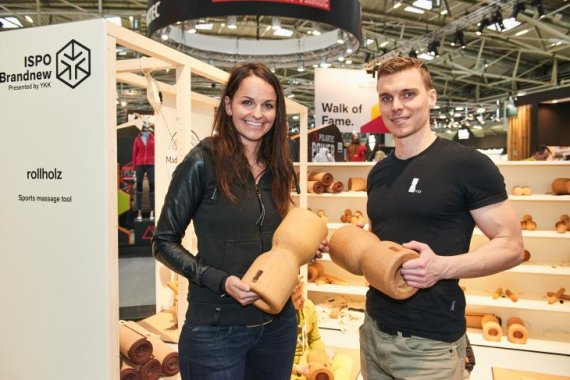 As a follower of fashion, I'll spend a bit of time on ISPO Brandnew winner Sparte Apparel. The  luxurious, partly futuristic-looking brand Templa manufactures items with the must-have factor. The trend "Urban goes Outdoor" is reflected perfectly in the top-quality, contemporary parkers and down jackets.
The combination of respectable winter companion and robust, resilient outdoor piece is no problem. With clear lines and unconventional cuts, Tempa stands out from the crowd; all parts of the collection are absolutely road-ready.
Templa spends a considerable amount of money on the elaborate attention to detail and robust materials. Hence, these products are reserved for a smaller target group, of which I am not a member; however, who's to say it's not going to happen.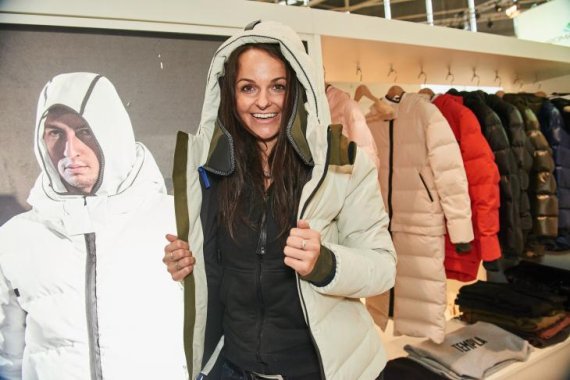 Everything is innovative and quick at the manufacturer of modular skateboard solutions, Unlimited, which I noticed because I almost collided with virtually silent fellow mid-twenty-year-old floating along behind me. The stand displays electrical skateboard motors and also complete boards which are virtually silent thanks to an ultra-light battery-powered electric motor and can be ridden without any physical effort.
Just right for me, I think and jump on an Unlimited to grab a coffee at the stand opposite. The on-board motor can be controlled by remote control, and functions super intuitively straightaway. I arrive back at the stand surprisingly quickly with a full cup of coffee.
Anyone who wants to navigate a stretch of up to 22 km without sweating for a change (at a maximum speed of 35 km/h!) should definitely take a look at this start-up. The brand launched on Kickstarter in 2016 will begin delivering from spring 2018 and is already open for pre-orders in the USA and to Europe.