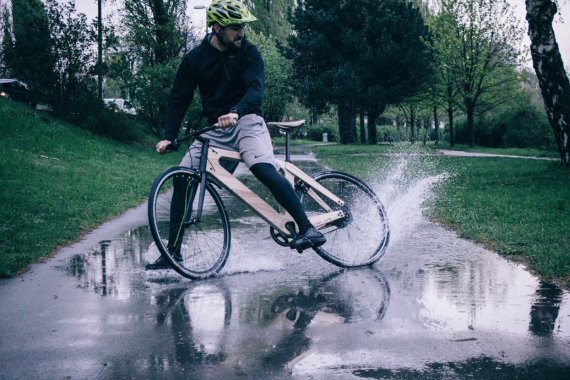 At ISPO Brandnew 2018, seven winners and one overall winner were awarded in the categories Athletics, Hardware Summer, Style, Style, Accessories, Fitness, Hardware Winter, Wearables and Social Awareness. All ISPO Brandnew Award Winners 2018 will be shown next year from 28 to 31 January at the ISPO Munich in Hall B4.
Overall Winner: My Esel
Bicycles made of wood, which are not only optically, but also individually adapted to the customer's individual geometry by means of software - this is really new. The company from Austria produces custom-made products in series and produces sustainably at home.
Winner Hardware Buzzer: Fiftyte
Fiftyten is a universal cabin with roof tent for all double cabin pickups. It consists of a basic platform with storage space instead of the original loading area, a box as living space and a large, comfortable roof tent for sleeping.
Winner Hardware Winter: Boardie
Boardie is a new tow lift bar that offers more comfort for winter sports enthusiasts. The wider, ergonomic and durable handle improves the lift experience for everyone. Existing hangers can be replaced easily and inexpensively. Refinanced by the large advertising space on the temple, the boardie is offered to ski resorts free of charge.
Winner Accessories: Tubolito
Tubolito is a bicycle inner tube made of a completely new material. 65 percent less weight and twice the life of conventional hoses. Tubolito is small compressible, can be reused and is available for mountain bikes as well as racing bikes.
Winner Apparel: Templa
TEMPLA's outdoor performance apparel combines contemporary aesthetics with technical innovations for fashion-conscious outdoor adventurers. Each garment challenges the conventional boundaries of clothing production and has been meticulously developed with uncompromising attention to detail and minimalist avant-garde sensitivity.
Fitness Winner: Biorower
Based on the construction of real rowing boats, the Biorower brings natural, intuitive rowing with all its advantages into your own four walls. Independent oars coupled with ultra-precise propulsion provide the same gentle resistance of a boat in the water. Force and angle sensors transmit biomechanical data to a tablet.
Wearables Winner: Microsfere
The Athlete's Mask is a new respiratory mask for heavily polluted regions. The intelligent airflow system allows for natural breathing and good ventilation during longer sports activities. In conjunction with a mobile device, the mask uses the athlete's breath to determine detailed performance data that was previously only possible in the laboratory.
Social Awareness Winner: The Social Mercenary
Traditional Ghanaian clothing and accessories with a modern touch: the parts are made by Ghanaian artisans from the handwoven "royal fabric" called Kente. In addition, there are YKK zippers, laptop or mobile phone pockets, extra strong yarns or traditional waxed cotton fabric for backpacks and caps.