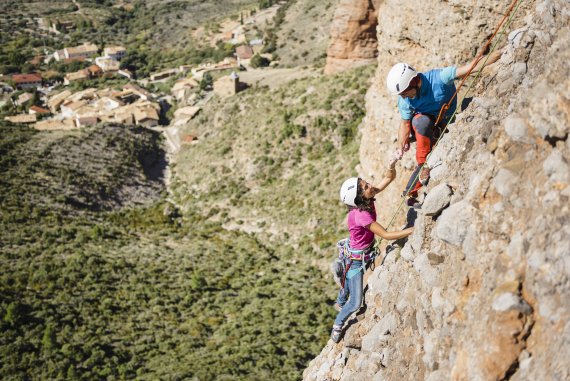 According to the German Alpine Club, there are about 500,000 sports climbers and boulderers in Germany, with rising numbers. Appropriately, the climbing and bouldering halls in the cities are experiencing a real boom. Since 2010, an average of 24 turbines per year have been opened in Germany. The industry is also hoping for significant growth due to the Summer Olympics 2020 in Tokyo, when climbing will be part of the event for the first time.
Climbing and bouldering are booming - this is also reflected in the equipment. ISPO.com shows the most important core outdoor trends for spring/ summer 2020, which will be presented at OutDoor by ISPO from the 30th of June to the 3rd of July 2019 in Munich.
Read part 2 of our trend report Core Outdoor: Outdoor Trend 2020: Running equipment becomes lighter and more mobile
The Italian shoe and clothing manufacturer La Sportiva is completely gripped by Olympic climbing fever. With Theory for 2020, the world market leader in the field of climbing shoe production is launching a new climbing shoe that completely dispenses with edges on the sides in order to ensure optimum contact and friction surface.
With the sports climbing boom, which is also increasingly conquering the outdoor sports climbing gardens from the hall, the demands on the helmet have also changed considerably - protection in the event of falls is moving into focus. Nils Beste, Marketing & Kommunikation at Petzl: "The norm for climbing helmets is primarily aimed at protecting against rockfall, which plays a subordinate role in sports climbing. Accordingly, all our helmets now have EPS foam that is pulled down to the lower edge and absorbs a side impact."
In addition, the French mountaineering equipment supplier has revised and certified all helmets according to its own "Top and Side Protection" standard.
The US-American mountain sports equipment manufacturer Black Diamond is focusing on weight savings: The Airnett climbing harness weighs in at just 235 grams, making it the lightest and most breathable (made from the patented airNET mesh) hip belt in the Black Diamond collection.
Edelrid, the Allgäu-based manufacturer of climbing and mountaineering equipment, focuses on ecological and sustainable production and presents, among other things, the ECO Dry 7.1 mm skimmer, the thinnest half rope on the market, which is equipped with a PFC-free Eco Dry coating for the first time.
More and more brands are presenting so-called set-ups to consumers. All products are perfectly coordinated in terms of functionality and style. Especially for beginners this is an ideal purchase, with which they are optimally equipped.
The Swedish functional clothing specialist Fjällräven, for example, has opted for a modular system with its "Mountain Days" collection. What was initially designed in close cooperation with the Swedish Mountain Guide Association for the Scandinavian winters will be rolled out larger in the spring/ summer 2020 collection: Fjällräven has reduced the weight of jackets, trousers and shirts and installed ventilation especially for warm temperatures. All garments can be combined with each other and are compatible with a climbing harness.
The Bavarian mountaineering brand Ortovox is launching the West Alps set-up for demanding tours in alpine terrain in 2020. It consists of three light and functional layers of clothing: 3-layer light jacket and trousers, softshell jacket and trousers and a Swisswool Hybrid Jacket.
Read more trend reports about OutDoor by ISPO here