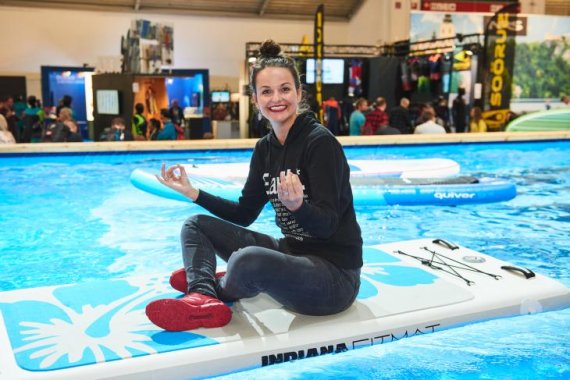 Day 2: It's afternoon at ISPO Munich and, thanks to my sprint through the winter sports halls and unexpectedly high temperatures inside and outside the trade fair halls, I'm sweating from every pore. What we need is to cool down – and above all, a change from the theme of snow and winter. From far off I can see people in swimsuits clambering about on a stage – that's where I need to go!
It quickly becomes clear to me that the stage isn't a stage at all. It's more of a large, stately pool. And the people here in Hall B4 aren't doing gymnastics in their swimsuits, they're doing stand-up paddling on SUP boards. In the Watersports Village, it's all about the cool water in all its facets. Diving and swimming inside it, paddling on top of it, floating and gymnastics, there are even products for drinking.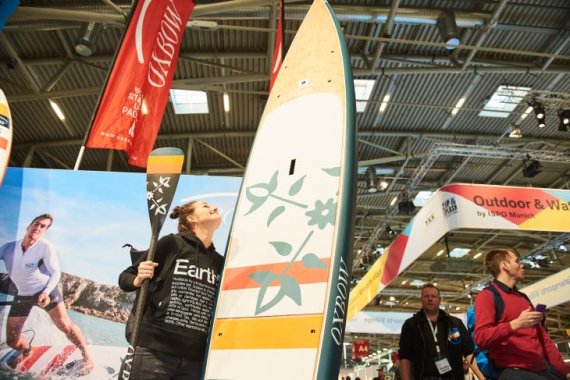 Drinking, the word for the afternoon, perfect! In my current state of hydration, I first head straight for a stand where several people hold white plastic cups in their hands and sip at them with skeptical eyes. I'm more about drinking in big sips, but first I want to know why things here are so hesitant. The presented drink isn't soda water or any fancy trend drink, but originally relatively dirty, contaminated water from a large glass bowl that is cleaned using a filtration system and then made safe to drink.
Portable H2O decontamination systems have been on the market for a long time now, I think. I'm pretty sure, and then I know there's no need to worry - and I take a big sip from the cloudy broth through the so-called "Lifestraw."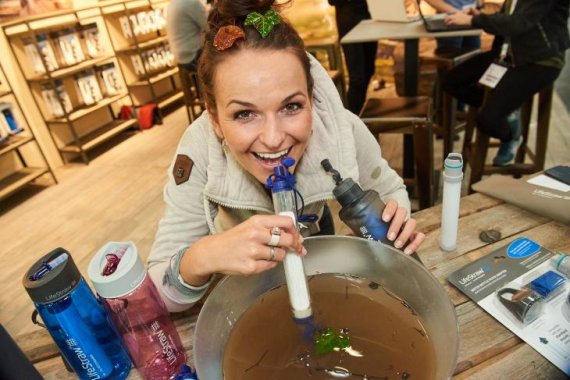 I'm not staying here any longer for the technology, but more because of the new vessels that are offered with it. For the first time I see foldable flasks (e.g. lightweight, small, stowable plastic bottles) that can be combined directly with the system. The perfect innovation for me, a trail runner who sometimes like to hit ultramarathon courses without refreshment stations: The water in any stream or lake can be simply filled into the bottle and drunk directly – and when the bottle is empty, it no longer takes up any space. I like it!
Freshly hydrated and motivated, I'm drawn back to the pool. SUP is nothing new, with the trend heading towards gymnastics on square, floating platforms: Stand-up yoga is the trending sport. I don't have to think about it long and swing myself onto the rectangular, floating mat. Still a little wobbly in the beginning, but relatively quickly I'm relaxed, floating, and playing Buddha.
In SUP yoga, in addition to the benefits of conventional yoga, all the stabilizing deep muscles are used and you have to concentrate, otherwise you'll be taking an involuntary swim. It's already on offer in several gyms with swimming pools, but more and more swimming pool operators are acquiring a taste for it and offering courses of this kind.
Fortunately I don't fall into the water while SUPing, but in the next aisle I discover an interesting-looking gadget that can do even more than you'd first think. The transparent, plastic oval is a so-called full face snorkel or diving mask that allows "normal" nasal breathing underwater. The entire thing is jazzed up with a kind of microphone that can be used so you can speak into the mask underwater and be heard on the surface.
It's even cooler under the water, where you can communicate using ultrasonics. I think of all the diving hand signals that I as a hobby diver tend to forget after every dive, and think the idea really great. We'll see whether the whole thing will eventually become a "trend" and make its way into the standard diving equipment, or whether it will continue to be used only by the more professional divers.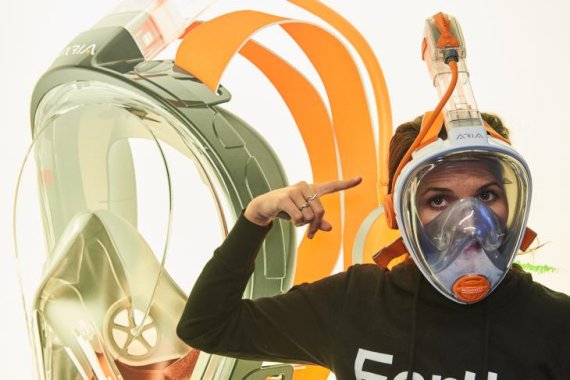 I would definitely make full use of the next cool gadget in my path. An inflatable beanbag chair made entirely out of nylon that you can not only set out in fatboy style on the beach (nothing new), but also use to float comfortably on the water. The Softybag is the perfect loungebag: With a weight well below one kilogram and it's user-friendly "inflatability" – namely because it doesn't get blown up, but rather swiped or shoveled with air – it's an air mattress and sun lounger in one, and thus much more interesting than the bags where you only feel comfortable in the dry.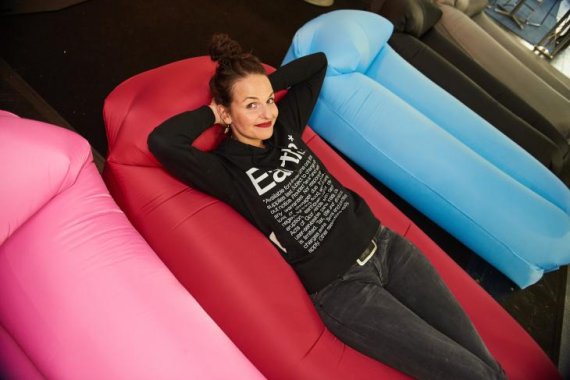 It's gotten late in B4, the music is getting louder and the jugs of water are slowly being swapped for beer bottles and cocktail glasses. The last round of the SUP trick show is taking place in the pool and the trade fair visitors are chilling out in deckchairs and Softybags. I join them, crossing my legs and getting a view of the cool water. It was moist and merry here in the Watersports Area, and there's actually a lot more to discover – I think I'll be coming back tomorrow.