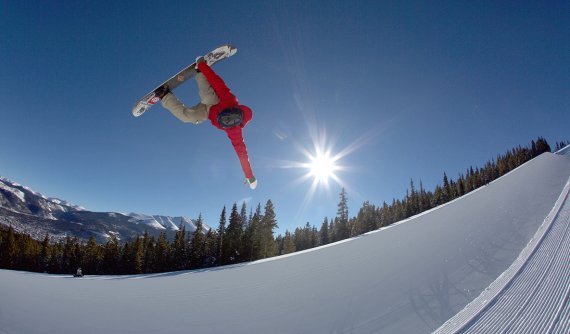 Breckenridge is considered by many to be the best snowpark in the world. All well-known snowboarders and freeskiers train in the four huge terrain parks. The best freestylers in the world practice their tricks for the contests in "Breck's" perfectly shaped parks.
But beginners will also find optimal conditions in the snowparks, because they can start small and slowly try more difficult obstacles. "Breck" offers every kicker size and boxes in every difficulty. The runs are also perfectly matched to each other.
Setup: Two 3-er lines, more than 80 obstacles
Lift pass: $91
Opening times: 11/12/2021 - 05/30/2022
The snowpark of Whistler Blackcomb in Canada is so huge that it can be seen from space. Divided into five different parks, the site extends over 40 hectares. The snowpark is shaped twice a day so that all 150 obstacles (including 90 rails) and the pipe are always in perfect condition.
The five parks offer a large selection for every skill level, and with rollers, hips, boxes, rails, kickers, wallrides, and banked turns, it has everything. The perfect playground for every freestyler!
Setup: 150 obstacles
Lift pass: CAD 129
Opening times: 11/25/2021-05/23/2022
China is preparing for the 2022 Olympic Winter Games in Beijing, and is opening more and more ski resorts, including some indoor halls like the Wanda Indoor Ski and Winter Sports Resort in Harbin, offering space for 3,000 skiers and snowboarders. The largest outdoor ski resort in China, however, is located in the northernmost province of Heilongjiang, on Yabuli Sun Mountain.
The fun park here consists of a slopestyle area and a superpipe, and was the venue for the 2016 Snowboard World Championships. All of China's national winter sports teams train there. The northern location of Yabuli ensures snow from early November to late April, even if there's little snow in the region.
Setup: Varies
Lift pass: 280 CNY (€38)
Opening times: Mid November until end of March
As one of the first snowparks in Europe, Avoriaz is still one of the top freestyle spots today. With various parks divided according to difficulty (XS, S, M, L) and the Burton Stash Park, where wooden features have been integrated into the natural terrain, a lot of variety is on offer.
The Lil'Stash and the Burton Kids Parkaway provide a playful introduction to park riding for the little ones, while experienced riders can try out the countless rails, boxes, and kickers. In addition, two of the last halfpipes in France are located in Avoriaz: the superpipe at a length of 120 meters and a smaller pipe for intermediate riders.
Setup: Varies
Lift pass: €45
Opening times: 12/10/2021 - 04/30/2022
For Japan's snowpark scene, the closure of Hakuba Happo Banks 2020 was sad news. Because the climate was too warm, the park in Hakuba closed its doors forever.
But with the Rusutsu Resort on Hokkaido there is a worthwhile alternative. Because here waits in the Side Country Parks in the Powder Ramps, Boxes and Bumps in the midst of the natural forests of Hokkaido. In addition, there is the Freedom Park Big Kicker for advanced riders, but also easier elements with jumps and rails in the right size for 
Set-up: varies
Liftpass: 6.500 JPY (approx. 50 Euro)
Opening hours: 11/27/2021 - 04/03/2022