"Headis" may sound cute. However, the name belies the intensity of this sport. To mark the kick-off of the ISPO Munich Sports Week 2018, the young actress Nadja Sabersky, who regularly appears on German TV channel ARD, tried out the latest sports trend at Globetrotter on Friday and soon realized that this is serious stuff.
"Complete physical exertion is required," said Sabersky, well-known to German TV audiences for her appearances in the series "Um Himmels Willen" and "Daheim in den Bergen". She seemed pretty impressed. To clarify: Headis involves heading a medium-sized rubber ball across the net of a conventional table tennis table.
Ideally, the ball should be played in the opposite direction to the way the opponent is moving and low down on the table. Momentum, stamina, unpredictability – headis is extremely demanding. This sport is anything but "cute"! One important skill to master is to play the ball with your forehead.
"Initially, I didn't take headis seriously. Heading a ball across an ordinary table tennis table looks very odd, at first," Sabersky explained. "However, it was tremendous fun and once I got into it, I didn't want to stop."
She said it was exciting to find out "which techniques work best," all the while never losing sight of the rubber ball. The game looks really exciting when it is being played by truly skilled players, some of them came along to Globetrotter to demonstrate their skills.
Headis professionals play a fast-paced game
Holding onto the edge of the table to steady themselves, they dive right across the table tennis table or manage to get the ball across the net even when squatting, the most challenging position. To speed up the game, they squat and play the ball from low down – a tricky, hard-nosed, clever technique.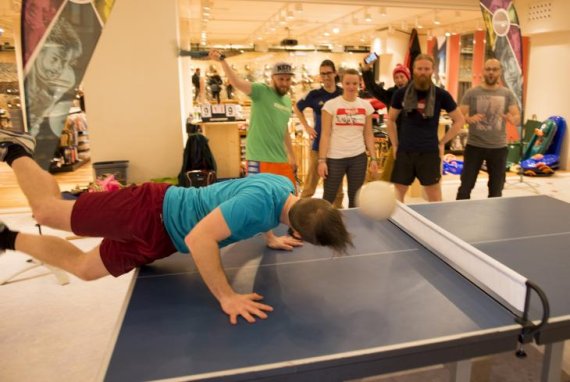 Interesting fact: The rules are similar to table tennis. Each match is played until eleven points have been reached, and you need to have at least two points more than your opponent to win it. If the ball rolls over the edge when it is initially thrown in or touches the net, the serve is repeated.
A match is decided by two won sets. Sabersky was immediately fascinated by headis. Exhausted and smiling at the same time, she got ready for her final header. However, this was probably not her last headis shot.