Tobias Gröber: Exactly, because that's what the industry needs: new perspectives on the sport, a new self-image. The business is still in a permanent state of upheaval. We at ISPO want to accompany this and support the brands and all market participants through our platforms. Of course, Munich is also about the classic buyer-seller relationship, i.e. innovations, new products, transactions. Still important factors for retailers and brands.
But beyond that, new topics have been added - such as sustainability, which has long since ceased to be a trend, but is also a maxim for the entire sports industry beyond the sporting goods sector. Brands have to react to this and adapt their brand positioning, and ISPO Munich offers the international platform for this.
Because the importance of sport has changed significantly in the wake of the pandemic. Today, sport is an important, recognized factor for physical and mental health as well as a social glue for society. This is also recognized by politicians, who want to, or rather must, encourage an increasingly aging population to exercise more. Otherwise, health costs will explode, and our industry has the most natural and cost-effective solutions at the ready: exercise and everything it takes.
And sport is also environmental protection: if I, as an athlete, spend a lot of time outdoors, I have an increased interest in preserving my "playing field". That's why, among other things, the German Sustainability Award is ISPO's new cooperation partner. You have to think of sports in a broader way today: It radiates out into many areas of life and has the power to change society. Brands have to take this up as a theme.
Last year we already launched the Future Lab which was very well received by the industry. Innovation is the overarching theme here, and in various forms: from brands to digital solutions to Start-ups.
Our goal is to complement the trade show booths by offering additional opportunities to stage messages, get in touch with new target groups, media and influencers, and overall promote dialog and thus reach.
This year we will continue and expand this 'festivalization'. We are expanding the stage program in the Future Lab: with exciting panels and renowned international speakers. In addition, there are many new forms of participation and presentation for brands.
We are also installing new formats such as Scenario Planning, Masterclasses and workshops on important topics such as Supply Chain, Employer Branding or ESG Finance. We want to educate, share information and present best practices. And find new solutions in our ISPO Innovation Labs with experts from inside or outside the industry. These Inno-Labs together with NOW Partners will be offered throughout the year.
Already discovered? "New Perspectives on Sports" is also the claim of our international campaign. A new look, eye-catching design and inspiring personalities from the sports community - ISPO Munich 23 will be big, international and innovative. Will you be there?

"I'm looking forward to the dynamic atmosphere of ISPO Munich, created by the coming together of fascinating personalities from the sports community, groundbreaking product innovations and inspiring speakers* at the conference. It's exactly this energy that is conveyed by the campaign design and I'm thrilled that the industry's outstanding personalities are a part of it with their quotes." Lena Haushofer, Exhibition Director
By looking at the entire value chain: The sporting goods industry is part of the overall sports industry and not isolated in itself. Sport not only influences fashion, but is also closely linked to travel and tourism, for example. This ranges from the consumers to the product to the service providers, i.e. the ski instructors, the restaurant, the camping site, the mountain guides, the lift operators...
We want to show this entire context of the sport. We have developed new concepts for this purpose. In the SportsTravelHUB , for example, the focus will be on approaches to promoting sustainable, active tourism. To this end, we have invited partners from different industries and tourism regions to discuss in networking areas how we as a community can find solutions for the future.
You mean besides the legendary ISPO parties? Since it's the sport that connects us, there will once again be plenty to try out, touch, and participate in. For example, in our PadelVillage or on the Pickleball Court.
Or in the GameChanger SportsHUB, where together with sports brands, TechCompanies, athletes, universities, NGOs and retailers we will look at how exergaming sports, AI developments and digitalization concepts can lead to real movement and into sports.
We will also put more focus on the athletes*. They are now not only authentic brand ambassadors, but often also credible influencers for social issues or environmental protection. We will promote this potential, this inspirational power, with a special offer for young athletes.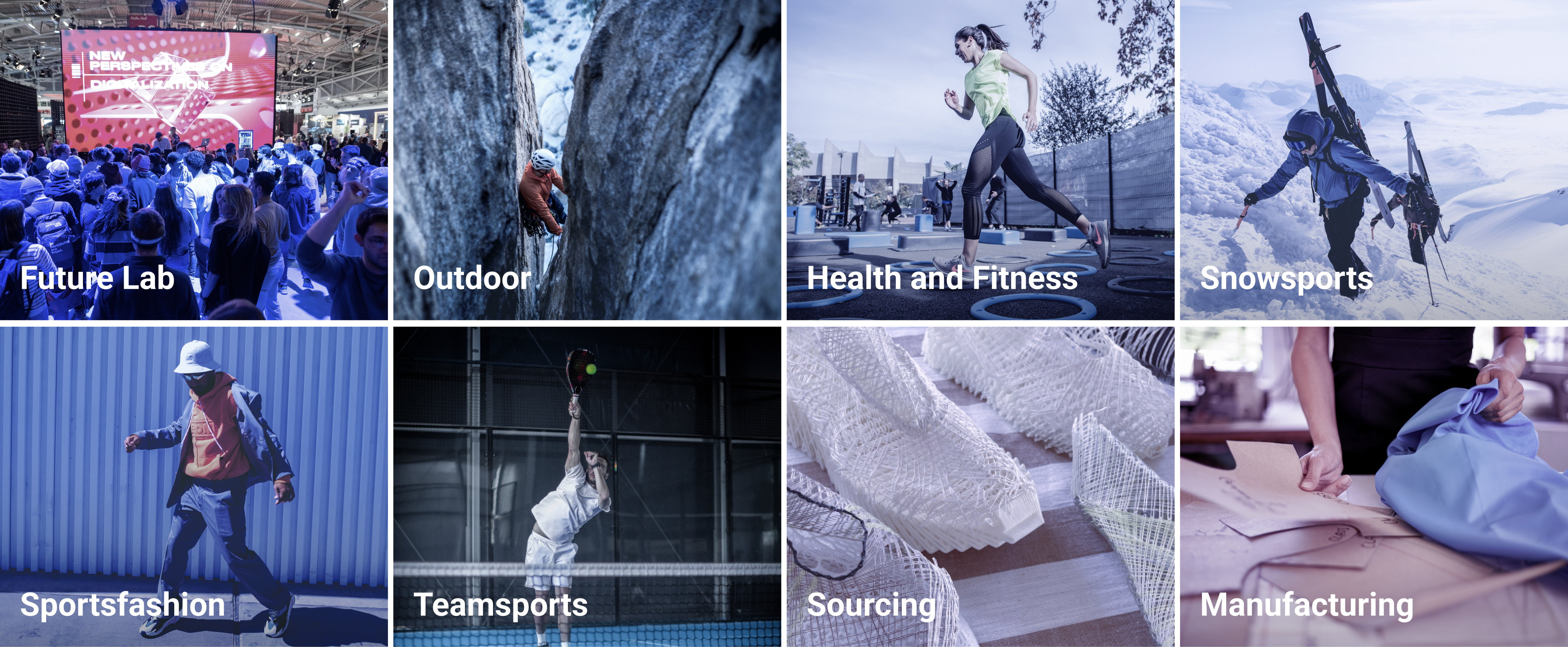 Very big! In the fall of 2022, the participants from Asia and some overseas were unfortunately not able to come to Munich because of Corona, but now they are back. We will occupy more space and have more exhibitors on site. We are growing again, despite the current challenging market environment.
We are aware that the situation is not easy at the moment. First, supply chains collapsed during the pandemic, but demand increased. Now the warehouses are full, but demand is stagnating. As a brand, you have to maintain a dialog right now - with retailers, with the media, with consumers. In this context, it can be wise to no longer define oneself solely by the product, but to seek new types of cooperation, to engage in networking, to sharpen the brand image, to occupy topics and to medialize them skillfully. Our Future Lab, for example, offers many options and forms of participation. There, we want to open minds and reach hearts. And fundamentally, platforms like ISPO Munich are the most efficient and thus also the most cost-effective tools for positioning oneself globally, communicating, networking personally, and working together on solutions.
After all, establishing new groups of buyers who have not previously had any contact with a brand is an important success factor. This is also the aim of the concepts Zeitgeist at ISPO or ISPO 520M concepts, our cooperation with Highsnobiety. Because what the pandemic has positively brought forth is a new target group: the so-called Cultural Pioneers. These are fashionistas who discovered nature for themselves during Corona - and with it outdoor fashion. The product remains the same, but is placed in a new fashion context and reinterpreted, thus appearing in lifestyle media and appealing to entirely new target groups in the premium sports fashion sector. And all these stakeholders will meet at ISPO Munich 2023.