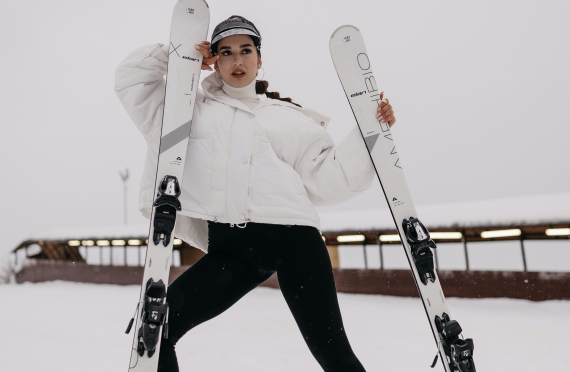 Even if the two trends techwear and normcore have lost their shine in the meantime, there is still a new trend with Mountaincore and Gorpcore there is hope again for the outdoor market. Winter 2023 is a turning point here, especially if you look at the French outdoor brand Aigle. Next to the big brands, it was the one that was officially present at the shows during the last Paris Fashion Week. It shows: the outdoor brands are coming at the right time to continue to assert themselves before fast fashion manages to take their place.
On the other hand, the fast fashion industry is gaining ground. Some of the latest technologies developed by outdoor apparel leaders, such as Yulex or Dimpora membranes, are now being used by big brands like H&M. Or the German discounter Lidl, this scored with customers* with its sneaker collection, which was immediately sold out. The Inditex Group also made an impressive appearance: Zara's new skiwear and the winter sports collection between Head and Pull and Bear were very well received by consumers. One might think that a trend reversal is now taking place. How can outdoor brands defend their terrain against fast fashion giants?
All the leading technologies in the outdoor segment (Sympatex™, Nox ™, Polyola™) could not be developed without the support of the outdoor industry. So how can we maintain this pioneering role? One way is to embrace the megatrend of sustainability for itself. Veja, for example, is working with international sole manufacturer Vibram to develop more sustainable technology for its soles made in China. Another point is to rely on certifications and labels that end consumers can orient themselves by and that are recognized by the industry. These include BCorp™, Cradle to Cradle™, which have scientifically proven goals and help brands structure strategies and priorities for sourcing goods. Or such as Pangaia, a brand that once served as a brand of innovation and development for other brands and is now successful in the marketplace as a brand itself, thanks to its exceptional products.
Finding a balance between future-proof business strategy and a sustainable focus without greenwashing turns out to be the best solution for outdoor brands. The following examples show how differentiation and the creation of a brand DNA for outdoor brands work: The ISPO Award 2022 Winner MADE focuses on participatory design and sustainability "designed by you". Picture or Patagonia rely on smart influence through committed athletes and ambassadors. They also participate in co-financing documentaries about climate and outdoor adventures, which always have an educational aspect.
Furthermore, it is important for outdoor brands to get involved in educational programs such as Earth Today, Water Family, Climate Convention, as Osprey does with its philanthropic partner program: environmental responsibility, outdoor education, diversity and inclusion in the outdoors, health and recreation are key points for success here. Creating new, dedicated positions within the company, such as Ocean Marketing Manager EMEA at Patagonia, is also an appropriate move. As a professional surfer, Gabe Davies can both pass on information and support special campaigns in his new position at Patagonia thanks to his conviction and knowledge, such as the short film campaign "Art of activism" that will take place in 2023. Because one thing must not be forgotten in the battle between fast fashion and outdoor expertise: the consumer. Outdoor enthusiasts attach importance to performance, functionality and design, but above all to sustainability and brand story. Something that fast fashion can only deliver to a limited extent.
Thinking cross-functionally and systemically as well as being one step ahead and showing that quality is sexy. One of the keys to Outdoor's success will be to understand, that performance is a matter of a brand's head, combining both operational and situational intelligence to transform the outdoor industry from the inside out. Show who you are, what you do and why. This message becomes all the more important. Going beyond simple collaboration and contributing by supporting the right cause or highly qualified partnerships with circular manufacturers could be a medium-term ROI solution. In a few words, the outdoor industry needs to define its raison d'être. What is its role in the industry?