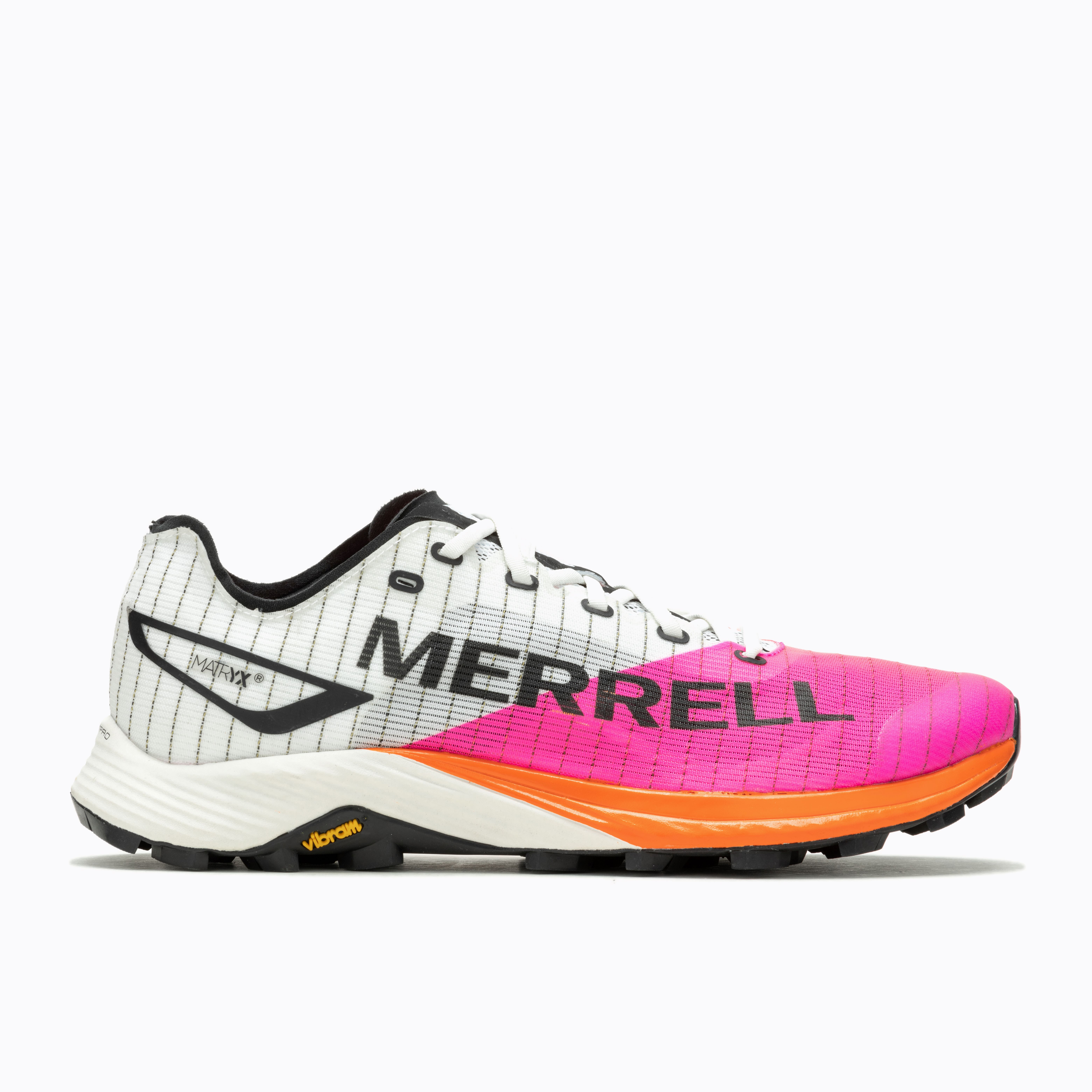 What do trail running pros want from their running shoes? Merrell got to the bottom of the question and gathered feedback from athletes after numerous test runs. The result is the stable and reliable MTL Long Sky 2 Matryx. Its five-millimeter lugs and Vibram outsole give it grip on treacherous trails, while its sustainable 37.5 technology provides natural-based thermoregulation. In addition, the shoes of the US manufacturer absorb little water. Thus, the feet remain pleasantly dry and yet breathable. A highlight is the use of Kevlar in the upper material. The fiber, which stops bullets fired in bulletproof vests, provides reliable resistance to sharp stones in the MTL Long Sky 2 Matryx. At the same time, it is extremely lightweight. "These shoes are designed for challenging terrain around the globe, to run hard and fast," says Merrel's Ben Stark.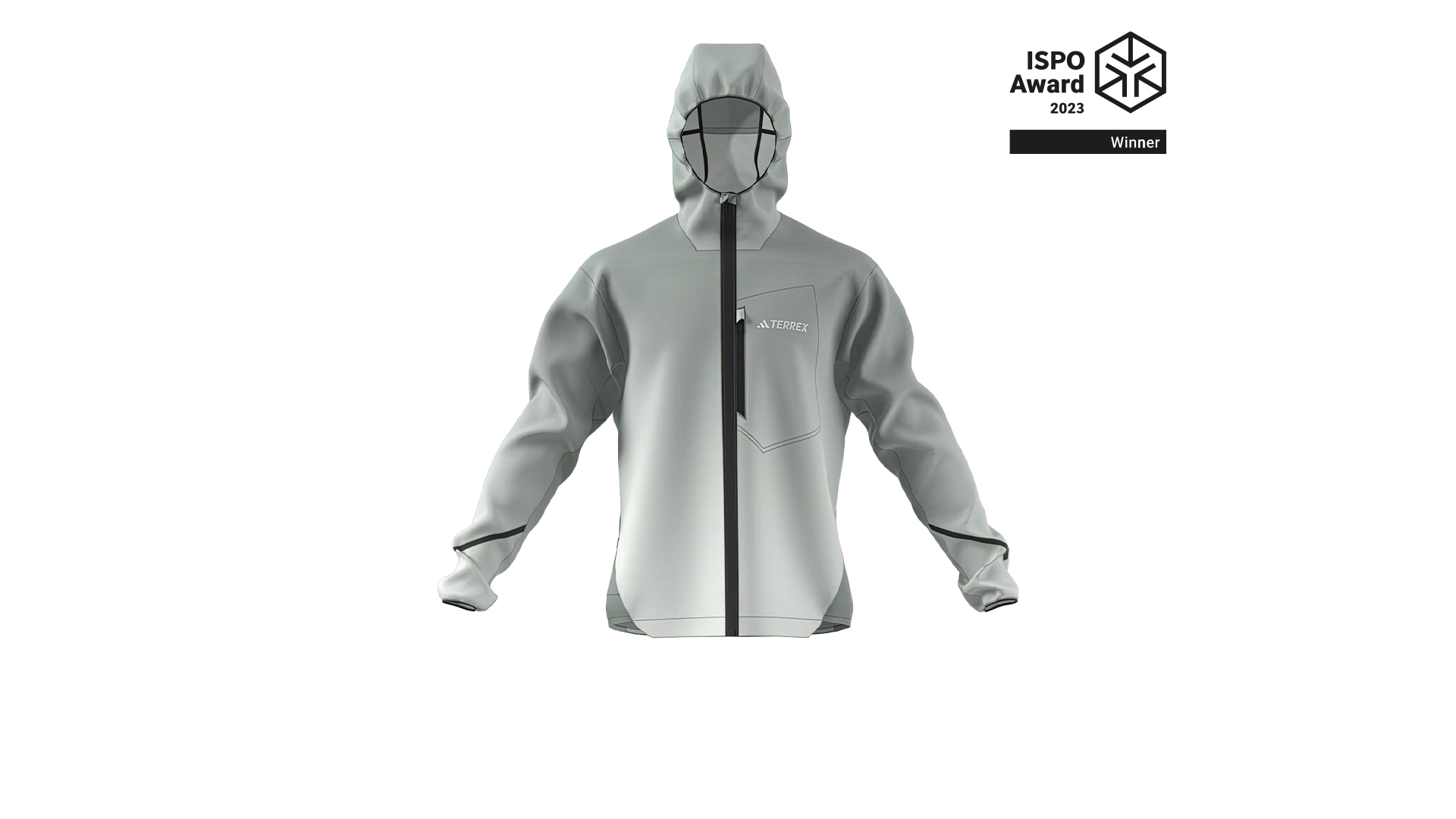 Thanks to body mapping, specific materials can be placed in precisely those body zones of functional clothing where they will later develop their desired effect. The additional seams required for this often restrict lightness and function. Adidas has solved this problem with the Terrex Xperior Light Windweave Jacket. Windweave describes a windbreaker innovation that ensures both protection and breathability with a zoned fabric density - exactly where they are needed. Dense and robust sections at the shoulders keep out light showers, while the structure underneath counteracts overheating. In addition to performance and comfort, the seamless technology also focuses on sustainability. The main material is made from 100 percent recycled polyester, and the water-repellent DWR finish is also PFC-free. The jacket will be available in a women's and a men's version from December 2023.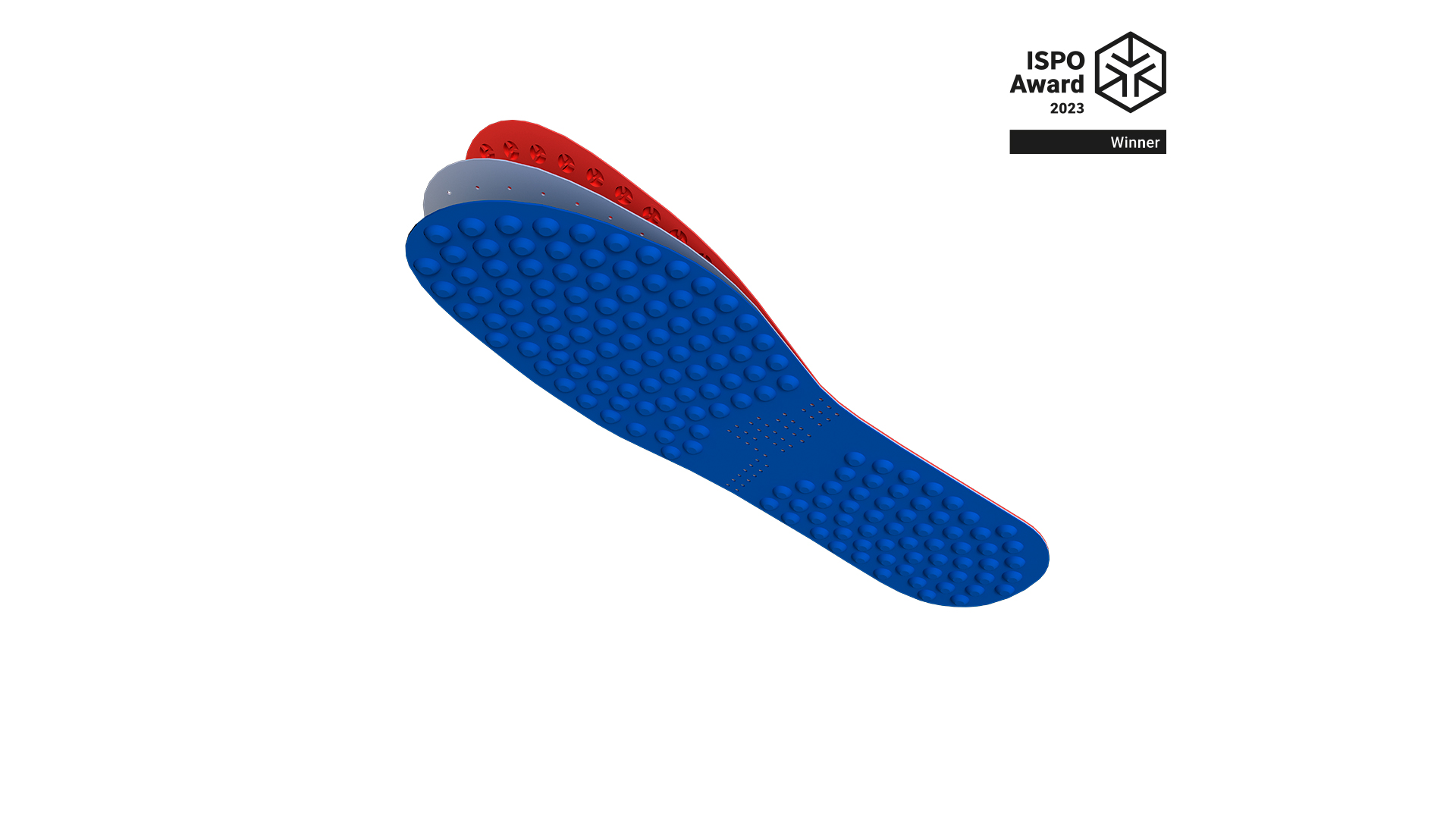 Heat pumps are on almost everyone's lips at the moment, and soon they could also be on our feet - at least in terms of how they work. The company SoleCooler has developed an insole that can cool with one side and warm with the other. It is the first time that the principle of reversible air conditioning (compression/expansion of air) has been applied to a flexible material less than six millimetres thick", explains company founder Bruno Aubert. Thermal regulation is achieved by mechanical energy alone. Placing the foot on the ground generates ten watts - an amount of energy that is easily sufficient to trigger the mechanism of the insole. Without electricity and chemicals, there is no limit to the operating time. The red side warms the feet with up to four degrees Celsius, the blue cools them down to minus 3.5 degrees.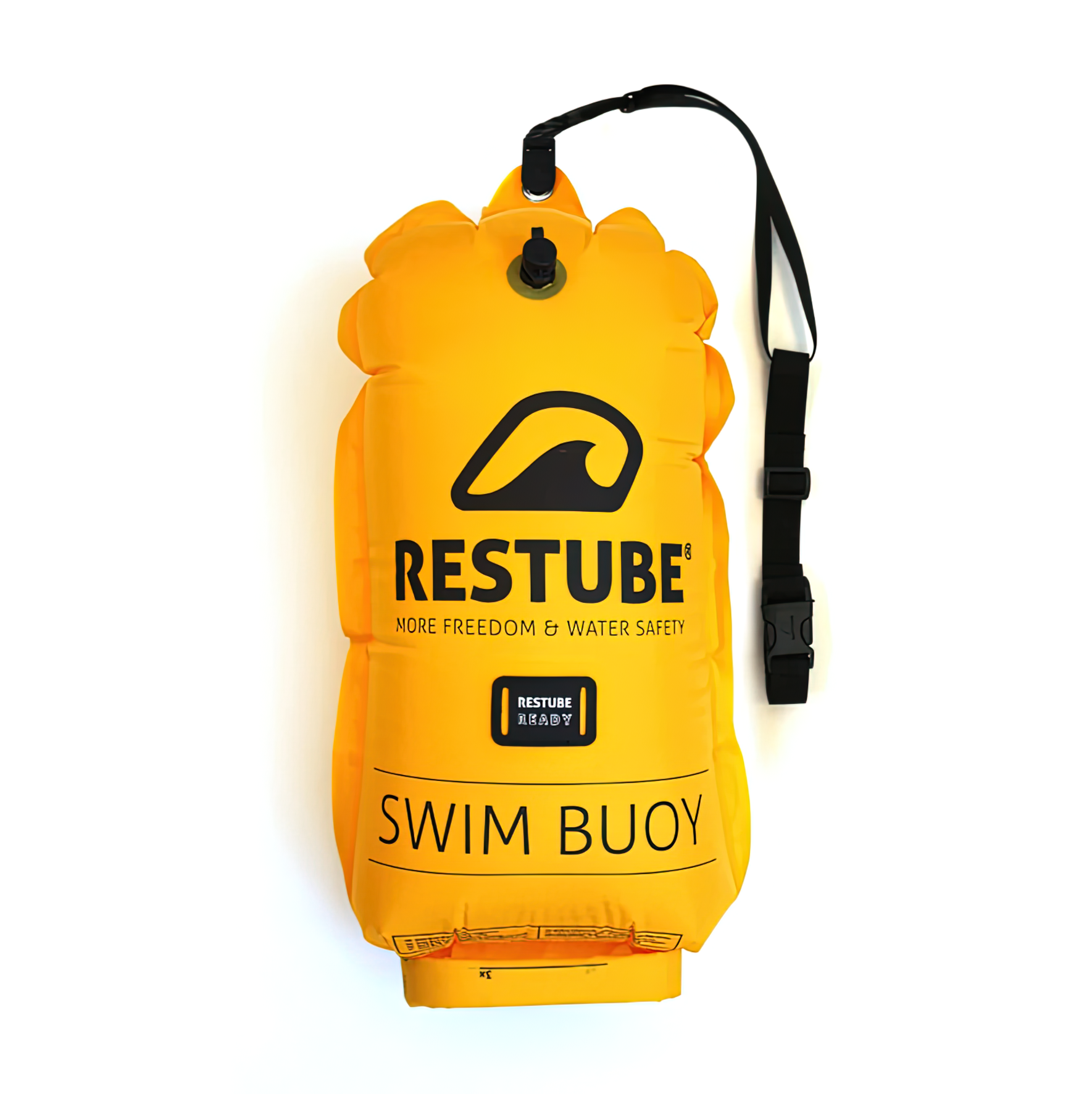 A lifesaver with signal colour and useful add-ons: The Swim Buoy from Restube is an extremely useful companion when swimming in open water and long distances. Its bright yellow still attracts attention, even when it flashes only briefly at a time between wave troughs. From a passing boat, you are therefore well noticed in the water. In addition, the PFC-free buoy made of nylon TPU can also become a guardian angel in other ways. If you lose strength while swimming, it provides enough buoyancy to shoulder your entire body weight. Another safety feature is a predetermined separation point. If a load of 15 kilograms or more occurs, the buoy detaches from the harness - important for use in flowing water. Its function as a drybag and other well-thought-out features round off the overall picture. A waterproof pocket offers enough space for the smartphone, and the action cam can be mounted on a special bracket, providing impressive images from an interesting perspective.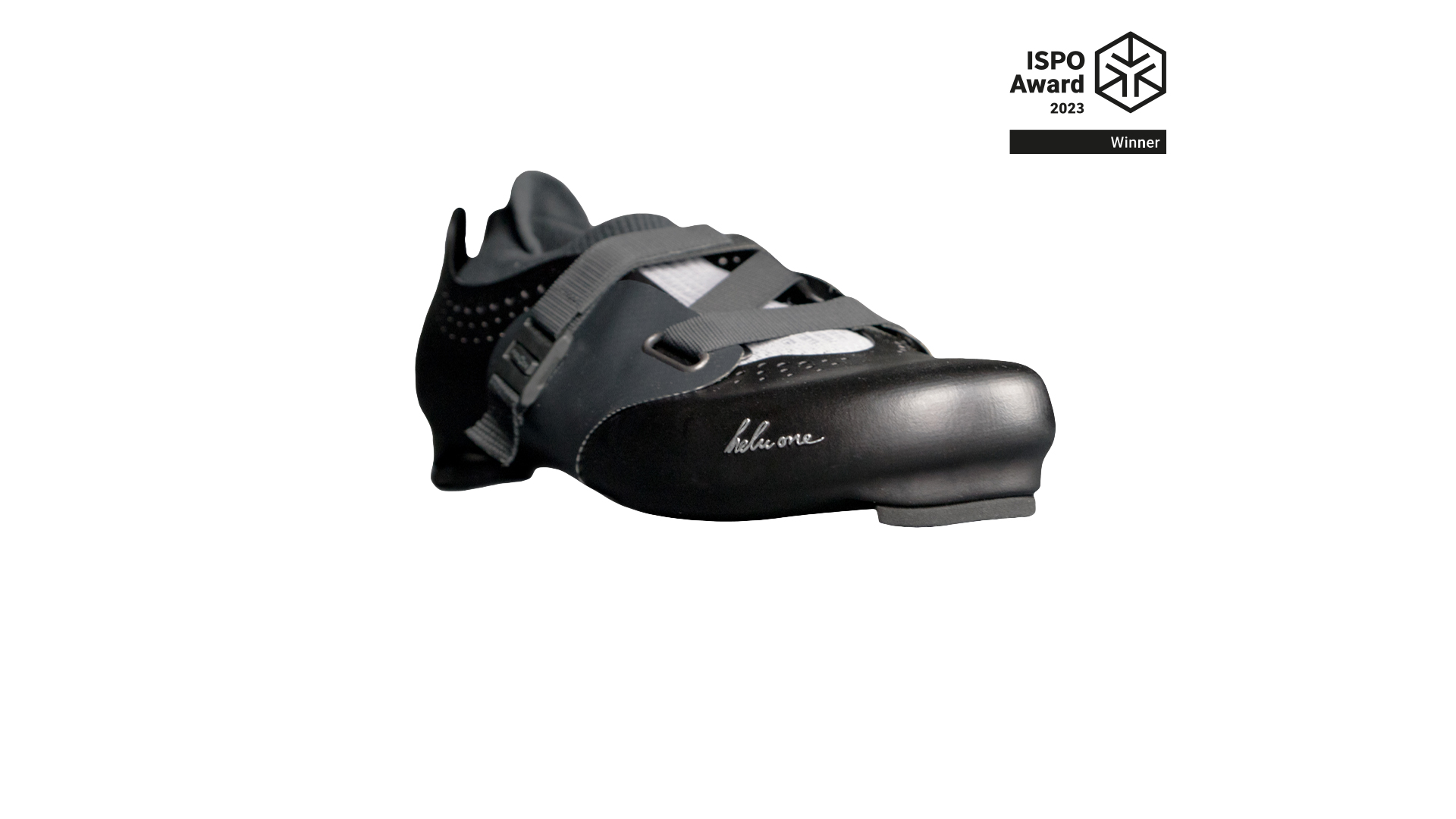 Every foot is unique. And cycling shoes should be, too, to prevent pain on long rides. Hezu Cycling relies on computer support for a perfect fit. Before buying, interested parties scan their feet with a special app. Hezo uses the data to create a digital template, on the basis of which a 3D printer produces the outer shell using the SLS printing process. This creates a lightweight and rigid shoe. Its adapted shape promises optimum power transmission to the pedal, and the cleats can also be positioned individually. Individual parts can be repaired or conveniently replaced. The materials of the shoe are recycled or bio-based. "I'm testing the Helu One because I think it has what it takes to set new standards in cycling shoes," says triathlete and Brand Ambassador Justus Nieschlag.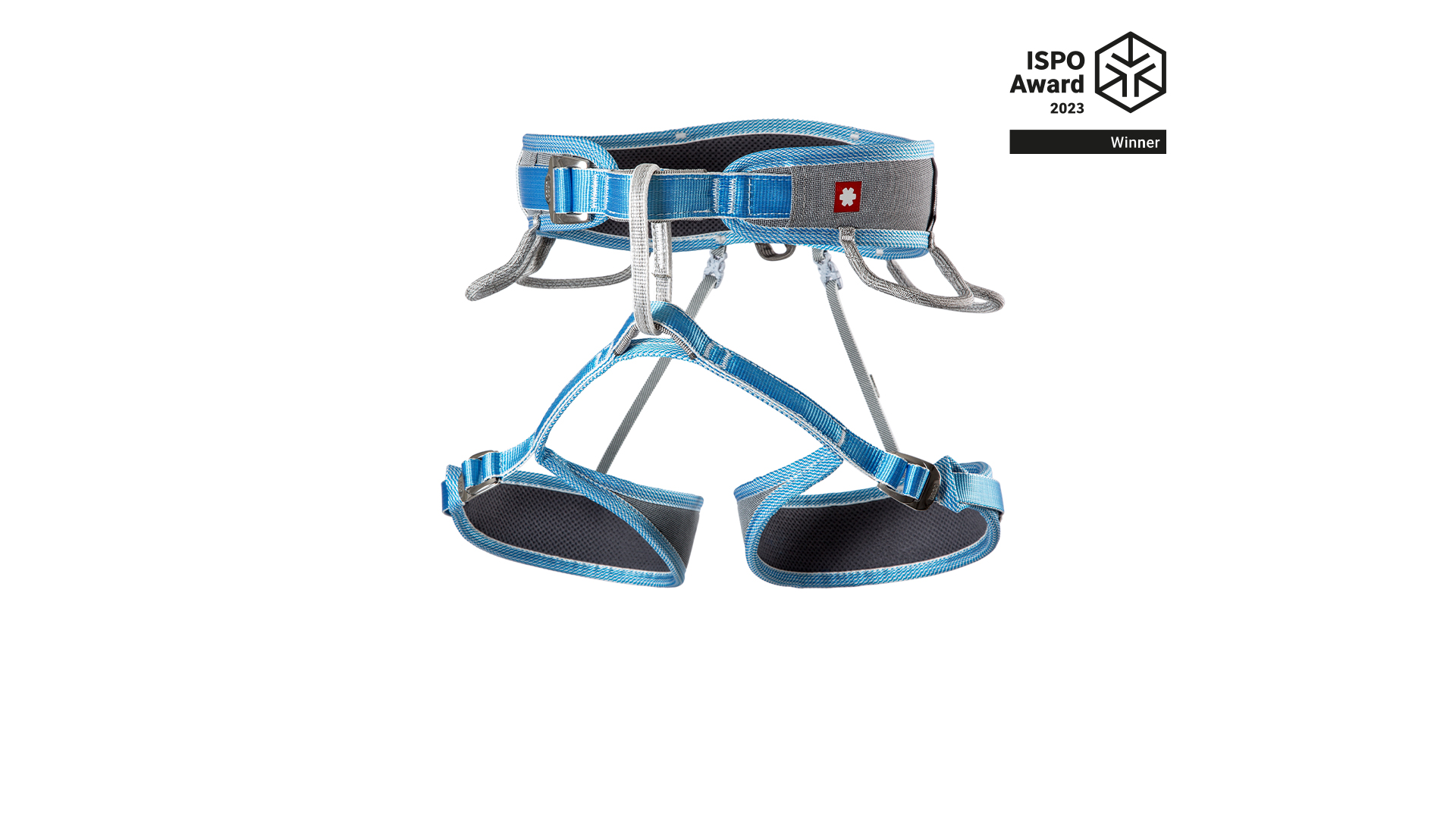 When should you replace a belt? The Twist Tech Eco answers this question itself. Wear indicators in the tie-in points show when it's time for something new. The tie-in points themselves are easily accessible and allow for comfortable donning. The three-buckle harness plays to its strengths in sport climbing and mountaineering, as well as on via ferrata. A women's-specific variant takes into account the specifics of the female anatomy. The Twist Tech Eco is made from recycled polyester yarn and from the bio-based material Dyneema, which is obtained from waste from the wood industry. The functionality is not compromised by this. The climbing harness convinces in the areas of tensile strength, elongation, abrasion and UV stability.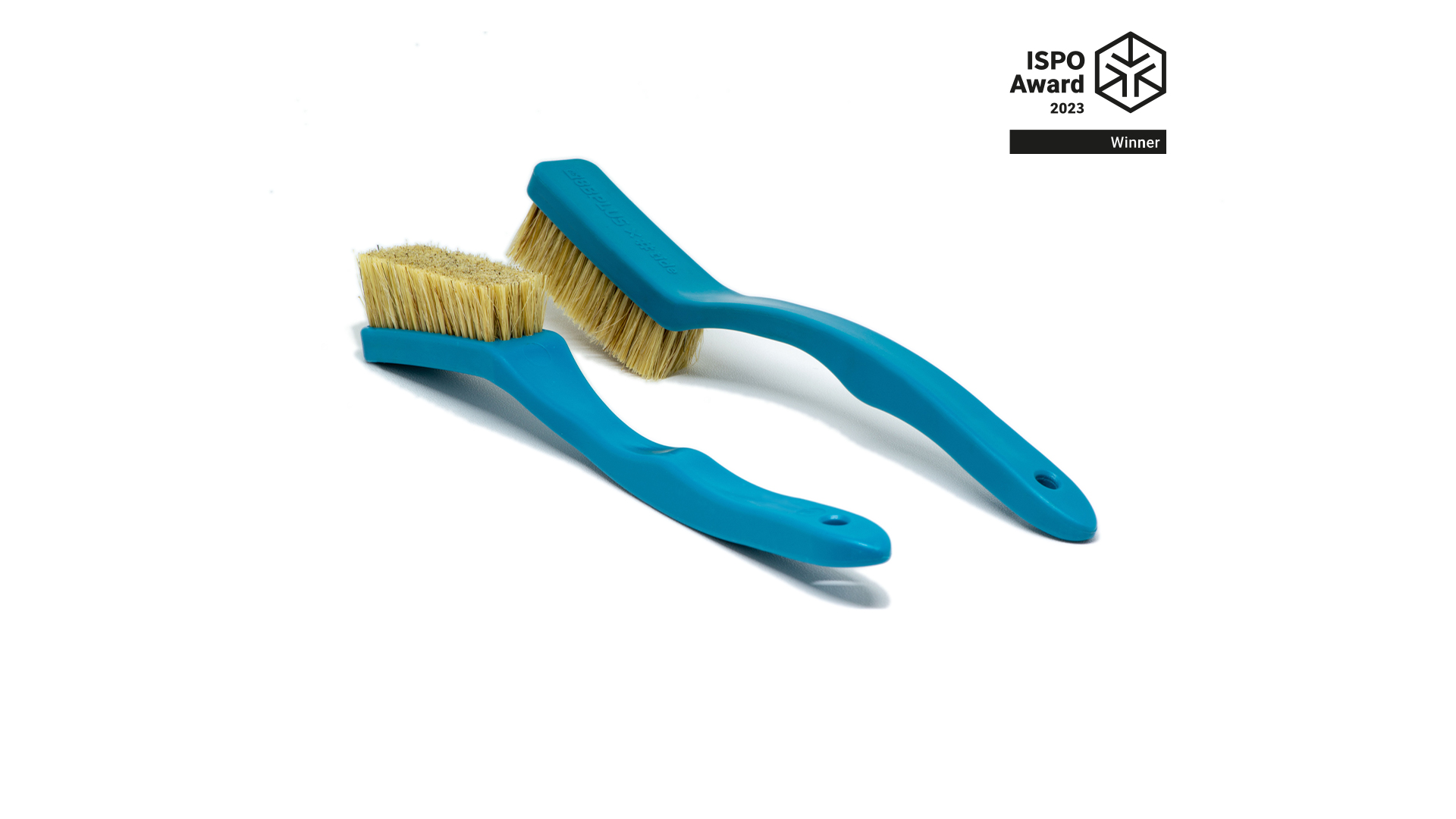 Marine plastic is a near-ubiquitous threat to life in and around our oceans. 8BPLUS is taking up the fight against pollution. Together with Tide Ocean Material, the Austrian climbing company has developed a boulder brush made from recycled plastic from the ocean. The plastic waste is collected by members of local communities and then recycled. This ensures clean beaches and creates sustainable jobs with fair pay - good for the local economy. What's more, the CO₂ footprint of the new products drops significantly. "It's great to see that almost all brands in the outdoor industry are trying to do their part to make more sustainable products - and that includes bouldering brushes," commented the ISPO Award jury. 8BPLUS, they said, has developed a brush that combines natural bristles with recycled marine plastic. For clean oceans and clean climbing holds.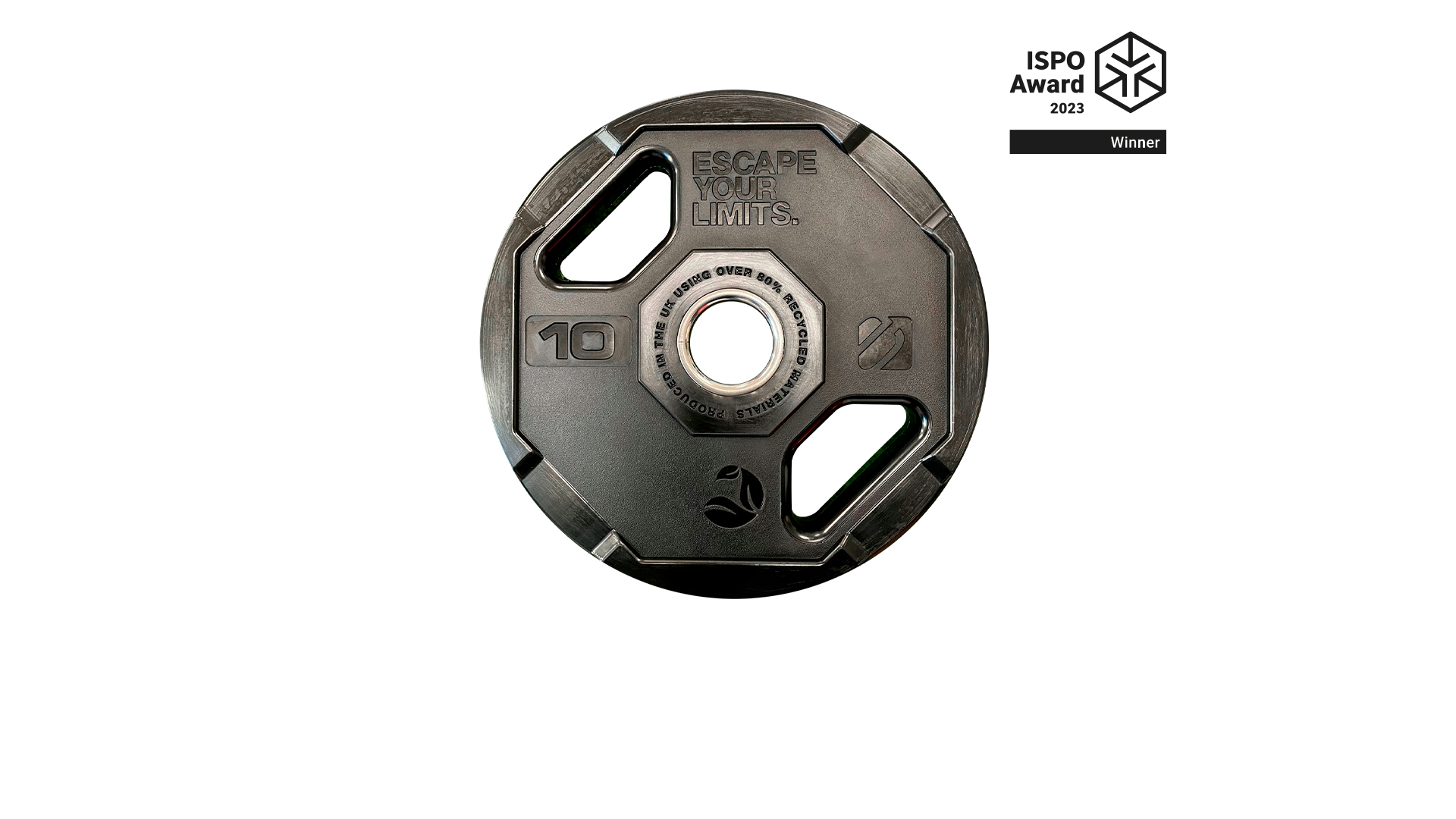 Fitness equipment may stand for sustainable training success - but also for sustainable manufacturing? The British company Evergreen Barbell has now set itself this goal. Its weights, which are coated with polyurethane, are made of 80 percent recycled material, which would actually be a case for landfill. Instead of rubbish, it now makes muscle mountains grow at best. The weights are an alternative to products manufactured mainly in Asia. These are made of cast iron, which comes from the earth's crust. Evergreen Barbell, on the other hand, manufactures in Europe and uses recycled scrap steel from the construction industry. A patented process ensures that the use of fossil fuels, which are necessary for the manufacturing process, is minimized. The Grip Discs are robust and durable. Thanks to the engraved weight indication, you always have the right disc at hand, and the Easy-Grip enables a quick change.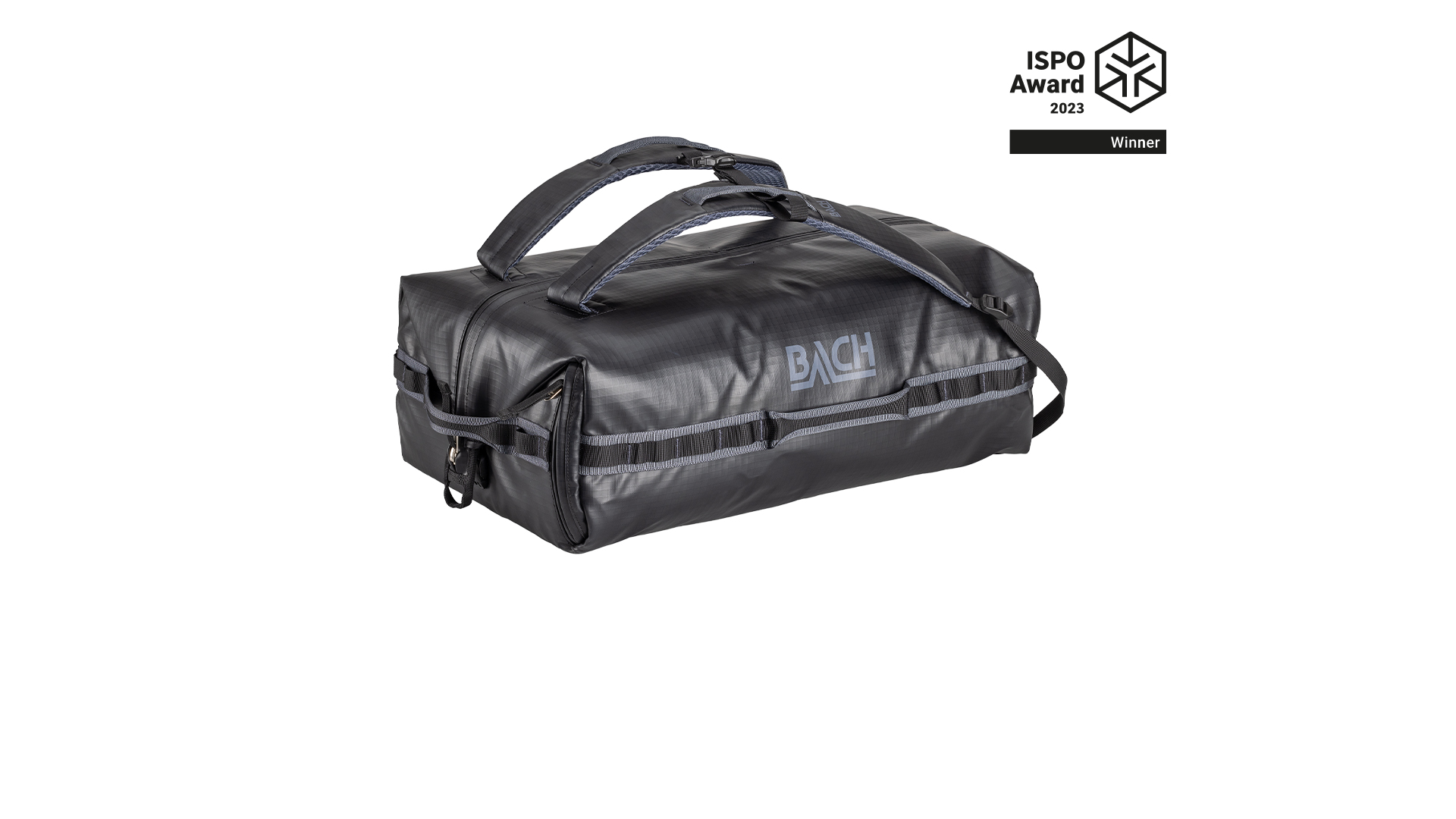 The bestseller from BACH seems to have earned a doctorate in an adventurous subject: The Dr. Duffel bag is now available in an "expedition" version. Its appearance is reminiscent of a doctor's bag, but instead of medicines and instruments, it primarily stores travel utensils inside. A large opening provides a clear view of the packed contents. Thanks to self-standing pads, the contents are clearly organized and well protected. The bag's durable outer material is made of 100 percent recycled polyester. "BACH Equipment has always strived to make durable products that stand the test of time, but here we also want to take a path of using fewer new materials," explains designer Nadia Zoller. The main zip can be locked, the padded shoulder straps and the various carrying and fastening options can be customized.